The NFL may be a quarterback-driven league, but in the AFC this year its a backup-driven playoff. AFC seedings were heavily impacted by the play of replacement QBs throughout the regular season with 13 different quarterbacks starting games for the six postseason teams, compared to the NFC where playoff teams had their starters for every game. And quarterback uncertainty still lingers in the AFC as the playoffs begin. The No. 1-seeded Broncos just announced that Peyton Manning will start their divisional playoff game, but how completely he has recovered from a partially torn plantar fascia or how well he'll perform after missing six and a half games is anyone's guess. And AJ McCarron is expected to start for the Bengals again this weekend against the Steelers as starter Andy Dalton recovers from a broken thumb on his throwing hand. Here's a look at how backups factored into the AFC postseason pairings and how they might play a role in who makes it to Santa Clara for Super Bowl 50.
Backups bog down offenses
Production usually suffers when a starting quarterback is lost, especially for multiple games. There are exceptions, such as experienced veteran Matt Hasselbeck posting impressive numbers in place of the injured Andrew Luck for Indianapolis, but here you see the overall drop in QBR, touchdown-to-interception ratio and yards per pass attempt when teams are forced to rely on replacement signal callers: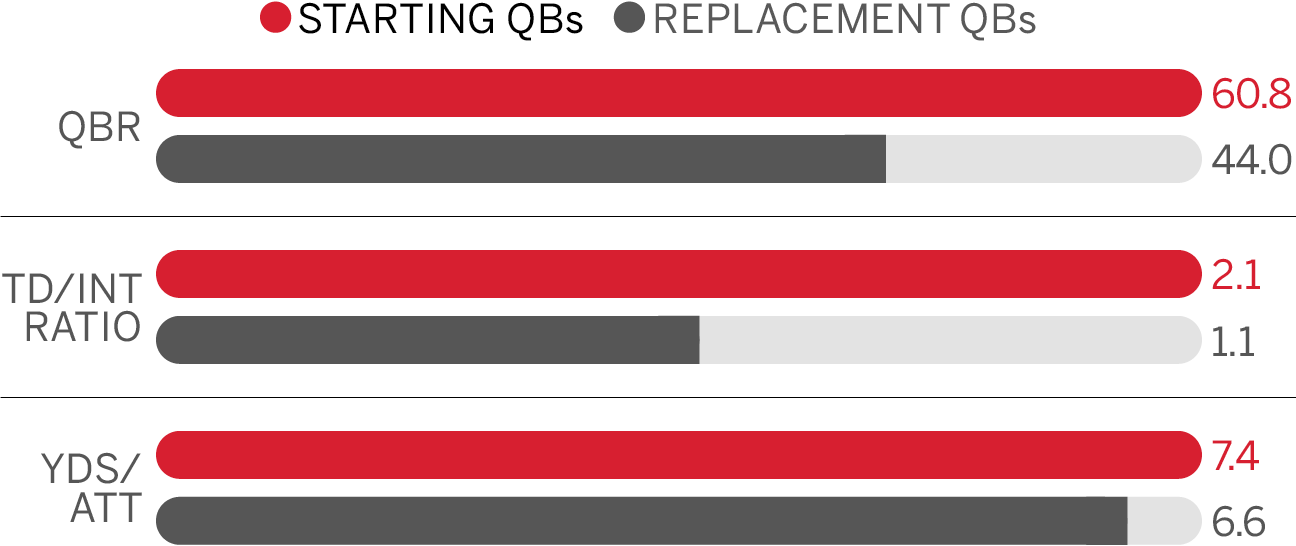 Replacing wins with losses
The decreased offensive production by replacement quarterbacks makes it harder to win games in a league where parity rules, and it becomes even more difficult when teams must shuffle in more than two quarterbacks. Here's a look at how winning percentages broke down for teams playing one quarterback, two quarterbacks and three or more quarterbacks during the regular season:

Less Big Ben left Steelers with a bigger challenge
Pittsburgh led the AFC in offense but still needed a win over the Browns and a loss by the New York Jets in the final week of the season to get into the playoffs as a sixth seed at 10-6. The Steelers would have had a better shot at a first-week bye if starter Ben Roethlisberger had not missed four-plus games due to injury; the offense was clearly not the same with replacements Michael Vick and Landry Jones: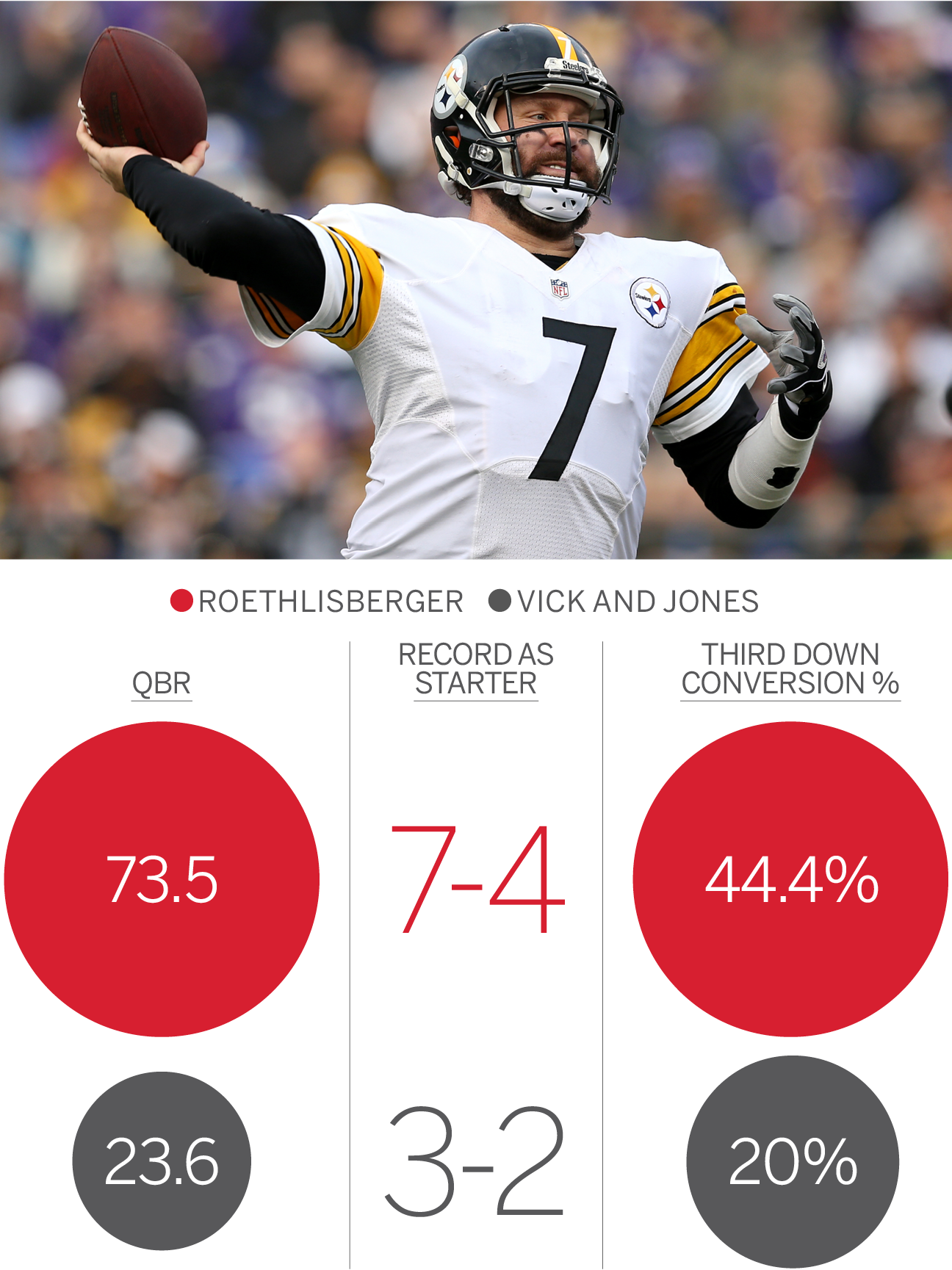 Houston, you have a QB problem
No team in the AFC struggled more at quarterback than the Texans, due to a combination of injuries and poor performance. Houston still managed to become only the seventh team in the Super Bowl era to make the playoffs after starting at least four different quarterbacks, but only the 1984 Bears were able to win a game: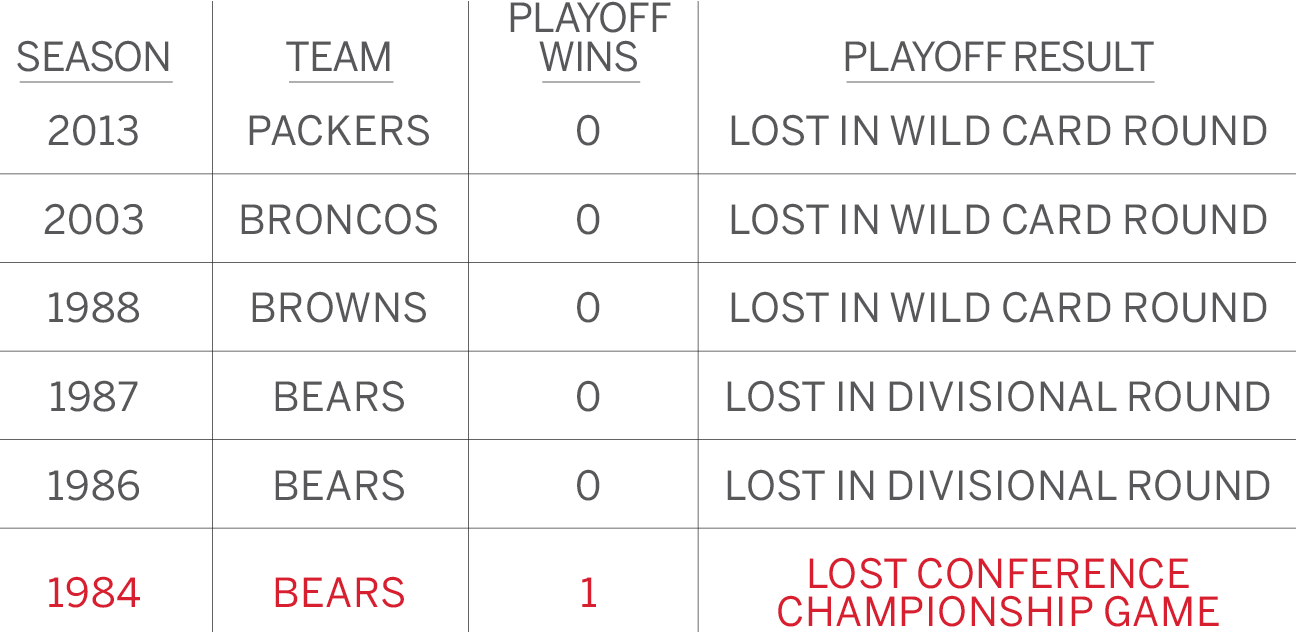 Starting QBs provide a steadying influence
The Patriots and Chiefs were the only AFC playoff teams to start the same quarterback for every regular season game and the advantage was evident. Tom Brady helped New England overcome injuries to other key offensive players and Alex Smith's consistent play helped Kansas City rebound from a 1-5 start, they now enter the playoffs as the AFC's hottest team. Here's a look at which games were played by the starting quarterback for each AFC playoff team: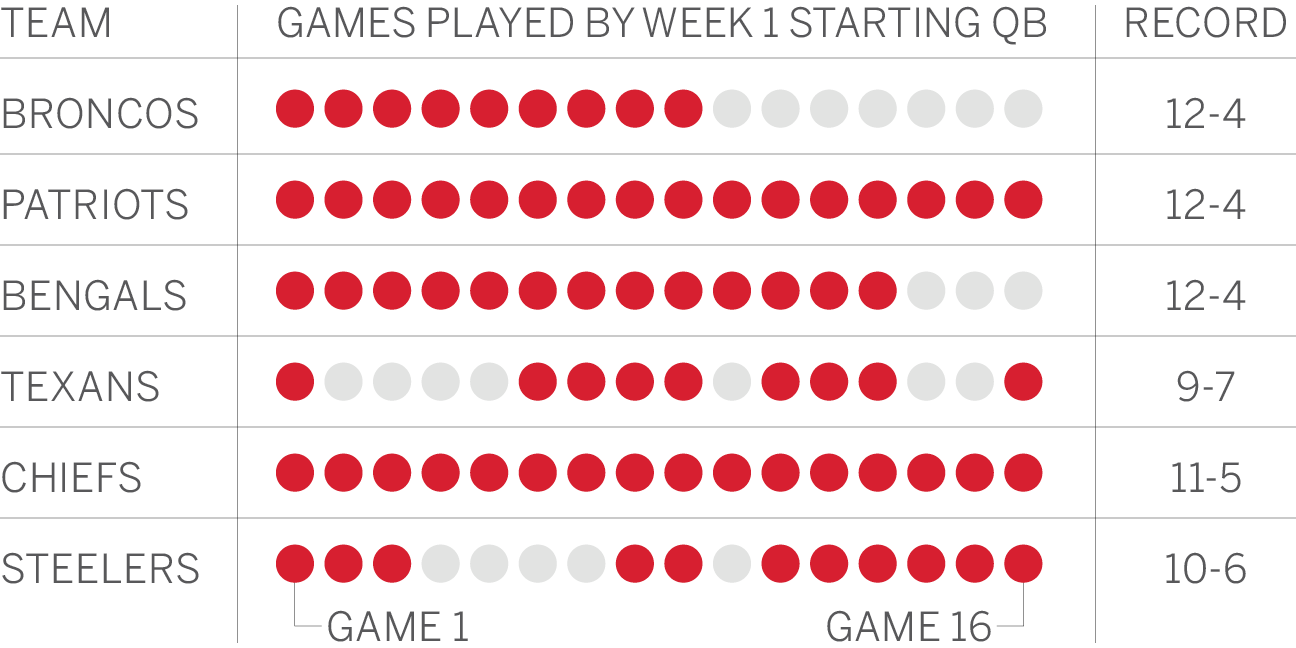 Broncos and Bengals backups mirror starters
Manning will get the start for Denver after their bye and Dalton is expected to play the role of backup this weekend against the Steelers, as the Bengals hope he can get another week to heal. Despite the anxiety surrounding the quarterback position for both teams, however, there has been little difference statistically between Manning and Brock Osweiler or Dalton and McCarron: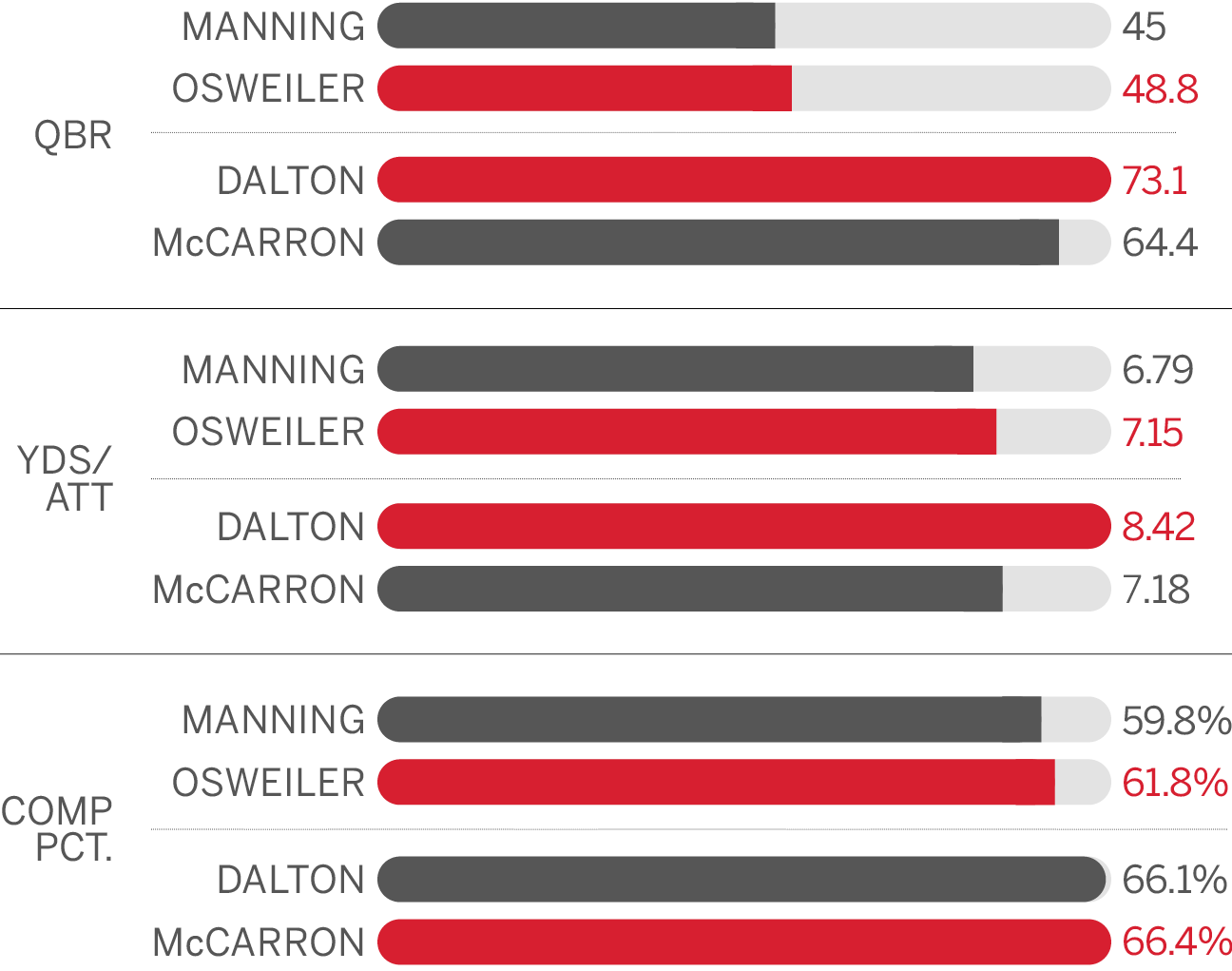 Playoffs make the backups look like ... backups
Starting a replacement quarterback in the playoffs is not usually a formula for success. Five teams since 2006 have used a backup in the playoffs because of injury to the starter after Week 1, but only the Texans won a game - with T.J. Yates in 2011. Only Nick Foles with the Eagles in 2013 had a QBR above the playoff average among all quarterbacks during that span (a perfect QBR score is 100).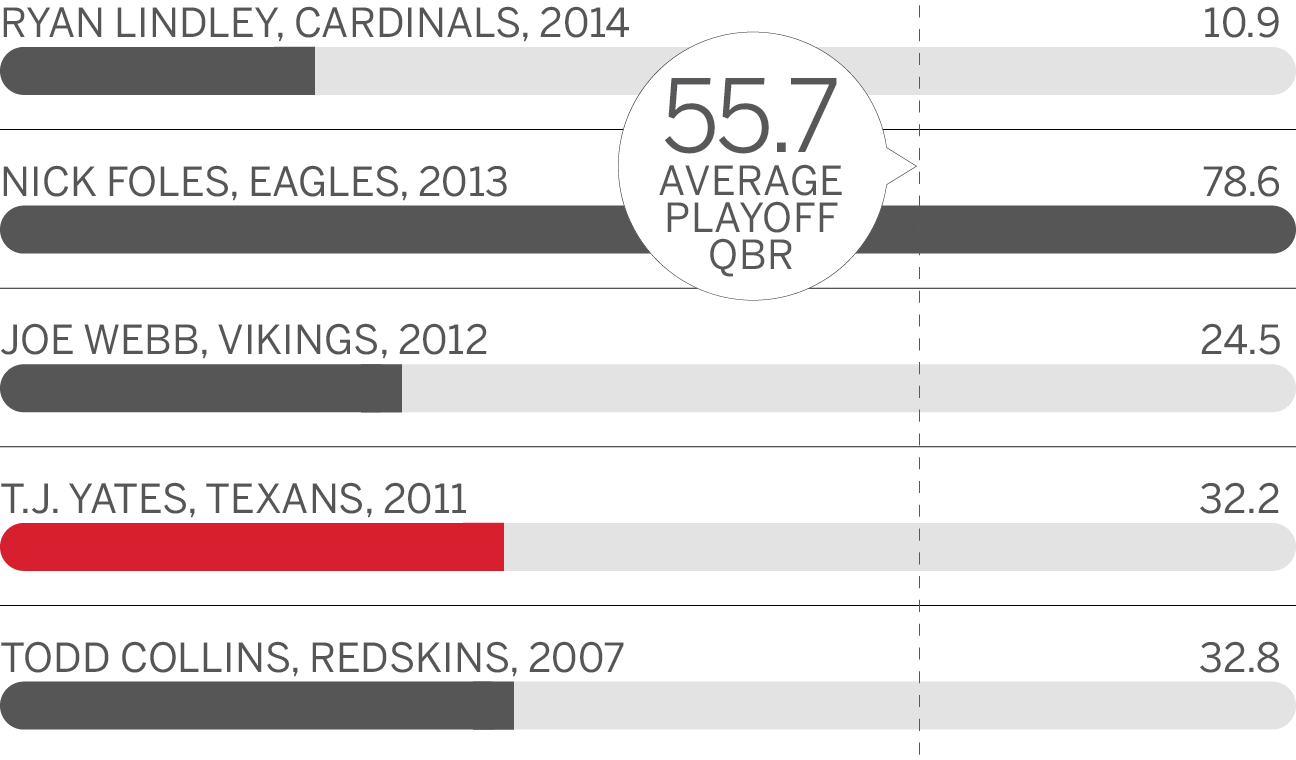 So you're telling me the backups have a chance?
History suggests that if you can somehow make it to the Super Bowl with a replacement quarterback, your chances to win are actually pretty good. The last team to win a title with a backup? The Patriots, after a guy named Tom Brady replaced Drew Bledsoe in Week 2 of 2001 and ended up as Super Bowl MVP. And the Patriots aren't the only Super Bowl backup success story. The record of teams using replacement quarterbacks (filling in due to injury after Week 1) in the Super Bowl is impressive:

Stats compiled by ESPN The Magazine research department and ESPN Stats & Information