Star QBs call for sides to reach deal
Updated:
July 13, 2011, 11:59 PM ET
ESPN.com news services
NEW YORK -- Calling the players' offer "fair for both sides," star quarterbacks Tom Brady, Peyton Manning and Drew Brees -- plaintiffs in an antitrust suit against the NFL -- said Wednesday "it is time" to wrap up negotiations on a deal to end the league's lockout.
At the bargaining table, though, it wasn't that easy.
On the day Brady, Manning and Brees spoke as a group publicly for the first time, players and owners spent nearly 11 hours meeting at a Manhattan law office.
NFL Labor Negotiations and Lockout

The NFL lockout began March 11, but an end appears near. ESPN.com Topics keeps you up to date on all the latest on the labor situation. More »
About two hours after players' association chief DeMaurice Smith left, NFL Commissioner Roger Goodell walked out with Dallas Cowboys owner Jerry Jones and the league's lead negotiator Jeff Pash at 10 p.m.
Other owners including Pittsburgh's Art Rooney and Carolina's Jerry Richardson departed around then, too.
Negotiations were scheduled to resume Thursday morning. With each passing day, the need to strike a bargain and end the first NFL work stoppage since 1987 becomes greater.
After Wednesday's lengthy session, a source with direct knowledge of the negotiations told ESPN's Sal Paolantonio that a lot of "hard work" remains before a new collective bargaining agreement can be struck. The source also wouldn't characterize a new deal as being "close."
Asked whether he thought the owners would be presented with an agreement during the July 21 league meetings in Atlanta, the source hedged, saying, "I just don't know."
With deadlines coming up next week to get training camps and the preseason started on time, one owner told Paolantonio that the owners are trying to figure out how to get the league operational in time "so that we don't lose a week of preseason and we don't lose $200 million."
In a statement released to The Associated Press via the NFL Players Association, New England's Brady, Indianapolis' Manning and New Orleans' Brees said: "We believe the overall proposal made by the players is fair for both sides and it is time to get this deal done."
They continued: "This is the time of year we as players turn our attention to the game on the field. We hope the owners feel the same way."
Sources told Paolantonio that the statement was crafted Tuesday by NFLPA leaders during a conference call with the plaintiffs.
According to the source, after the owners floated a July 21 date for ratification of a new collective bargaining agreement, many players saw that as an attempt to put pressure on the players to fold on the remaining issues in the talks, so they decided to put out the joint statement.
In response, the NFL issued a statement saying: "We share the view that now is the time to reach an agreement so we can all get back to football and a full 2011 season. We are working hard with the players' negotiating team every day to complete an agreement as soon as possible."
There is a growing belief inside league circles that the NFL and NFLPA will have an agreement in place that can be ratified during the July 21 meetings, sources familiar with the state of negotiations told ESPN senior NFL analyst Chris Mortensen and ESPN NFL Insider Adam Schefter.
But one member of the players' negotiating team who has been a constant presence at the table told Mortensen that players believe they have made significant concessions and overtures "that have not been reciprocated."
He stated that negotiations Wednesday and Thursday will be the most telling days on whether an agreement indeed will be finalized within the July 21 time frame because "we've basically reached the limits of compromise."
The same source added that the players have agreed to cut rookie compensation in half but won't agree to a deal that does not allow for the rookie class to become free agents at the end of four years.
High-level sources on both sides of the talks told ESPN.com's John Clayton that the debate in the rookie pool talks is over how to structure a fifth-year option for first-round draft picks.
Under current proposals, all first-rounders would get four-year deals, plus an option year. That option could be executed by the team after the third or fourth year of the contract.
However, owners want a fixed amount for the fifth-year option, roughly $4 million. Players want a top 10 salary at the position for the top 16 picks. They proposed a top 15 salary for picks 17 through 32.
According to sources, Smith told those on Tuesday's conference call that the players' association had no comment on current negotiations and wouldn't be updating plaintiffs on the particulars. Smith said plaintiffs have some legal tactics they could pursue if necessary in the future, sources said, but Smith declined to identify what those were.
Aside from the rookie pool talks, the owners and players also have been stuck on a proposal by management that for the 2011 transition period, teams can exercise the right of first refusal on three free agents, in addition to their franchise-tag designees.
The proposal -- in which teams could match any contract offer and retain their free-agent player -- has been rejected by the players.
The two sides appear comfortable with a split of an all-revenue model in which players will receive about 48 percent of the money at the outset, and never less than approximately 46.5 percent as revenues are expected to grow significantly from $9.6 billion in 2011 over the term of an agreement that will be no less than seven years and could go as long as 10.
In an added complication, a federal judge has set an Aug. 8 hearing for NFL retirees, who claimed Wednesday that the league and NFLPA "have conspired" to set low retiree benefit and pension payments in the negotiations. The retirees also say they have been illegally and intentionally excluded from the talks.
Smith and Goodell were at Wednesday's meeting, along with a half-dozen team owners: Jones, Rooney, Richardson, Robert Kraft of the New England Patriots, John Mara of the New York Giants and Clark Hunt of the Kansas City Chiefs.
On the players' side were Jeff Saturday of the Indianapolis Colts and Tyson Clabo of the Atlanta Falcons.
Information from ESPN national correspondent Sal Paolantonio, ESPN senior NFL analyst Chris Mortensen, ESPN NFL Insider Adam Schefter, ESPN.com senior NFL writer John Clayton and The Associated Press was used in this report.
SPONSORED HEADLINES
MORE NFL HEADLINES
MOST SENT STORIES ON ESPN.COM
The NFL on ESPN.com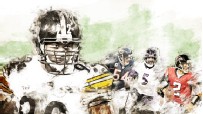 WEEK 1 PICKS
MORE NFL COVERAGE
2011 NFL PREVIEW
JOHN CLAYTON QB RANKINGS
NFL DRAFT
taniaganguli

Tania Ganguli


RT @ClaytonESPN: Here's my take on Texans coaching candidates. http://t.co/uiA5iLAD8j
less than a minute ago

JamesWalkerNFL

James Walker


Dolphins can't overlook kicking game http://t.co/mxgvj04dU7
less than a minute ago

Jeff_Legwold

Jeff Legwold


For #Broncos Demaryius Thomas, Julius Thomas and Knowshon Moreno all listed as probable, all expected to play.
5 minutes ago

BWilliamsonESPN

Bill Williamson


RT @Todd_Dybas: Carroll says on KIRO 97.3 this morning that Harvin is out this weekend. No surprise there. #Seahawks
6 minutes ago

Jeff_Legwold

Jeff Legwold


#Broncos coach John Fox said he will coach from the sideline Sunday.
6 minutes ago

DNewtonespn

David Newton


#Panthers have all their key players back http://t.co/y6QwvaCgfK
6 minutes ago

john_keim

John Keim


Redskins mailbag: Part 1: In Part 1 of the Redskins mailbag, we take a look at Art Briles, the relat... http://t.co/RHUCwV20sx #Redskins
7 minutes ago

DNewtonespn

David Newton


'Riverboat Ron' trademark coming? http://t.co/rqoK5Pfi4t #Panthers
7 minutes ago

ClaytonESPN

John Clayton


No surprise that Aaron Rodgers is officially out. He had no MRI scheduled for his shoulder to see if he to clear.
8 minutes ago

ClaytonESPN

John Clayton


Panthers healthy for game against Saints. DE Charles Johnson and DeAngelo Williams are probable.
8 minutes ago

ClaytonESPN

John Clayton


Here's my take on Texans coaching candidates. http://t.co/dHr59zq9O6
9 minutes ago

ColeyHarvey

Coley Harvey


Mostly clear #Bengals injury report. Zeitler is Questionable. Probables for Burfict, Eifert, Green, Clark Harris, Hawkins, Pacman, Whitworth
14 minutes ago

PaulKuharskyNFL

Paul Kuharsky


.@Jurrellc said #Titans haven't talked to him about a new contract yet and he's not worried about it. Signed through 2014.
16 minutes ago

PaulKuharskyNFL

Paul Kuharsky


.@jurrellc on @Midday180: "Peyton stufggles when you get pressure right up the middle right in his face." #Titans
18 minutes ago

PaulKuharskyNFL

Paul Kuharsky


ON @Midday180 right now: Jurrell Casey (@Jurrellc). #Titans
20 minutes ago

taniaganguli

Tania Ganguli


RT @GloverQuin27: Hate to see Coach Kubiak get fired! He believed in me and drafted me! Great man and coach!!
20 minutes ago

mikerothstein

Michael Rothstein


RT @GloverQuin27: Hate to see Coach Kubiak get fired! He believed in me and drafted me! Great man and coach!!
21 minutes ago

jamisonhensley

Jamison Hensley


Why #Ravens may rest Elvis Dumervil http://t.co/DLEAsJbfdh
24 minutes ago

ESPNChiBears

Jeff Dickerson


Out in Aurora from 2-6 p.m. w/@WaddleandSilvy at O'Malley's Bar and Grill on @ESPN1000 and @ESPNChicago.
31 minutes ago

joshweinfuss

Josh Weinfuss


How big is an NFC West win? Cards are 1-8 in NFCW since start of '12. Only Chiefs and Titans have worse div. records over that span at 1-9.
32 minutes ago
MORE FROM ESPN BOSTON

Want to submit a question for Mike Reiss' weekly Patriots mailbag? Click here and come back every Tuesday around noon for the 'bag.
Latest headlines on ESPNBoston.com: