Plaxico Burress to Giants, Steelers?
It appears likely that Plaxico Burress will be playing for one of his two former teams, the New York Giants or the Pittsburgh Steelers, according to team and league sources.
After a dinner with Giants coach Tom Coughlin on Friday night, Burress plans to fly to Pittsburgh to meet with coach Mike Tomlin, sources said.
Sources believe only a productive, fence-mending meeting between Burress and Coughlin stands between the wide receiver rejoining the Giants and potentially making an incentive-laced $10 million over two years.
However, Tomlin expects to make his own strong sales pitch for Burress to join the Steelers, who made him a first-round draft choice out of Michigan State in 2000, sources added.
Super Bowl XLVI: Giants 21, Patriots 17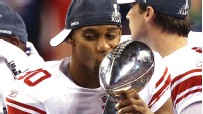 Once again, the Giants battled back in the closing minutes to beat the Patriots in a Super Bowl. Super Zone » Blog »
The Philadelphia Eagles and New York Jets also have expressed varying degrees of interest in Burress, according to sources.
Burress traveled to New York on Tuesday night via a private jet courtesy of billionaire Seth Bernstein, who is serving as an unofficial broker between the wide receiver and the Giants, sources said. Bernstein is CEO of Empower Software Solutions and is a friend of Giants co-owner Steve Tisch.
Burress had hoped to meet with Couglin on Wednesday, but NFL spokesman Greg Aiello told ESPNNewYork.com that the new league rules do not allow free agents to meet with teams, even at a neutral site, until the free-agent signing period begins at 6 p.m. ET Friday.
The New York Post reported Wednesday that Burress will fly back to Florida to resume training.
Bernstein made an independent pitch Tuesday night to Burress and also to Burress' former teammate, Michael Strahan, who has said he believes a return to the Giants would be too great of a distraction for the team and the player. By the end of the evening, sources say Bernstein had made a persuasive case for the reunion. The Giants released Burress in April 2009 after a nightclub gun incident late in the 2008 season led to a self-inflicted leg wound and the receiver's imprisonment.
Plaxico In Photos

With Plaxico Burress playing for the Jets, let's look back on the receiver's career with the Giants and Steelers. Photo gallery

The Giants have talked of paying Burress in the range of $10.5 million over two years -- approximately 60 percent in salary and bonuses, with the balance to be earned on playing-time and performance incentives. Terms remain negotiable and the second year may be an option year, sources said.
While Burress has been contrite since his release from jail, he has had harsh words about his prior relationship with Coughlin. Sources say Bernstein convinced Burress that Coughlin is the right coach and the Giants are the right organization for the receiver's re-entry into the NFL. Coughlin fined Burress repeatedly for team rules violations.
Burress also frustrated others within the organization, including quarterabck Eli Manning, for his failure to practice on a regular basis, but his big-game performances were lauded by all when the Giants won the Super Bowl in 2007.
Coughlin also has stated that his desire is for Burress to grow as a husband, father and community man now that he has been released from jail.
Coughlin and Burress were unavailable for comment. Attempts to reach Drew Rosenhaus, Burress' agent, were unsuccessful.
One Giant said Wednesday that he would love to see Burress back in blue.
"It'll be another match made in heaven," defensive end Justin Tuck said.
"I know this team would love to see him back," Tuck said, adding that he had spoken to Burress. "I don't see there being any other place for him to be (rather) than here in New York. But he has to do what's best for him and his family, and that's what I'd advise him to do."
Tuck hopes Coughlin and Burress can work out their differences.
"I can't speak for Plax or Tom, but it's been well-documented that they have bumped heads in the past, so hopefully a little time apart can rekindle that love that they shared for each other," he said.
Chris Mortensen is a senior NFL analyst for ESPN. Information from ESPNNewYork.com's Mike Mazzeo was used in this report.
NFL reporter
ESPN Senior NFL Analyst
Joined ESPN in 1991
Has covered every Super Bowl since 1979
The NFL on ESPN.com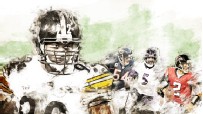 WEEK 1 PICKS
MORE NFL COVERAGE
2011 NFL PREVIEW
JOHN CLAYTON QB RANKINGS
NFL DRAFT
john_keim

John Keim


OK, for KC fans: He's the greatest! For Griffin fans: He's the greatest! Now, can u let me get back to analyzing w/out emotion? thanks.
4 minutes ago

john_keim

John Keim


Right on cue RT @rj1975 @john_keim it bothers me how you as well as others are so dismissive of Roberts talent.
5 minutes ago

john_keim

John Keim


Just noticed after Jags sack in 4th that Branch, involved in play, did a dance. skins were up 31-10. yep.
7 minutes ago

john_keim

John Keim


Cousins avoided the killer mistake last week. Needs more games like that. B4 2012 draft, had1 scout refer to him as Rex Grossman-like
18 minutes ago

RichCimini

Rich Cimini


Jets workouts today included former Dolphins QB Pat Devlin. #nyj
20 minutes ago

RobDemovsky

Rob Demovsky


#Packers workouts today: GREEN BAYTay Glover-Wright, DB Utah StateGregory Hickman DT Florida International
21 minutes ago

john_keim

John Keim


Cousins will have different growing pains. But he's already comfortable in the pocket in this offense.
22 minutes ago

FieldYates

Field Yates


The Dolphins worked out former 49ers RB LaMichael James, per league source.
22 minutes ago

john_keim

John Keim


By the way, not everything I say about one Redskins QB means something against the other. They have different strengths/weaknesse
23 minutes ago

john_keim

John Keim


Have to believe Gruden feels just fine with Cousins at quarterback
24 minutes ago

john_keim

John Keim


Cousins will have rough moments in future I'm sure. Consistency in accuracy issue in past. But good job thru progressions too.
25 minutes ago

ESPNdirocco

Michael DiRocco


Picking the top 10 playmakers from the Redskins loss was not easy. Guess who is back at No. 1? http://t.co/K2Aa7SmReV
25 minutes ago

MikeWellsNFL

Mike Wells


Pagano acknowledged they should have thrown the ball on 2nd down after Richardson ran for 6 yards on their final possession.
26 minutes ago

john_keim

John Keim


Things I've noticed re-watching game: Cousins good job throwing some WRs open; decisive, so rarely hit; used eyes well to hold defenders
26 minutes ago

toddarcher

Todd Archer


Cowboys release S Jemea Thomas from practice squad. Re-sign FB Nikita Whitlock. Might anticipate a shuffle like this all year
27 minutes ago

FieldYates

Field Yates


More notable workouts:Jets - LB's Pat Angerer & Desmond Bishop, WR Tiquan UnderwoodWashington - RB Michael Bush
28 minutes ago

FieldYates

Field Yates


Notable Tuesday workouts:Cardinals - DE Israel Idonije Lions - LB Steve Beauharnais, CB Derek CoxDolphins - TE Tom Crabtree
31 minutes ago

RichCimini

Rich Cimini


CB Leon McFadden, cut by the Jets last week, was signed to the 49ers practice squad. #nyj
31 minutes ago

MikeWellsNFL

Mike Wells


Pagano on lack of pass rush: "We're going to continue to develop the guys that are here. We've got to get people in throwing situations."
32 minutes ago

ESPNNFL

NFL on ESPN


Cleveland QB Brian Hoyer on NFL LIVE with @wingoz:"It was so great to be back out there and get a @Browns victory" http://t.co/h93Jo0L5Wg
38 minutes ago
ESPN FAN SHOP
MORE FROM ESPN NEW YORK

Check out ESPN New York, your destination for sports coverage in the Big Apple.