Sources: Albert Haynesworth traded
Before defensive tackle Albert Haynesworth could get to training camp and take his conditioning test, the Washington Redskins traded him to the New England Patriots for a 2013 fifth-round draft pick, according to league sources.
Haynesworth arrived at the Patriots' facility Thursday night. He still must pass his physical, and Patriots coach Bill Belichick said Thursday morning that the trade was not yet completed.
More on Albert Haynesworth

In trading Albert Haynesworth, the Redskins part with a potential headache, while the Patriots are banking on Bill Belichick's ability to turn malcontents into team players, writes Dan Graziano. Blog
---

Surprise! Albert Haynesworth and Chad Ochocinco are coming to New England. Mike Reiss wonders: Will they bring their baggage? Story
• Reiss: Albert can fit into Pats schemes
• Stats & Info: How Haynesworth helps
• ESPN Boston | Patriots Blog

"I talked to [Redskins coach] Mike Shanahan last night and we're in the process of acquiring Haynesworth, but that's not complete yet, so I can't really comment on that at this point until it's completed -- if it does get completed," Belichick said during a news conference. "So, we'll see how that goes."
Haynesworth clashed repeatedly with Shanahan and frequently skipped workouts. Shanahan suspended him for the final four games of last season for conduct detrimental to the team.
The 30-year-old Haynesworth was at his best when playing in the 4-3 scheme as a Tennessee Titan and seemed to prefer that over the Redskins' 3-4 defense.
The Patriots, though, run plenty of multiple fronts, and Haynesworth lends needed help along their defensive line for a reduced price.
Haynesworth agreed to rework his contract as part of the trade, a league source told ESPNBoston.com's Mike Reiss. The exact details were not immediately known, but tThe former Pro Bowl player's base salary for the coming season is $5 million. He is two years into a seven-year, $100 million contract that the Redskins signed him to in 2009, which included a then-NFL record $41 million in guaranteed money.
He played only 20 games with the Redskins, recording 6½ sacks.
Speaking in generalities about adding a pass-rusher, Belichick said: "Defensively, the two things you want to do are pressure the quarterback and cover the receivers in the passing game. That's what pass defense is: those two things working together and the timing of it, the coordination of it and the execution of it. ... You can never have too much pass rush. You can never have too much pass coverage. You're always trying to improve that."
The Patriots have had a propensity for reaching out to talented but troubled players and succeeding, having done so with running back Corey Dillon and wide receiver Randy Moss.
Haynesworth was charged in two separate incidents this offseason. He settled out of court in a road-rage case and also was accused of fondling a waitress at a hotel bar in Washington. He has pleaded not guilty to a misdemeanor charge of sexual abuse in that case and is scheduled to go on trial Aug. 23.
"I think anytime you acquire a player, however you do it, you want to be comfortable putting that player into your team," Belichick said. "So whether you draft them, sign them, trade for them, however you do it, that's what you want to try to do."
In a 24-hour span, the Redskins will have unloaded Haynesworth and quarterback Donovan McNabb, giving Washington an entirely different atmosphere as it prepares to open camp.
NFL Transactions Analysis

ESPN.com's division bloggers react to all of the big NFL free-agent signings and trades throughout the frenzied post-lockout period. Blog
• Insider: Instant analysis


• Scouts Inc.: Free-agent tracker
The Redskins on Wednesday traded McNabb to Minnesota for a sixth-round pick in 2012 and a conditional sixth-round pick in 2013, a move that is expected to become official later Thursday, in accordance with the recent labor agreement.
Also Thursday, the Redskins terminated the contract of center Casey Rabach, a source told ESPN.com's John Clayton. Rabach, 33, was scheduled to make $3 million this season.
Two defensive linemen who could be starting alongside Haynesworth in the 3-4 defense -- the alignment that helped fuel Haynesworth's discontent with Shanahan -- think he'll adjust to the Patriots' unselfish approach.
"You can see that Albert wasn't really happy in his situation," end Ty Warren said Thursday after the Patriots' first practice of training camp, but "all you see is what goes on (from) the outside and sometimes that's only half of the truth. So, I don't think it's going to be a problem, with the structure of this locker room, the guys that's in this locker room."
Vince Wilfork, primarily a nose tackle, saw the most action at defensive end of his seven-year career last season. Playing next to Haynesworth, the 325-pounder likely would spend even more time on the outside if that's what Belichick wants.
"It's always team first. That's 'The Patriot Way.' If you can't put the team first you won't be here," Wilfork said.
Any new Patriots player with a checkered past, on or off the field, "will see how we do things around here, point blank," he added. "We had guys come through here with a rap sheet and (people) say, 'He can't be handled.' 'This guy can't do this,' and you know what, it worked out fine for us. So, I don't think it will be a big problem."
Moss, eager to leave the Oakland Raiders, didn't go all out in 2006 and was traded to the Patriots. He caught 98 passes with an NFL-record 23 touchdown catches in 2007 and didn't cause trouble until last season, when he was traded.
Dillon, who complained about being stuck with a consistently bad Cincinnati Bengals team, was picked up in March 2004 after being cut and was a major contributor that year to the Patriots' championship. He rushed for a team-record 1,635 yards and ran 75 yards for one touchdown in a 24-21 Super Bowl win over the Philadelphia Eagles.
And Harrison became a hard-hitting leader, showing he was far from finished.
"Every case is different," Warren said. "All the guys that I've seen make that transition, from the Rodneys, just right on down the line. Everybody's had a smooth transition."
Last year, Haynesworth missed offseason workouts because he wanted a trade to avoid playing in Shanahan's 3-4 defense. He didn't practice until he passed the conditioning test on the 10th day of training camp.
"When we get on this field, regardless of what people say about you, it's 'Can you perform?'" Wilfork said. "It's 'Can you put it together?'"
Haynesworth has the talent to do that. He had 8 1/2 sacks in 2008, his last season with Tennessee, which took him with the 15th draft pick in 2002.
With Haynesworth and Wilfork on the field at the same time, teams might have to assign four blockers to them. That would be a big advantage for the Patriots pass rush, which was mediocre last season.
So, what would it mean to play with him?
"It's huge. He's got some freakish ability," Warren said. "I've seen him on film and he's the real deal."
Adam Schefter is ESPN's NFL Insider. Information from ESPNBoston.com's Mike Reiss and The Associated Press was used in this report.
ESPN NFL Insider
Joined ESPN in 2009
Former president of the Pro Football Writers of America and the author of four books
SPONSORED HEADLINES
MORE NFL HEADLINES
MOST SENT STORIES ON ESPN.COM
The NFL on ESPN.com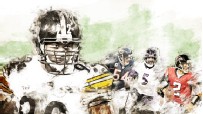 WEEK 1 PICKS
MORE NFL COVERAGE
2011 NFL PREVIEW
JOHN CLAYTON QB RANKINGS
NFL DRAFT
ColeyHarvey

Coley Harvey


We teased the possible agreement in this morning's Quick Takes. Seems the "spirit of collaboration" is there #Bengals http://t.co/wYj0Oe84Qm
about a minute ago

ColeyHarvey

Coley Harvey


The @Enquirer story I just retweeted is big news for the #Bengals and the city/county. Team gets upgrades to PBS. The region could get jobs
2 minutes ago

john_keim

John Keim


Boise State DE/OLB Demarcus Lawrence will visit the #Redskins on Tuesday.
2 minutes ago

ColeyHarvey

Coley Harvey


RT @MeghanWesley: BREAKING: Bengals, Hamilton County reach major deal on The Banks: http://t.co/5CIRM5kag3 http://t.co/HVXRZ0uob4
10 minutes ago

ESPNdirocco

Michael DiRocco


#Jaguars are releasing Russell Allen, Will Pericak, D'Aundre Reed & Jabin Sambrano.
13 minutes ago

mikerodak

Mike Rodak


Should the Bills' new stadium committee meetings be open to the public? http://t.co/9Etjh5IJqo
16 minutes ago

PaulKuharskyNFL

Paul Kuharsky


Let's chat #Titans: http://t.co/bD9706aARu
16 minutes ago

espncowboysblog

espncowboysblog


Aikman concerned about Romo's back http://t.co/XtKhWz0qiV
17 minutes ago

PaulKuharskyNFL

Paul Kuharsky


For the record, Homestead is actually a Joe Grushecky song.
19 minutes ago

mikecwright

Michael C. Wright


RT @GoodmanESPN: Tulsa is in final negotiations to hire Missouri's Frank Haith, barring a last-minute collapse in talks, a source told ESPN.
19 minutes ago

mikecwright

Michael C. Wright


OK, Adam. How this works is you have to Tweet as well as watch my man. Glad to see you on Twitter now. @ESPNDel
20 minutes ago

PaulKuharskyNFL

Paul Kuharsky


Let's chat about the Titans at 4 ET, 3 CT: It's nearly chat time.Please come join me and a great cre... http://t.co/15B5JtNtfm #Titans
24 minutes ago

joshweinfuss

Josh Weinfuss


RT @sarahgrieco: "The KKK is a shadow of what it used to be." http://t.co/sapAbepJ8A Great story by @joshsanburn & @frantrianni
28 minutes ago

PGutierrezESPN

Paul Gutierrez


Howie Long recruiting #49ers Dave Waymer to come to #Raiders in pic I snapped in LA in 1991 preseason? #TBT http://t.co/NiW839VewU
34 minutes ago

TerryBlountESPN

Terry Blount


RT @DangeRussWilson: Practicing our timing until its flawless. #NoTime2Sleep http://t.co/rTYbrnHD4l
39 minutes ago

PGutierrezESPN

Paul Gutierrez


UNR's finest? RT @RAIDERS @WhoDAtBeezy LB Kaelin Burnett @WhoDAtBeezy has signed his Exclusive Rights Tender. http://t.co/l1xarcd3ot
43 minutes ago

vxmcclure23

vaughn mcclure


Star-studded upcoming week for the Falcons includes a visit by Buffalo's Khalil Mack. http://t.co/iMMguztSfG
44 minutes ago

espncowboysblog

espncowboysblog


Reviewing Cowboys' free agency: 2012 http://t.co/qb23MM4cxV
47 minutes ago

TerryBlountESPN

Terry Blount


The NBA really needs to rethink things. Atlanta, 6 games under .500, makes the playoffs. Phoenix, 14 games over .500, doesn't.
53 minutes ago

TerryBlountESPN

Terry Blount


Ahh, that's the Noesi I remember.
about an hour ago

MORE FROM ESPN BOSTON

Want to submit a question for Mike Reiss' weekly Patriots mailbag? Click here and come back every Tuesday around noon for the 'bag.
Latest headlines on ESPNBoston.com: