Nnamdi Asomugha signs with Eagles
Updated:
July 30, 2011, 12:53 PM ET
ESPN.com news services
BETHLEHEM, Pa. -- Philadelphia has become quite the attractive free-agent destination of late.
On Friday, Nnamdi Asomugha and the Eagles joined in on the party.
One day after acquiring Pro Bowl cornerback Dominique Rodgers-Cromartie from the Cardinals, the Eagles stunned the NFL world, and signed another Pro Bowl cornerback, Asomugha, to a five-year contract.
Very quietly, while other teams made headlines in their pursuit of Asomugha, Eagles general manager Howie Roseman and president Joe Banner made a pitch to him that he simply could not refuse.
Asomugha's deal will pay him $60 million over the life of it, with $25 million guaranteed.
"Howie and Joe worked their tail off and put together this phenomenal plan," Philadelphia coach Andy Reid said. "They came out of the gates like wild men and attacked the issue. Neither one of them has had much sleep. But they've rewarded our football team and the city of Philadelphia with some great players."
Lost in the Asomugha shuffle, was the fact that the Eagles also formally announced a one-year deal for quarterback Vince Young, a 2006 first-round pick of Tennessee. Young, who went 30-2 as a starter at Texas and led the Longhorns to a national championship in his final game there only to have an up-and-down tenure with the Titans, will back up Eagles starter Michael Vick.
Asomugha, considered the top free agent on the market, spent his first eight seasons with the Raiders. He had a career-high eight interceptions in 2006, went to the Pro Bowl after the 2008, 2009 and 2010 seasons and was named a first-team all-pro in 2008 and 2010.
Even though he has just three interceptions in the last three years, Asomugha is considered one of the top cover cornerbacks in the NFL, and was courted by several high-profile teams, including the New York Jets and Dallas Cowboys.
"He's one of the best -- if not the best -- cornerback in the National Football League," Reid said. "He'll be a great addition to our cornerback corps. Right now."
The Eagles now have three Pro Bowl cornerbacks on their roster: Asomugha, Rodgers-Cromartie and Asante Samuel, who has 42 interceptions in eight years and has made the Pro Bowl four straight years.
"It's always been a priority position for us," Roseman said. "Corners, pass rushers, and we felt like last year, we were in a situation where maybe we got a little short-handed, and we thought it was a place that we wanted to go heavy and have a lot of talent at.
"You can never have enough cover corners. That helps your pass rush and when you have an opportunity to add the players we added, we just thought we had to add those guys."
The Eagles last year allowed a franchise-record 31 touchdown passes in the regular season, and three more in a 21-16 loss to Green Bay at home in the first round of the NFC playoffs.
"We have three good cornerbacks," Reid said. "It reminds me a little bit of when we had (Pro Bowl cornerbacks) Al (Harris), Troy (Vincent) and Bobby Taylor."
Though he may have made more elsewhere, Asomugha made it clear he was interested in winning a title as well. As the league headed toward it's free-agency signing period, which started on Friday at 6 p.m., it appeared as if the Jets were the clear frontrunner. What seemed to help New York's cause, is that Asomugha has aspirations of acting when his playing days are over. New York, over several other destinations, clearly seemed like a good place to start that second career.
But instead of joining the team that made the AFC title game the last two years, he'll join an Eagles club that went 10-6 last season, won the NFC East and figures now to be considered among the Super Bowl favorites this year.
What makes the move even more surprising is that the Eagles weren't a part of the early courting of Asomugha. In fact, Roseman said Philadelphia entered negotiations "very late."
But while they certainly have one of the deepest defensive backfields in the league now, clearly one of the big three won't be able to start for the Eagles. Perhaps it's Samuel, who was excused from training camp at Lehigh University the last two days.
The Eagles have not commented on his absence. And Roseman, as expected, said Samuel's absence has nothing to do with the stunning signing.
"That's a personal excused absence that Asante's dealing with," he said.
The Eagles also officially signed Pro Bowl defensive end Jason Babin to a five-year contract, and tight end Donald Lee and wide receiver Johnnie Lee Higgins to one-year deals.
"It's been fast," Reid said, "and furious."
The Jets went hard after Asomugha, who would've been paired with fellow All-Pro Darrelle Revis -- arguably the two best cornerbacks in the NFL. Coach Rex Ryan delivered a strong sales pitch, according to a source, but the intense, four-day negotiation ended with a "No."
The San Francisco 49ers, Tampa Bay Buccaneers and Houston Texans were also involved at various points.
This was a setback for the Jets, who basically put their free agent operation on hold as they waited for Asomugha's decision. It leaves them with a gaping hole in their defense, but they will move immediately to try to re-sign free agent Antonio Cromartie, who started opposite Revis last season.
With their attention focused on Asomugha over the past few days, the Jets may find it awkward to go back to Cromartie, who might not want to be their consolation prize. Cromartie is no Asomugha, but he played well for much of the season in Rex Ryan's cornerback-reliant defense. Ryan needs two lockdown corners in his system because he plays so much man-to-man coverage.
"I have a philosophy that you lose games fastest at quarterback and cornerback, so you better make sure you have some corners who can cover some people," Ryan said Wednesday.
The Jets ranked sixth in pass defense last season, but they allowed a surprisingly high number of touchdown passes -- 24. They intercepted only 12. For the most part, opponents stayed away from Revis, attempting twice as many passes in Cromartie's direction.
The Jets are flirting with other free agent corners, namely Chris Carr (Baltimore Ravens), but they're all a notch below Asomugha and Cromartie. On the bench, they have former No. 1 pick Kyle Wilson, who's coming off a shaky rookie year.
Their fascination with Asomugha may have been costly. On Thursday, they let all-purpose star Brad Smith bolt to the Buffalo Bills without so much as an offer, because they were planning to use the money for Asomugha.
To make room for Asomugha and other free agents, the Jets re-worked the contracts of running back LaDainian Tomlinson, linebackers Calvin Pace and Bart Scott and guard Brandon Moore. On Friday, the Jets released backup quarterback Mark Brunell, but they intend to re-sign him at a lower salary.
Information from ESPNNewYork.com's Rich Cimini and The Associated Press was used in this report.
SPONSORED HEADLINES
MORE NFL HEADLINES
MOST SENT STORIES ON ESPN.COM
The NFL on ESPN.com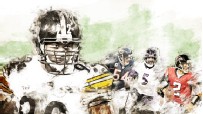 WEEK 1 PICKS
MORE NFL COVERAGE
2011 NFL PREVIEW
JOHN CLAYTON QB RANKINGS
NFL DRAFT
DNewtonespn

David Newton


#Panthers Jonathan Stewart to get MRI Monday http://t.co/9XOD6mEQPR
5 minutes ago

DNewtonespn

David Newton


#Panthers get a taste of what Saints got http://t.co/K2Sha6c4Sf
45 minutes ago

BWilliamsonESPN

Bill Williamson


#49ers next task:: Win at Seattle in playoffs http://t.co/CJw7RDVRi4
about an hour ago

joshweinfuss

Josh Weinfuss


Don't get too excited, folks, but if Dallas loses to Chicago tomorrow night, AZ sits comfortably at 7th in the Wild Card at 8-5. SF, CAR 9-4
about an hour ago

TDESPN

Trent Dilfer


RT @beepreps: @TDESPN @VCHSAthletics I recorded it. A keeper. So deserved for the Dilfer family, which does things the right way.
about an hour ago

TDESPN

Trent Dilfer


Couldn't be prouder of my 2 daughters and the entire @VCHSAthletics VB team's State Championship. #DilfersDimes was my way to honor them.
about an hour ago

TDESPN

Trent Dilfer


One of the coolest things about having your own segment on SC is you get to celebrate Gr8 stuff. @VCHSAthletics VB & Little Dilfs are Gr8
about an hour ago

DNewtonespn

David Newton


#Panthers RB Jonathan Stewart will undergo an MRI on Monday to determine damage in right knee from third-quarter hit.
about an hour ago

joshweinfuss

Josh Weinfuss


Carson Palmer was 27-of-32 (84%), the most accurate game by an NFC quarterback this season min. 25 att, per @ESPNStatsInfo
about an hour ago

SandoESPN

Mike Sando, ESPN.com


Looked away in time on that one. RT @AZCardinalsFTW: @SandoESPN Mathieu's looked terrible after seeing the replay 😞
about an hour ago

SandoESPN

Mike Sando, ESPN.com


Can't watch the Gronk replay. Just HATE those injuries. Cringe-worthy.
about an hour ago

TDESPN

Trent Dilfer


RT @ronikastonee: So my team was just on espn 😱 #dilferdimes #papadilf he's the best http://t.co/eBBFDXMYWp
about an hour ago

RichCimini

Rich Cimini


Eager Jets haven't quit on Rex Ryan: EAST RUTHERFORD, N.J. -- Rex Ryan's first victory occurred an hour befor... http://t.co/HkymeLvLEx
about 2 hours ago

DNewtonespn

David Newton


Rapid Reaction: Carolina Panthers http://t.co/IqtdxkjcpF
about 2 hours ago

eric_d_williams

Eric Williams


Whisenhunt's focus on Bolts, not job hunt http://t.co/dcAq29Bdfm
about 2 hours ago

PaulKuharskyNFL

Paul Kuharsky


Titans produce another second-half dud: DENVER -- Three times this year, the Tennessee Titans have tak... http://t.co/jhiO8yNjmX #Titans
about 2 hours ago

TerryBlountESPN

Terry Blount


Seahawks lose a close, but have no fears. The 49ers were the better team Sunday, but the best team lost. My column: http://t.co/p9mW84pUng
about 2 hours ago

RobDemovsky

Rob Demovsky


Getting ready to follow @IAM_Dat_One on @Cover_2 w/ @jasonjwilde, @markdanielsWNFL @rothchris. Tune in on @WBAY. http://t.co/CCeNVpeu7i
about 2 hours ago

MikeWellsNFL

Mike Wells


RT @Chris_Widlic: Looks like #colts will face #chiefs in NFL playoff game at Lucas Oil unless something very unusual happens
about 2 hours ago

RobDemovsky

Rob Demovsky


Getting ready to follow @IAM_Dat_One on @Cover_2 with @jasonjwilde, @markdanielsWNFL and @rothchris. Please tune in on @WBAY.
about 2 hours ago
MORE FROM ESPN DALLAS

Check out ESPN Dallas, the place for your local Dallas sports coverage.
MORE FROM ESPN NEW YORK

Check out ESPN New York, your destination for sports coverage in the Big Apple.