Plaxico Burress meets with Steelers
Updated:
July 31, 2011, 9:12 AM ET
By
James Walker
| ESPN.com
The Pittsburgh Steelers officially have entered the Plaxico Burress sweepstakes. General manager Kevin Colbert confirmed the team met with its 2000 first-round pick early Saturday morning, just one day after Burress met with the New York Giants, another former team.
Walker: Name Your Price, Plax

Plaxico Burress has begun to meet with teams, but a price tag for the troubled wideout remains uncertain, ESPN.com's James Walker writes. Blog
According to Colbert, there have been no contract negotiations with the free-agent wide receiver, who was released from prison earlier this summer. But overall it was a productive visit.
"Drew [Rosenhaus], his agent, is interested, and we're certainly interested," Colbert said. "So where it goes, we will find out."
According to the Pittsburgh Post-Gazette, Burress had breakfast with coach Mike Tomlin, Colbert and team president Art Rooney. He then sat down with Roethlisberger and backup quarterback Byron Leftwich, Hines Ward and linebacker James Farrior.
Colbert was slated to meet with Tomlin later in the day to gauge his feelings and where Burress, 34, potentially could fit. The next step would be determining a price tag. The Steelers did not work out Burress Saturday.
"We've seen enough of [Burress'] work. Of course, if we advance to a contract, we'd have to do a physical and see where he is physically," Colbert said. "But from what I've seen he looks great from a conditioning standpoint. Of course, he's missed two years of football. Until he gets back on the football field, nobody is going to know that."
Burress was released from prison on June 6 after serving 20 months for a gun charge.
Tomlin called the sit-down "good" while the normally tight-lipped Colbert was decidedly open when talking about the nature of the discussion.
"Obviously he's interested," Colbert told The Associated Press. "Drew (Rosenhaus) his agent is interested and we're certainly interested."
Consider quarterback Ben Roethlisberger chief among those hoping to land the soon-to-be 34-year-old. He spoke to Burress several times following Burress' release from prison in June after serving 20 months on a gun charge.
Though the defending AFC champions aren't exactly hurting at wide receiver with Ward, budding star Mike Wallace and youngsters Antonio Brown and Emmanuel Sanders, Burress would give the passing game an added dimension. For all their speed, Ward and company -- all 6-feet and under -- can't look the 6-foot-5 Roethlisberger in the eye. Burress, also 6-5, can.
"For this offense we've got a lot of weapons, a lot of tools (but) anytime you can just add something, say it's a (fast) guy, a tall guy ... he can help the young guys and I think that's good," Roethlisberger said.
NFL Transactions Analysis

ESPN.com's division bloggers react to all of the big NFL free-agent signings and trades throughout the frenzied post-lockout period. Blog
• Insider: Instant analysis


• Scouts Inc.: Free-agent tracker
Burress was meeting late Saturday with the San Francisco 49ers, according to multiple media reports.
San Francisco general manager Trent Baalke would not discuss Burress or any free agents possibly visiting the team, according to the reports. But a source said the 49ers might emerge as the favorite, explaining "I think he will go for the dollars," according to the New York Post.
A source close to Burress said Friday night that Burress has his eyes on the Philadelphia Eagles, who can deliver another monster blow to the Giants if they land Burress. The Eagles stunned many with their signing of top free-agent cornerback Nnamdi Asomugha Friday.
The New York Jets are also giving strong consideration to Burress, a league source told ESPNNewYork.com's Rich Cimini. The Jets would like to bring Burress to their facility for a visit, but that meeting won't happen Sunday, a source said.
The Jets are looking for a No. 2 wide receiver to play opposite Santonio Holmes.
The Jets previously met with Burress back in 2009 in South Florida when he was awaiting trial, a person familiar with that meeting told Cimini.
According to the Post-Gazette, Burress has told some of his former Steelers teammates that the San Francisco 49ers and Jets were interested in his services, but the race for the wideout is believed to be down to the Steelers and Jets.
Burress spent about 90 minutes Friday evening meeting with Giants coach Tom Coughlin, general manager Jerry Reese, owner John Mara and several of his former teammates.
"I would say it was positive conversations all the way around," Giants general manager Jerry Reese told ESPNNewYork.com's Ohm Youngmisuk. "I thought we had a good visit. We will see what comes out of this. Again, we don't bring people in for the fun of it. We bring people in to investigate if it's a possibility for the New York Giants. We think it's probably a possibility and we will see where it goes."
However, sources told the Post-Gazette that Burress will not re-sign with the Giants.
James Walker covers the AFC North for ESPN.com. You can follow him on Twitter at espnafc_north. Information from ESPNNewYork.com's Ohm Youngmisuk was used in this report.
ESPN Miami Dolphins reporter
A Temple graduate and Hyattsville, Md., native who lives in Miami
Joined ESPN in 2008
The NFL on ESPN.com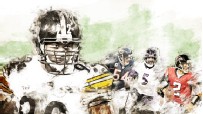 WEEK 1 PICKS
MORE NFL COVERAGE
2011 NFL PREVIEW
JOHN CLAYTON QB RANKINGS
NFL DRAFT
mikerothstein

Michael Rothstein


Just tremendous reporting from @DVNJr & @KVanValkenburg on the Ravens, NFL & Ray Rice here. Read if you haven't http://t.co/jnGbLSIV6P
2 minutes ago

MikeWellsNFL

Mike Wells


Mailbag: Should Colts pursue Michael Sam off Dallas' practice squad? http://t.co/LvM8IXUcy9
9 minutes ago

toddarcher

Todd Archer


Recapping the Cowboys week: IRVING, Texas – As you get ready for the Dallas Cowboys to take on the St... http://t.co/J6ClQYDYqF #Cowboys
21 minutes ago

HistoryInPics

History In Pictures


Robert De Niro and Al Pacino on the set of The Godfather Part II, 1974 http://t.co/Hr7GDU0q20
26 minutes ago

PatMcManamon

PatMcManamon


A home run by @JimTrotter_NFLon today's events: Goodell offers nothing of substance http://t.co/ZbrHFzUIdw via @espnnfl
about an hour ago

espncowboysblog

espncowboysblog


Recapping the Cowboys week http://t.co/zvj6ZWb9ES
about an hour ago

JamesWalkerNFL

James Walker


Projecting Miami #Dolphins inactives http://t.co/TByaf7DjZ4"-Here are the players you shouldn't expect to see Sunday.
about an hour ago

MikeReiss

Mike Reiss


This week's Patriots "football journey" is with rookie DE Zach Moore, the first Concordia player to ever be drafted. http://t.co/HtcKXIKh8x
about an hour ago

AdamSchefter

Adam Schefter


This NFL saga is never ending. And yet, in a way, it feels as if it just beginning.
about 2 hours ago

WilliamsonNFL

Matt Williamson


Dynasty: Sent @ShanePHallam Maclin, Justin Brown/M Rivera (Throw ins) & my 2015 3rd FOR P Thomas, T Cadet & D Walker
about 8 hours ago

Edwerderespn

Ed Werder


In Rice, Hardy, Peterson, Winston, we see how difficult it is to do the right thing - when those in charge really prefer to do otherwise
about 9 hours ago

WilliamsonNFL

Matt Williamson


Just started watching Brandon Marshall: A Football Life (Awesome series of course).Knew he grew up in Pittsburgh, but where specifically?
about 9 hours ago

mortreport

Chris Mortensen


UF's Donovan tells Jaguars to trust http://t.co/PLz31zhWfT
about 9 hours ago

SeifertESPN

Kevin Seifert


Must've been a reassuring week of practice from backup RT @McMurphyESPN: FSU announces Jameis Winston will not play in entire game vs. Clem
about 9 hours ago

Edwerderespn

Ed Werder


Strong take..RT..Roger Goodell offers zero substance http://t.co/4LXNh07LRS
about 10 hours ago

PatMcManamon

PatMcManamon


How the Ray Rice scandal unfolded -- story from Outside the Lines not good for #Ravens -- http://t.co/mk4EOcLEKS
about 10 hours ago

PatMcManamon

PatMcManamon


A home run by @JimTrotter_NFLon today's events: Goodell offers nothing of substance http://t.co/ZbrHFzUIdw via @espnnfl
about 10 hours ago

pdomo

Paul Domowitch


I highly, highly recommend this exceptional story by Grantland's Louisa Thomas on domestic violence in the NFL: http://t.co/M59IUc5Yj6
about 10 hours ago

PatMcManamon

PatMcManamon


Friend of Ray Rice says in this story there's so much pollution in what took place it's hard to breath, A must read — http://t.co/PXY9jMLm5a
about 10 hours ago

joshweinfuss

Josh Weinfuss


So @chadmillman @wrightthompson @SethWickersham I'm taking my Hoosiers. Straight up. #amancanhope #MizzouIsntTheMAC
about 10 hours ago

MORE FROM ESPN NEW YORK

Check out ESPN New York, your destination for sports coverage in the Big Apple.