Plaxico Burress meets with Steelers
Updated:
July 31, 2011, 9:12 AM ET
By
James Walker
| ESPN.com
The Pittsburgh Steelers officially have entered the Plaxico Burress sweepstakes. General manager Kevin Colbert confirmed the team met with its 2000 first-round pick early Saturday morning, just one day after Burress met with the New York Giants, another former team.
Walker: Name Your Price, Plax

Plaxico Burress has begun to meet with teams, but a price tag for the troubled wideout remains uncertain, ESPN.com's James Walker writes. Blog
According to Colbert, there have been no contract negotiations with the free-agent wide receiver, who was released from prison earlier this summer. But overall it was a productive visit.
"Drew [Rosenhaus], his agent, is interested, and we're certainly interested," Colbert said. "So where it goes, we will find out."
According to the Pittsburgh Post-Gazette, Burress had breakfast with coach Mike Tomlin, Colbert and team president Art Rooney. He then sat down with Roethlisberger and backup quarterback Byron Leftwich, Hines Ward and linebacker James Farrior.
Colbert was slated to meet with Tomlin later in the day to gauge his feelings and where Burress, 34, potentially could fit. The next step would be determining a price tag. The Steelers did not work out Burress Saturday.
"We've seen enough of [Burress'] work. Of course, if we advance to a contract, we'd have to do a physical and see where he is physically," Colbert said. "But from what I've seen he looks great from a conditioning standpoint. Of course, he's missed two years of football. Until he gets back on the football field, nobody is going to know that."
Burress was released from prison on June 6 after serving 20 months for a gun charge.
Tomlin called the sit-down "good" while the normally tight-lipped Colbert was decidedly open when talking about the nature of the discussion.
"Obviously he's interested," Colbert told The Associated Press. "Drew (Rosenhaus) his agent is interested and we're certainly interested."
Consider quarterback Ben Roethlisberger chief among those hoping to land the soon-to-be 34-year-old. He spoke to Burress several times following Burress' release from prison in June after serving 20 months on a gun charge.
Though the defending AFC champions aren't exactly hurting at wide receiver with Ward, budding star Mike Wallace and youngsters Antonio Brown and Emmanuel Sanders, Burress would give the passing game an added dimension. For all their speed, Ward and company -- all 6-feet and under -- can't look the 6-foot-5 Roethlisberger in the eye. Burress, also 6-5, can.
"For this offense we've got a lot of weapons, a lot of tools (but) anytime you can just add something, say it's a (fast) guy, a tall guy ... he can help the young guys and I think that's good," Roethlisberger said.
NFL Transactions Analysis

ESPN.com's division bloggers react to all of the big NFL free-agent signings and trades throughout the frenzied post-lockout period. Blog
• Insider: Instant analysis


• Scouts Inc.: Free-agent tracker
Burress was meeting late Saturday with the San Francisco 49ers, according to multiple media reports.
San Francisco general manager Trent Baalke would not discuss Burress or any free agents possibly visiting the team, according to the reports. But a source said the 49ers might emerge as the favorite, explaining "I think he will go for the dollars," according to the New York Post.
A source close to Burress said Friday night that Burress has his eyes on the Philadelphia Eagles, who can deliver another monster blow to the Giants if they land Burress. The Eagles stunned many with their signing of top free-agent cornerback Nnamdi Asomugha Friday.
The New York Jets are also giving strong consideration to Burress, a league source told ESPNNewYork.com's Rich Cimini. The Jets would like to bring Burress to their facility for a visit, but that meeting won't happen Sunday, a source said.
The Jets are looking for a No. 2 wide receiver to play opposite Santonio Holmes.
The Jets previously met with Burress back in 2009 in South Florida when he was awaiting trial, a person familiar with that meeting told Cimini.
According to the Post-Gazette, Burress has told some of his former Steelers teammates that the San Francisco 49ers and Jets were interested in his services, but the race for the wideout is believed to be down to the Steelers and Jets.
Burress spent about 90 minutes Friday evening meeting with Giants coach Tom Coughlin, general manager Jerry Reese, owner John Mara and several of his former teammates.
"I would say it was positive conversations all the way around," Giants general manager Jerry Reese told ESPNNewYork.com's Ohm Youngmisuk. "I thought we had a good visit. We will see what comes out of this. Again, we don't bring people in for the fun of it. We bring people in to investigate if it's a possibility for the New York Giants. We think it's probably a possibility and we will see where it goes."
However, sources told the Post-Gazette that Burress will not re-sign with the Giants.
James Walker covers the AFC North for ESPN.com. You can follow him on Twitter at espnafc_north. Information from ESPNNewYork.com's Ohm Youngmisuk was used in this report.
ESPN Miami Dolphins reporter
A Temple graduate and Hyattsville, Md., native who lives in Miami
Joined ESPN in 2008
The NFL on ESPN.com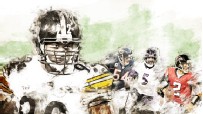 WEEK 1 PICKS
MORE NFL COVERAGE
2011 NFL PREVIEW
JOHN CLAYTON QB RANKINGS
NFL DRAFT
ESPNChiBears

Jeff Dickerson


Jared Allen returns to practice http://t.co/cHRoti4pxa
about a minute ago

DNewtonespn

David Newton


#Panthers' Alexander suspended 10 games after coming off four-game suspension http://t.co/69P1WBVjqR via @espnnfl
3 minutes ago

espncowboysblog

espncowboysblog


Tony Romo: 'You want to feel healthy' http://t.co/kdlYBIbxtr
4 minutes ago

MikeReiss

Mike Reiss


Catching up on positional groupings as Patriots ran majority of offensive snaps with 3 WRs vs. Chiefs: http://t.co/OlGt17sITG
6 minutes ago

ColeyHarvey

Coley Harvey


From earlier, Bill Belichick lauds the "tough," "aggressive" #Bengals, calls them better than they were last year http://t.co/CvaygHF8MN
7 minutes ago

ColeyHarvey

Coley Harvey


Several #Bengals say they're preparing for the traditional power the Patriots normally are,not the team we saw Monday http://t.co/pzua3MZgQ2
8 minutes ago

SeifertESPN

Kevin Seifert


Per @darrenrovell, #NFL new deal with @DIRECTV is worth $1.5B per year. Means league takes in $6.5B in TV revenue next year alone.
8 minutes ago

PGutierrezESPN

Paul Gutierrez


#49ers missing practice: Vernon Davis, Anthony Davis, Tramaine Brock, Justin Smith. Crabtree, Vance McDonald practicing. Jerod-Eddie in blue
9 minutes ago

ColeyHarvey

Coley Harvey


From earlier, Bill Belichick lauds the "tough," "aggressive" #Bengals, calls them better than they were last year http://t.co/CvaygHF8MN
9 minutes ago

SheridanScribe

Phil Sheridan


McCoy: 'I'm confident in my game': PHILADELPHIA -- LeSean McCoy didn't want to talk about the Philadel... http://t.co/dbaRAoD8C2 #Eagles
16 minutes ago

mikerodak

Mike Rodak


Kyle Orton bats down a "crap question" from a reporter Wednesday: http://t.co/1QYj6x26bc
17 minutes ago

adamteicher

Adam Teicher


As for Berry, it's high ankle sprain. Not expecting to see him soon
27 minutes ago

mikerodak

Mike Rodak


In other news, Bills say that Jim Schwartz isn't willing to talk about his time in Detroit when he speaks to reporters Friday.
28 minutes ago

adamteicher

Adam Teicher


For those asking, DAT was full practice participant. Can't say how he looked. Don't get to see much of practice.
28 minutes ago

nwagoner

Nick Wagoner


Quick news story on Fisher naming Austin Davis his starting QB. ... http://t.co/qJxkwoDFZP
28 minutes ago

adamteicher

Adam Teicher


Chiefs injury report is out. Berry and Avery did not practice. Charles, Sean Smith and Tamba Hali were limited
30 minutes ago

espncowboysblog

espncowboysblog


Dez Bryant has full practice Wednesday http://t.co/dKwU9D6Txe
31 minutes ago

mikerodak

Mike Rodak


Bills don't have much of an update on Kyle Williams or Nigel Bradham injuries: http://t.co/HCty387qba
37 minutes ago

joshweinfuss

Josh Weinfuss


Desmond Bishop said he was just about to take the field, cleats and all, for a workout in Miami when his agent called to say AZ signed him.
40 minutes ago

PatMcManamon

PatMcManamon


Pettine: #Browns expecting and preparing to see Jake Locker Sunday in Tennessee -- http://t.co/n5xsEtXEBf
41 minutes ago
MORE FROM ESPN NEW YORK

Check out ESPN New York, your destination for sports coverage in the Big Apple.