Randy Moss, 34, to hang up cleats
Updated:
August 1, 2011, 11:43 PM ET
ESPN.com news services
MANKATO, Minn. -- Randy Moss dominated when he wanted to dominate.
He scored when he wanted to score, cooperated when he wanted to cooperate and acted out when he wanted to act out.
Moss spent 13 seasons doing things on his own terms, which is why perhaps the loudest career the NFL has ever seen -- both in terms of the roars he induced on the field and the aggravation he caused off it -- ended so quietly on Monday.
Seifert: Moss Changed The Game

To counter Randy Moss, opponents devised new coverages and exotic lineups in an attempt to slow down a player who dubbed himself "The Freak," ESPN.com's Kevin Seifert writes. Blog
• Chadiha: Moss won't be missed
• Hill: Randy's "so-called" retirement
---
SportsNation: Gathering Moss Feedback

Touchdown machine Randy Moss has always generated a passionate response from fans. Ready to sound off?

• Do you believe he is retired? Vote!
• Where does he fit all time? Rank!
• Receivers with 100 TD catches? Quiz!
No farewell speech from maybe the most physically gifted receiver to don a helmet. No tearful goodbye from a record-setting performer who changed the way defense is played in the NFL. Just a one-sentence statement from his agent saying one of the most colorful careers in league history was over.
"Randy has weighed his options and considered the offers and has decided to retire," Joel Segal said on Monday.
It was vintage Moss, a revolutionary talent who was never very much interested in doing things the conventional way.
Fans were awed by his once-in-a-generation blend of size, speed and intelligence. Teammates were charmed by the charisma he showed behind closed doors and coaches were often infuriated by his boorish antics and lack of respect for authority.
"I don't know if anybody can totally pin down who Randy Moss is," said Tim DiPiero, one of Moss' first agents said last year.
If this indeed is the end for Moss, he leaves the game with some of the gaudiest statistics posted by a receiver. His 153 touchdowns are tied with Terrell Owens for second on the career list, and he's also fifth in yards (14,858) and tied with Hines Ward for eighth in receptions (954).
"In a lot of ways, he was the Michael Jordan of offenses in our league," Vikings coach Leslie Frazier said. "He was a special player for a long, long time."
Those numbers, and his status as perhaps the best deep threat in NFL history, will make him a strong candidate for the Hall of Fame. But voters will also be weighing those achievements and his six Pro Bowl seasons against a history of mailing in performances and a reputation as a coach killer.
As Moss himself famously said: "I play when I want to play."
And when he wanted to, there was no one better. And when he didn't, there was no one more destructive.
Trouble off the field in high school prevented Moss from attending Notre Dame or Florida State, so he landed at Marshall and scored 54 touchdowns in two electrifying seasons with the Thundering Herd.
The character questions hurt Moss in the 1998 draft. He fell to the Vikings at pick No. 21 and he spent the next seven years making every GM in the league who passed on him regret it. He scored 17 touchdowns to help the Vikings reach the NFC title game, a season so overpowering that the rival Packers used their first three picks in the following April's draft on cornerbacks to try to slow him down.
Didn't do much good. Moss scored at least 10 touchdowns in all but one season in his first tour with the Vikings.
"The things I've seen him do, I don't think I'll ever see another player do the things he did," Vikings tight end Jim Kleinsasser said. "Great career. Tough to see him not playing because I think he had a lot left out there that he could have done for somebody."
He also got into several controversies along the way, bumping a traffic cop in downtown Minneapolis, squirting a referee with a water bottle during a game and leaving the field early in a game against Washington, just to name a few.
Sensing a change of scenery was needed, the Vikings traded Moss to Oakland in 2005, where he spent two quiet seasons before his career was revived in New England. He re-emerged as a force with the Patriots, hauling in a single-season record 23 TD passes from Tom Brady to help the Patriots reach the Super Bowl.
Vikings fans were euphoric at the news of his return last season, but things soured in a hurry. He caught 13 passes for 174 yards and two touchdowns in four games back in purple, clashed with coach Brad Childress in the locker room and brought embarrassment to the organization when he berated a caterer at team headquarters.
He hugged former Patriots teammates after a Vikings loss, and then bizarrely stepped to a podium to fawn over the Patriots, criticize the Vikings for ignoring his strategic advice, and announce his plan to interview himself the rest of the season instead of letting reporters do it.
An enraged Childress unilaterally decided to cut Moss shortly after, a decision that helped seal his fate with Vikings ownership.
Moss finished the season with eight games in Tennessee, but only caught six passes. Segal said earlier this summer that the receiver was training hard and determined to prove to the doubters that he could still dominate the game like he had in the past, describing Moss as being in "freakish shape" after "working out, two-a-days, all spring and summer in West Virginia."
Clearly, Canton Will Be Calling
Randy Moss, who will retire after 13 seasons, ranks in the NFL's top 5 in receiving yards, receiving TDs and 100-yard receiving games:
| | | Rank |
| --- | --- | --- |
| Rec | 954 | T-8th |
| Rec yds | 14,858 | 5th |
| Rec TD | 153 | T-2nd |
| 100-yd gms | 64 | 2nd |
powered by

"He is determined, motivated and quite frankly has a huge chip on his shoulder. Whatever team ends up getting Randy, they're going to know they're getting the old Randy Moss," Segal told NFL.com in mid-July.
"He's not just coming in to be on the team, he's going to be Randy Moss -- a difference-maker."
The Jets were believed to have some interest in Moss, but Segal declined to elaborate on the options that were available.
"Randy has been a great player for a long time," said Bob Pruett, Moss' college coach at Marshall. "He's choosing this on his own terms and I think that's good. If that's what he wants to do, that's what he should do."
While many grapple with what Moss' legacy will be, there is no denying the impact he had on the game. The Cover 2 defense has become a fashionable scheme over the past 10 years, and it was designed in large part to prevent Moss from burning opposing defensive backs for long TDs.
"He's a guy who changed defenses," Vikings cornerback Antoine Winfield said. "You had to put two defenders on him to take him out of the game so it opened up the rest of the offense. Great guy, great teammate, I have a lot of respect for him, he's brought a lot to this game and I wish him well."
Whether the 34-year-old Moss is truly done is anyone's guess. That, of course, appears to be completely up to him.
"He's one of the best receivers of all time to play this game," Vikings receiver Percy Harvin said. "I'm sure he hung it up with no regrets, so I wish the best for him. He had a great career and did a lot of great things."
Information The Associated Press was used in this report.
The NFL on ESPN.com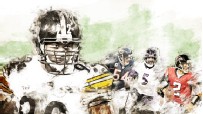 WEEK 1 PICKS
MORE NFL COVERAGE
2011 NFL PREVIEW
JOHN CLAYTON QB RANKINGS
NFL DRAFT
nwagoner

Nick Wagoner


Stedman Bailey's punt returns to weekly awards ratio is now an even 1:1 after he takes home special teams honor. ... http://t.co/AWrePqE0kw
3 minutes ago

GoesslingESPN

Ben Goessling


NFL Nation TV has Brian Bosworth on the show today. That oughta be good: http://t.co/fHn0Z33GwD
7 minutes ago

SeifertESPN

Kevin Seifert


Remember The Boz? His ESPN tour will continue on NFL Nation TV at 1 p.m. ET. He's got a 30 for 30 coming out. http://t.co/SxsaybPmmk
8 minutes ago

GoesslingESPN

Ben Goessling


Today's NFL Nation Buzz video looks at the Vikings' attempt to move on from a gut-wrenching loss in Buffalo: http://t.co/qWTkWfdCLg
8 minutes ago

SeifertESPN

Kevin Seifert


Might not be a bad idea RT @FXFL: The #FXFL can provide you that opportunity, @MichaelSamNFL
9 minutes ago

mikecwright

Michael C. Wright


Brian Bosworth joins NFL Nation TV at 1 p.m. ET today to talk about his new 30 for 30 film: The Boz: http://t.co/qMRN7GzbjU
10 minutes ago

JamesWalkerNFL

James Walker


#Bears QB Jay Cutler relies soley on arm way too much. His arm is that strong where it works sometimes. But it didn't vs. the #Dolphins' D.
13 minutes ago

ESPNdirocco

Michael DiRocco


We've got The Boz on NFL Nation TV today, 1 pm ET. He'll discuss the 30 for 30 film about his career. http://t.co/aKu8vIK8OG
14 minutes ago

JamesWalkerNFL

James Walker


BTW, I finally got a chance to re-watch the game film yesterday of #Dolphins and #Bears. CHI QB Jay Cutler has awful mechanics.
14 minutes ago

mikerodak

Mike Rodak


Bills rank 27th in points scored, 25th in third down offense, and 28th in red zone offense: http://t.co/zPxaRZxRq4
15 minutes ago

mikerodak

Mike Rodak


Rex Ryan on Harvin: "I'd love to see him make a difference immediately. We'll see how he does during the week."
17 minutes ago

toddarcher

Todd Archer


Tony Romo's camp words prove prescient: IRVING, Texas -- After the first training camp practice, Dall... http://t.co/FhbWmhxU4q #Cowboys
20 minutes ago

mikerodak

Mike Rodak


Rex Ryan on Percy Harvin: "We'll have some plays in there for him and let him get back there and return some kicks."
22 minutes ago

adamteicher

Adam Teicher


Charles says he doesn't have concussion. The symptoms he describes might say otherwise: http://t.co/kVX1BAOgIl
23 minutes ago

taniaganguli

Tania Ganguli


If you missed this yesterday evening, here's a look at how rare 24-point quarters are in back-to-back games http://t.co/5lNqwEMCS2 #Texans
25 minutes ago

RobDemovsky

Rob Demovsky


#Packers RT @RLiuNFL: NFC Offensive Player of Week 7: @Packers QB Aaron Rodgers. 10th career Player of Week Award (2nd in 2014)
29 minutes ago

DanGrazianoESPN

Dan Graziano


Only the Browns run the ball more often on second down than the Giants do. Only Pats, Texans run more often on 3rd down.
35 minutes ago

espncowboysblog

espncowboysblog


Tony Romo's camp words prove prescient http://t.co/rUcOeSlPPc
37 minutes ago

MikeReiss

Mike Reiss


QB Tom Brady on extending plays: "I don't have one cell in my body that ever tells me to run." http://t.co/2GeSqgfyyg
40 minutes ago

DZederman

Danny Zederman


Today on Carm & Jurk: @AlbertBreer 10:30, @ESPNChiBears 12, Masters of Debate w/@TWaddle87 1 & the "Jurko of New England" Fred Smerlas 1:30.
40 minutes ago
MORE FROM ESPN BOSTON

Want to submit a question for Mike Reiss' weekly Patriots mailbag? Click here and come back every Tuesday around noon for the 'bag.
Latest headlines on ESPNBoston.com: