Randy Moss, 34, to hang up cleats
Updated:
August 1, 2011, 11:43 PM ET
ESPN.com news services
MANKATO, Minn. -- Randy Moss dominated when he wanted to dominate.
He scored when he wanted to score, cooperated when he wanted to cooperate and acted out when he wanted to act out.
Moss spent 13 seasons doing things on his own terms, which is why perhaps the loudest career the NFL has ever seen -- both in terms of the roars he induced on the field and the aggravation he caused off it -- ended so quietly on Monday.
Seifert: Moss Changed The Game

To counter Randy Moss, opponents devised new coverages and exotic lineups in an attempt to slow down a player who dubbed himself "The Freak," ESPN.com's Kevin Seifert writes. Blog
• Chadiha: Moss won't be missed
• Hill: Randy's "so-called" retirement
---
SportsNation: Gathering Moss Feedback

Touchdown machine Randy Moss has always generated a passionate response from fans. Ready to sound off?

• Do you believe he is retired? Vote!
• Where does he fit all time? Rank!
• Receivers with 100 TD catches? Quiz!
No farewell speech from maybe the most physically gifted receiver to don a helmet. No tearful goodbye from a record-setting performer who changed the way defense is played in the NFL. Just a one-sentence statement from his agent saying one of the most colorful careers in league history was over.
"Randy has weighed his options and considered the offers and has decided to retire," Joel Segal said on Monday.
It was vintage Moss, a revolutionary talent who was never very much interested in doing things the conventional way.
Fans were awed by his once-in-a-generation blend of size, speed and intelligence. Teammates were charmed by the charisma he showed behind closed doors and coaches were often infuriated by his boorish antics and lack of respect for authority.
"I don't know if anybody can totally pin down who Randy Moss is," said Tim DiPiero, one of Moss' first agents said last year.
If this indeed is the end for Moss, he leaves the game with some of the gaudiest statistics posted by a receiver. His 153 touchdowns are tied with Terrell Owens for second on the career list, and he's also fifth in yards (14,858) and tied with Hines Ward for eighth in receptions (954).
"In a lot of ways, he was the Michael Jordan of offenses in our league," Vikings coach Leslie Frazier said. "He was a special player for a long, long time."
Those numbers, and his status as perhaps the best deep threat in NFL history, will make him a strong candidate for the Hall of Fame. But voters will also be weighing those achievements and his six Pro Bowl seasons against a history of mailing in performances and a reputation as a coach killer.
As Moss himself famously said: "I play when I want to play."
And when he wanted to, there was no one better. And when he didn't, there was no one more destructive.
Trouble off the field in high school prevented Moss from attending Notre Dame or Florida State, so he landed at Marshall and scored 54 touchdowns in two electrifying seasons with the Thundering Herd.
The character questions hurt Moss in the 1998 draft. He fell to the Vikings at pick No. 21 and he spent the next seven years making every GM in the league who passed on him regret it. He scored 17 touchdowns to help the Vikings reach the NFC title game, a season so overpowering that the rival Packers used their first three picks in the following April's draft on cornerbacks to try to slow him down.
Didn't do much good. Moss scored at least 10 touchdowns in all but one season in his first tour with the Vikings.
"The things I've seen him do, I don't think I'll ever see another player do the things he did," Vikings tight end Jim Kleinsasser said. "Great career. Tough to see him not playing because I think he had a lot left out there that he could have done for somebody."
He also got into several controversies along the way, bumping a traffic cop in downtown Minneapolis, squirting a referee with a water bottle during a game and leaving the field early in a game against Washington, just to name a few.
Sensing a change of scenery was needed, the Vikings traded Moss to Oakland in 2005, where he spent two quiet seasons before his career was revived in New England. He re-emerged as a force with the Patriots, hauling in a single-season record 23 TD passes from Tom Brady to help the Patriots reach the Super Bowl.
Vikings fans were euphoric at the news of his return last season, but things soured in a hurry. He caught 13 passes for 174 yards and two touchdowns in four games back in purple, clashed with coach Brad Childress in the locker room and brought embarrassment to the organization when he berated a caterer at team headquarters.
He hugged former Patriots teammates after a Vikings loss, and then bizarrely stepped to a podium to fawn over the Patriots, criticize the Vikings for ignoring his strategic advice, and announce his plan to interview himself the rest of the season instead of letting reporters do it.
An enraged Childress unilaterally decided to cut Moss shortly after, a decision that helped seal his fate with Vikings ownership.
Moss finished the season with eight games in Tennessee, but only caught six passes. Segal said earlier this summer that the receiver was training hard and determined to prove to the doubters that he could still dominate the game like he had in the past, describing Moss as being in "freakish shape" after "working out, two-a-days, all spring and summer in West Virginia."
Clearly, Canton Will Be Calling
Randy Moss, who will retire after 13 seasons, ranks in the NFL's top 5 in receiving yards, receiving TDs and 100-yard receiving games:
| | | Rank |
| --- | --- | --- |
| Rec | 954 | T-8th |
| Rec yds | 14,858 | 5th |
| Rec TD | 153 | T-2nd |
| 100-yd gms | 64 | 2nd |
powered by

"He is determined, motivated and quite frankly has a huge chip on his shoulder. Whatever team ends up getting Randy, they're going to know they're getting the old Randy Moss," Segal told NFL.com in mid-July.
"He's not just coming in to be on the team, he's going to be Randy Moss -- a difference-maker."
The Jets were believed to have some interest in Moss, but Segal declined to elaborate on the options that were available.
"Randy has been a great player for a long time," said Bob Pruett, Moss' college coach at Marshall. "He's choosing this on his own terms and I think that's good. If that's what he wants to do, that's what he should do."
While many grapple with what Moss' legacy will be, there is no denying the impact he had on the game. The Cover 2 defense has become a fashionable scheme over the past 10 years, and it was designed in large part to prevent Moss from burning opposing defensive backs for long TDs.
"He's a guy who changed defenses," Vikings cornerback Antoine Winfield said. "You had to put two defenders on him to take him out of the game so it opened up the rest of the offense. Great guy, great teammate, I have a lot of respect for him, he's brought a lot to this game and I wish him well."
Whether the 34-year-old Moss is truly done is anyone's guess. That, of course, appears to be completely up to him.
"He's one of the best receivers of all time to play this game," Vikings receiver Percy Harvin said. "I'm sure he hung it up with no regrets, so I wish the best for him. He had a great career and did a lot of great things."
Information The Associated Press was used in this report.
The NFL on ESPN.com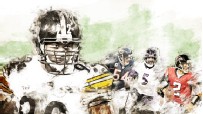 WEEK 1 PICKS
MORE NFL COVERAGE
2011 NFL PREVIEW
JOHN CLAYTON QB RANKINGS
NFL DRAFT
PaulKuharskyNFL

Paul Kuharsky


Per @PFF: "Jake Locker's average drop-back reaches 8.4 yards behind the line of scrimmage. That is the deepest in the league."
19 minutes ago

toddarcher

Todd Archer


Brandon Weeden happy about practice snaps: IRVING, Texas -- If form holds, Brandon Weeden will take t... http://t.co/fdSk8WP7t6 #Cowboys
20 minutes ago

RobDemovsky

Rob Demovsky


Starter Pack: #Packers aware of Vikings' RBs, even if they can't name them. Plus the rest of your morning links.http://t.co/TvOHWcdvA1
24 minutes ago

jamisonhensley

Jamison Hensley


#Ravens' most impressive start of John Harbaugh era http://t.co/dag1qvkli6
31 minutes ago

espncowboysblog

espncowboysblog


Brandon Weeden happy about practice snaps http://t.co/jHG4swNYnM
33 minutes ago

MikeReiss

Mike Reiss


Getting to know the Patriots' next opponent, the Cincinnati Bengals http://t.co/4dI2vzncEI
41 minutes ago

mikerothstein

Michael Rothstein


The #Lions offense has changed, but has Matthew Stafford improved? A look at the numbers: http://t.co/FFDEqYCVsD
48 minutes ago

ESPNChiBears

Jeff Dickerson


Want to sit in @MillerLite Loft for #Bears vs. #Dolphins Oct. 19? Join me at The Fogcutter in Lake Villa this Friday from 7-9 p.m.
about an hour ago

vxmcclure23

vaughn mcclure


With Joe Hawley and William Moore out of the lineup, Falcons need new leaders to emerge on both sides of the ball. http://t.co/N9M7IN13TM
about an hour ago

vxmcclure23

vaughn mcclure


Looks like Falcons guard Justin Blalock's status for this week will depend on how his back reacts on practice field.
about an hour ago

DNewtonespn

David Newton


#Panthers undrafted running back Darrin Reaves living in fantasy world http://t.co/UFmYTw2Dvr
about an hour ago

toddarcher

Todd Archer


Jason Garrett praises fans, calls for more noise: IRVING, Texas -- When Jason Garrett approached the ... http://t.co/fb5bOteQPu #Cowboys
about an hour ago

espncowboysblog

espncowboysblog


Jason Garrett praises fans, calls for more noise http://t.co/m6itDemLyz
about an hour ago

wingoz

trey wingo


If only there had been something to do in Kansas City the las two nights.....
about an hour ago

mikerothstein

Michael Rothstein


#Lions RB Reggie Bush takes me through how he prepares and tries to stay healthy each week: http://t.co/uY5Zp8JiGO
about an hour ago

mikerothstein

Michael Rothstein


From yesterday, #Lions LG Rob Sims explains his favorite tattoo: http://t.co/uaTi2pRJQ7
about an hour ago

MikeWellsNFL

Mike Wells


A look back at the first-quarter of the Colts' season http://t.co/VsgW7jdz8F
about an hour ago

taniaganguli

Tania Ganguli


RTC: What Jerry Jones and Bob McNair share: Reading the coverage of the Houston Texans...Jerry Jones... http://t.co/UD65NIXQDU #Texans
about an hour ago

DNewtonespn

David Newton


The #Panthers' first-quarter report card: C- http://t.co/N59a6P8NtY
about an hour ago

Edwerderespn

Ed Werder


#NFL owners to discuss financial obligations in future for situations like Adrian Peterson, Greg Hardy at next week's meetings, source says
about 2 hours ago
MORE FROM ESPN BOSTON

Want to submit a question for Mike Reiss' weekly Patriots mailbag? Click here and come back every Tuesday around noon for the 'bag.
Latest headlines on ESPNBoston.com: