Raiders, Kevin Boss sign deal
Updated:
August 5, 2011, 11:40 PM ET
By
Ohm Youngmisuk
| ESPNNewYork.com
EAST RUTHERFORD, N.J. -- The New York Giants lost a key player when tight end Kevin Boss signed with the Oakland Raiders on Friday.
Boss signed a $16 million, four-year contract with the Raiders on Friday. The deal includes $8 million in guarantees.
The Raiders, who were looking for a tight end after losing Zach Miller to the Seahawks, announced the deal.
Boss' asking price was clearly too high for the Giants, who have been trying to re-sign him and wide receiver Steve Smith.
"It's disappointing," Giants coach Tom Coughlin said. "We were very much involved. But the decision is the decision. We wish him well."
Boss, who worked out for the Raiders Wednesday, was fifth in receptions last season with 35 catches for 531 yards and five touchdowns. The 6-foot-6 player was one of Eli Manning's most trusted targets and had caught a total of 16 touchdowns the past three seasons.
Boss, who caught 119 passes with 18 touchdowns in four seasons with the Giants, gives the Raiders a 6-foot-6, 235-pound downfield target. He also won a Super Bowl ring with New York in his rookie season.
"He's smooth," said quarterback Jason Campbell, who played against Boss' Giants teams while Campbell was with the Washington Redskins. "He has a lot of experience. We understand he knows what it takes to get to the next level, and what it's going to take for us to get to the next level this year."
The Raiders brought in Boss for a workout Wednesday and signed him after restructuring contracts to get under the salary cap. He did not join the team at its training camp facilities on Friday but coach Hue Jackson expects Boss to be on the field soon.
"I expect to get him here as soon as we can," Jackson said. "We've got work to do. There are quite a few things in our offensive system that a young man needs to do and he showed those characteristics on video tape."
While Boss is the front-runner to replace Miller, the Raiders have holdover Brandon Myers and Kevin Brock on the roster as well. Jackson also lauded the efforts in practice of rookie tight ends David Ausberry and Richard Gordon.
Losing Boss hurts because he provides Manning with a tall safety valve across the middle. Smith, if he re-signs, may not be ready for the season opener due to microfracture knee surgery he had in December 2010.
NFL Transactions Analysis

ESPN.com's division bloggers react to all of the big NFL free-agent signings and trades throughout the frenzied post-lockout period. Blog
• Insider: Instant analysis


• Scouts Inc.: Free-agent tracker
The Giants could look to free agency to sign another tight end. At the moment in camp, they have
Travis Beckum
, newly signed former Cardinals tight end
Ben Patrick
,
Jake Ballard
and
Bear Pascoe
, who could play fullback this season.
"It sucks," Beckum said. "Because obviously Kevin's been here since my rookie year, and he's established himself. Kevin and I were close. He taught me a lot of stuff, but it's nothing personal. Kevin knows I wish nothing but the best for him, but he has to do what he has to do, and that's in Oakland."
Beckum will now try to meet high expectations since being drafted out of Wisconsin in the third round in 2009. He had 13 receptions for 116 yards and two touchdowns last season.
"Most of my reps last year were when Kevin was in the game but we are down a tight end," Beckum said. "I'm ready to do whatever I have to do and whatever they ask me to do. I think that I have done a good job with whatever they asked me to do. I took advantage of everything, whether it was coming out of the backfield, at the Y or being in there during goal line. Whatever they asked me to do, I am willing to do it."
Ohm Youngmisuk covers the Giants for ESPNNewYork.com. Information from ESPNNewYork.com's Mike Mazzeo and The Associated Press was used in this report.
ESPNNewYork.com
Ohm Youngmisuk has covered the Giants, Jets and the NFL since 2006. Prior to that, he covered the Nets, Knicks and the NBA for nearly a decade. He joined ESPNNewYork.com after working at the New York Daily News for almost 12 years and is a graduate of Michigan State University.
Follow him on Twitter »
Ohm's chat archive »
SPONSORED HEADLINES
MORE NFL HEADLINES
MOST SENT STORIES ON ESPN.COM
The NFL on ESPN.com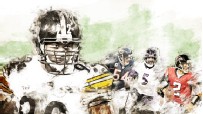 WEEK 1 PICKS
MORE NFL COVERAGE
2011 NFL PREVIEW
JOHN CLAYTON QB RANKINGS
NFL DRAFT
JamesWalkerNFL

James Walker


IMO, the biggest #Dolphins X-factor is new OC Bill Lazor. If he's steps better than Mike Sherman, the #Dolphins could make a jump. If not...
3 minutes ago

ScottBrown_ESPN

Scott Brown


RT @MarkdominikESPN: The two positions in this draft that have the most locked down first round picks are offensive tackle and wide receive…
3 minutes ago

JamesWalkerNFL

James Walker


"@CurtisWKnisley: "season depends on our ability to run, stop the run and pass deep."-Three things the #Dolphins were awful at last season.
6 minutes ago

ScottBrown_ESPN

Scott Brown


RT @JoshYohe_Trib: Fleury messed up on the final two goals. Can't deny that. But his teammates were outshot 46-25 by the Blue Jackets. Can'…
7 minutes ago

JamesWalkerNFL

James Walker


"@KrisMayhue: "not looking forward to that matchup this early in the season"-We will find out right away if the #Dolphins are legit vs. NE.
15 minutes ago

PGutierrezESPN

Paul Gutierrez


Yo, @DannyWebster21 @PaulieDelos, https://t.co/CmVpxs4kxf
20 minutes ago

JamesWalkerNFL

James Walker


"@finz_blazin: "must win in div or no playoffs. simple as that"-I agree. A 2-4 record in the AFCE again this yr isn't good enough. #Dolphins
21 minutes ago

DNewtonespn

David Newton


Hype begins."@Ravens: Panthers come to Balt. in Week 4.Think @89stevesmith will be ready?http://t.co/kgI8ncOoBM http://t.co/r50wQnNfum"
25 minutes ago

RichCimini

Rich Cimini


The Jets have bye before going to BUF in Wk 12. But the Bills have long week, too, coming off Thurs nighter in Miami. #nyj
29 minutes ago

RichCimini

Rich Cimini


Random thoughts on schedule: Packers, who play Thurs night opener, will have extra rest before facing Jets at home in Wk 2. #nyj
30 minutes ago

JamesWalkerNFL

James Walker


"@TheSlicee: "nice to see us atBUF early when the weather won't be a factor"-Good point. #Dolphins looked disinterested in the cold last yr.
35 minutes ago

JamesWalkerNFL

James Walker


"@fikaris: "will be nice to start the season with a win! Different team this year!"-You're already counting #Dolphins vs #Patriots as a win?
39 minutes ago

MikeReiss

Mike Reiss


For your amusement ... at my expense ... but maybe a thing or two learned about '14 Pats schedule in the process? http://t.co/jWBq3L3nNJ
41 minutes ago

JamesWalkerNFL

James Walker


"@SeanHudsonSr: "Hoping my @MiamiDolphins finish 3-wins better than '13, at 11-5!"-It's early, but I don't see 11 wins on MIA's schedule.
41 minutes ago

MikeReiss

Mike Reiss


The Patriots' 2014 schedule is out and @FieldYates provides some additional thoughts: http://t.co/MgXcuZJ4k5
43 minutes ago

PaulKuharskyNFL

Paul Kuharsky


Additional thoughts on the Titans' schedule: Additional thoughts on the Tennessee Titans' schedule:1... http://t.co/Jrw6vVtc7o #Titans
44 minutes ago

JamesWalkerNFL

James Walker


#Dolphins HC Joe Philbin is 4-8 vs. the AFC East and starts this year w/#Patriots and at BUF. Will Philbin reverse the trend?
46 minutes ago

PaulKuharskyNFL

Paul Kuharsky


Just posted a photo http://t.co/a0KxcMhC1n
49 minutes ago

MikeWellsNFL

Mike Wells


RT @carlvanrooy: @MikeWellsNFL well like @KingJames said there's no way that could have been intentional #WouldHaveToaBeANinja
53 minutes ago

wingoz

trey wingo


RT @HistoryInPics: Washington D.C. from the Washington Monument, c. 1911 http://t.co/LIBN6uOa9P
54 minutes ago
Nike Women's Oakland Raiders Fan Black V-Neck Shirt Shop »
MORE FROM ESPN NEW YORK

Check out ESPN New York, your destination for sports coverage in the Big Apple.