Dashon Goldson returns to 49ers
Updated:
August 8, 2011, 10:38 PM ET
ESPN.com news services
SAN FRANCISCO -- Dashon Goldson is back with the San Francisco 49ers after all -- despite all his tweets to the contrary.
Sando: Niners Pump Up Secondary

Why so many safeties in San Francisco? Just look at the 49ers' pass defense from last season, ESPN.com's Mike Sando writes. Blog
The free agent safety agreed to terms on a one-year, $2 million contract Monday to rejoin the Niners, a league source told ESPN NFL Insider Adam Schefter.
Coach Jim Harbaugh discussed the addition of Goldson after Monday's practice in Santa Clara, but said he wasn't sure whether Goldson would be on the practice field for the first time Tuesday morning, an open workout for fans.
"We'll see," Harbaugh said.
While the team hadn't formally announced Goldson's signing, the Niners did say they signed tight end Chris Blohm to a three-year deal. A San Francisco native, Blohm had 27 catches for 270 yards and two touchdowns last year at Yale.
Goldson played his first four NFL seasons with the 49ers, finishing with 80 tackles, one sack and an interception in 2010 -- but said last week via his Twitter account that he didn't expect to be back after watching his team sign others who play his same position.
Last week, San Francisco signed safeties Madieu Williams and Donte Whitner -- so, bringing back Goldson gives new coach Jim Harbaugh some experienced options in what is shaping up as a deep secondary that also includes safety Reggie Smith. Whitner is expected to be the strong safety.
Goldson has started 32 games over the past two seasons.
"I feel good with the talent in the secondary, and I think that really makes the competition that much better," Harbaugh said. "Dashon's a 49er, and I'm pleased that he's coming back. We've had a couple of conversations, and I think he's ready to get to work. Iron sharpens iron, so I'm looking forward to that. I'm excited that he wanted to continue to be a Niner."
The 26-year-old Goldson -- a fourth-round draft pick out of Washington in 2007 -- had responded to San Francisco signing Williams, who spent the past three seasons with the Vikings after four in Cincinnati.
NFL Transactions Analysis

ESPN.com's division bloggers react to all of the big NFL free-agent signings and trades throughout the frenzied post-lockout period. Blog
• Insider: Instant analysis


• Scouts Inc.: Free-agent tracker
"To answer sum of the ?'S I'm not sure wht tht move by the 9ers was for, I guess to scare me ... well it didn't work. Try again," he tweeted. "I'm definitely keepin an open mind. Meanin I won't mind takin my talents else where to a place where I'm wanted"
San Francisco also added cornerback Carlos Rogers as the likely successor to Nate Clements, who started all 16 games at right cornerback last season but was released at the start of training camp.
Goldson apparently thought he was parting ways with the Niners.
"Sorry guys thanx for all ur support but not gonna be back. See ya," he tweeted last Thursday.
Earlier, he said, "I wanna be in San Fran and in camp jus as much as u fans want me to be but as we all experienced the last 4mnths, its a business side to it."
Information from The Associated Press contributed to this report.
SPONSORED HEADLINES
MORE NFL HEADLINES
MOST SENT STORIES ON ESPN.COM
The NFL on ESPN.com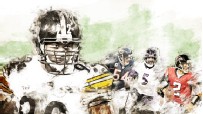 WEEK 1 PICKS
MORE NFL COVERAGE
2011 NFL PREVIEW
JOHN CLAYTON QB RANKINGS
NFL DRAFT

MORE FROM ESPN BOSTON

Want to submit a question for Mike Reiss' weekly Patriots mailbag? Click here and come back every Tuesday around noon for the 'bag.
Latest headlines on ESPNBoston.com: