Rex Grossman predicts NFC East title
Updated:
August 11, 2011, 9:11 AM ET
ESPN.com news services
The Washington Redskins haven't won the NFC East since 1999. A confident Rex Grossman believes that drought will come to an end this season.
The defending division champion Philadelphia Eagles have grabbed the offseason headlines with their free-agent spending spree, which included CB Nnamdi Asomugha, DT Cullen Jenkins and DE Jason Babin, and the talented Dallas Cowboys are a candidate to rebound with new coach Jason Garrett and a healthy Tony Romo at quarterback. The New York Giants won the division as recently as 2008 and are the last NFC East team to win the Super Bowl.
"

We don't need people saying we're the best right now, but when it's all said and done, I really feel like this team's gonna win the East.

"

-- Rex Grossman
But Grossman says the team no one is talking about will come out on top.
"We're fine being the sleepers right now," Grossman said Tuesday in an interview with Comcast SportsNet. "You know, we're just waiting in the wings, ready to take over the NFC East.
"Nobody's talking about us. That's right where we want to be. You look at us from top to bottom out here, there's a bunch of great players. And we don't need people saying we're the best right now, but when it's all said and done, I really feel like this team's gonna win the East."
Grossman, who is listed at No. 1 on the Redskins' depth chart at the quarterback position, was the starter for the Chicago Bears when they played in the Super Bowl in the 2006 season. He says the Redskins' offensive talent is better than the offense he led in Chicago.
"I look around, this offense from top to bottom is better than that offense I had in Chicago," Grossman said. "The defense is gonna make a ton of strides this year. I know they are. It's gonna be fun. I know we're gonna be a good team."
Giants defensive end Justin Tuck, when asked to respond to Grossman's comments, told reporters Wednesday that he "couldn't care less."
NFC East blog

ESPN.com's Dan Graziano writes about all things NFC East in his division blog.
Giants offensive tackle David Diehl said he and his teammates were keeping their focus on themselves and on their season opener -- which happens to be against the Redskins in Washington.
"Well, you're gonna hear from every team, they're gonna say the same answer. We're just continuing to take each and every day," Diehl said. "I just know that we're moving in the right direction, and we're gonna be ready to go on Sept. 11."
While Grossman is talking big, he's not guaranteed to be the Redskins' starting quarterback. John Beck also has a chance to start at quarterback this season, but a groin injury has slowed him in training camp. Coach Mike Shanahan had praised Beck in April, and the quarterback said during the lockout that he was approaching the season as if he were the team's starter.
The Redskins finished 6-10 last season, their first under Shanahan. Their last winning season was in 2007, when the team made the playoffs as a wild card under former coach Joe Gibbs.
The Redskins have undergone a transformation this offseason. Gone are Donovan McNabb, Albert Haynesworth and Clinton Portis. Several players have been added to the roster through free agency and trades.
Donte' Stallworth and Jabar Gaffney were added to the receiving corps, and top wideout Santana Moss was re-signed.
In the backfield, Tim Hightower was acquired in a trade with Arizona and can give Ryan Torain a break on third down and step in if Torain, who missed four games in 2010 with a hamstring injury, gets hurt again.
On defense, ex-Giant Barry Cofield is an upgrade at nose tackle, the position Haynesworth refused to play. The Redskins also improved at defensive end, signing ex-Cowboy Stephen Bowen.
Cornerback Josh Wilson and safety O.J. Atogwe were added to strengthen the secondary.
Information from ESPNNewYork.com's Kieran Darcy and The Associated Press was used in this report.
SPONSORED HEADLINES
MORE NFL HEADLINES
MOST SENT STORIES ON ESPN.COM
The NFL on ESPN.com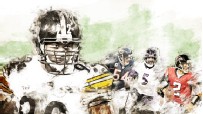 WEEK 1 PICKS
MORE NFL COVERAGE
2011 NFL PREVIEW
JOHN CLAYTON QB RANKINGS
NFL DRAFT
espncowboysblog

espncowboysblog


Cowboys Twitter mailbag, Part 1 http://t.co/MUcbZ0xPGi
less than a minute ago

PaulKuharskyNFL

Paul Kuharsky


RTC: With CJ gone, who's highest-paid?: Reading the coverage of the Tennessee Titans while recovering ... http://t.co/bsU3mGA4Dv #Titans
3 minutes ago

GoesslingESPN

Ben Goessling


#Vikings have spent $50.2M guaranteed since start of FA -- 5th-most in the NFL -- but their cap plan makes it work: http://t.co/6bLr8Q3v3c
4 minutes ago

RobDemovsky

Rob Demovsky


NDSU QB and Wisconsin native. MT @ArmedDangerQBS: Good luck to @BrockJensen1 on his private workout today with the Green Bay Packers
5 minutes ago

john_keim

John Keim


Will be finishing Part 2 of Redskins mailbag in a couple hours. If you have a ?, you have time. use #Redskinsmailbag... thanks.
7 minutes ago

john_keim

John Keim


@bmcnally14 @granthpaulsen @funnydanny you'd better mention the hot cocoa fiasco near section 417.
9 minutes ago

PatMcManamon

PatMcManamon


Last call for Browns Mailbag questions. Just include #BrownsMail in the tweet.
9 minutes ago

PatMcManamon

PatMcManamon


Today's Draft Factoid is about Carlos Hyde's prodigious running ability -- #Browns -- http://t.co/jXRuMmpBb0
9 minutes ago

john_keim

John Keim


Re-examining Redskins' needs: Cornerback: In the fifth part of our re-examining series, I take a loo... http://t.co/JNrJV3kqYx #Redskins
10 minutes ago

AdamSchefter

Adam Schefter


Congratulations to Dan Dierdorf, who came out of his brief retirement to sign a 3-year deal to be radio analyst for Michigan football.
11 minutes ago

ESPNdirocco

Michael DiRocco


RT @taniaganguli: Teddy Bridgewater will visit #Texans next week. Per source, Bridgewater also working out for Jaguars. Visited previously.
11 minutes ago

DanGrazianoESPN

Dan Graziano


You're going to call me dumb, you'd better write it correctly. RT @WatupdoeNjNj: @DanGrazianoESPN haha, so rude to your fans/followers
12 minutes ago

mikerodak

Mike Rodak


Mailbag time: Tweet me your Bills questions and I'll answer some on the http://t.co/gpEnTaWzLR Bills blog tomorrow.
14 minutes ago

taniaganguli

Tania Ganguli


Teddy Bridgewater will visit #Texans next week. Per source, Bridgewater also is working out for the Jaguars. Previously visited Jax, too.
21 minutes ago

DanGrazianoESPN

Dan Graziano


It's "You're just dumb." RT @Njdb89Nick: @DanGrazianoESPN your just dumb if u think a team wouldn't look at him
21 minutes ago

mikerodak

Mike Rodak


Bills WR Brandon Kaufman says he's gained 30 pounds, could move to TE: http://t.co/CMTP7OZFkn
22 minutes ago

MikeReiss

Mike Reiss


Jackie MacMullan, as usual, with a gem: Why they'll run - Marathoners impacted by bombings share what motivates them http://t.co/InfVnP4xtm
34 minutes ago

WilliamsonNFL

Matt Williamson


RT @StanLoveTheShow: #Steeler draft talk today with Matt @WilliamsonNFL at 130.
35 minutes ago

wingoz

trey wingo


Fight on RT @SportsCenter In his battle vs cancer @StuartScott living not only for himself but also his 2 daughters http://t.co/iNNwLeYwXo
37 minutes ago

Edwerderespn

Ed Werder


RT @SportsCenter: In his battle against cancer, @StuartScott is living not only for himself, but also for his 2 daughters. (via @GMA) » htt…
40 minutes ago

MORE FROM ESPN DALLAS

Check out ESPN Dallas, the place for your local Dallas sports coverage.
MORE FROM ESPN NEW YORK

Check out ESPN New York, your destination for sports coverage in the Big Apple.
MORE FROM ESPN CHICAGO

Want to submit a question for Jeff Dickerson's weekly Bears mailbag? Click here » and come back every Friday around noon for the mailbag.

The latest headlines on ESPNChicago.com: