Zygi Wilf: 'Momentum' in Minnesota
Updated:
August 10, 2011, 4:33 PM ET
Associated Press
MANKATO, Minn. -- The Minnesota Vikings are in the final year of their lease at the Metrodome, funding for a new stadium hasn't been secured and a developer has taken another step toward building an NFL-ready facility in Los Angeles.
Vikings owner Zygi Wilf tried to disconnect those dots again Wednesday. He said Vikings fans need not worry about the progress to the west.
"No," Wilf said sternly when asked whether fans in Minnesota should be nervous that the Anschutz Entertainment Group got an endorsement from the Los Angeles City Council on Tuesday for the funding and timeline of the project there.
"We have momentum here in Arden Hills," Wilf said, referring to the suburb 10 miles north of Minneapolis where Vikings and Ramsey County officials have agreed to put a stadium if the state signs off on the deal.
AEG has competition from Majestic Realty Co. to build a stadium in the Los Angeles area and bring an NFL franchise back to the nation's second-largest market, which lost the Raiders and the Rams in 1995. AEG's plan for a $1.2 billion downtown venue, to be called Farmers Field, targets completion in 2016.
Wilf and his stadium point man, vice president Lester Bagley, mingled with business and political leaders from the northern suburbs during training camp practice Wednesday. Ramsey County commissioners Tony Bennett and Rafael Ortega joined Wilf to tout the job-creating benefits of the $1.1 billion project, which would cost $53 million more if it's not finalized this year due to construction cost inflation, according to Bagley.
"Our sleeves are rolled up. We want to get it done," Bagley said.
Wilf and his brother, team president Mark Wilf, met with Minnesota Gov. Mark Dayton last week.
"It went very well. We realized that many of the details that we were negotiating in the past, and questions that were asked in the past, were answered," Wilf said. "We still have a few questions to be answered, but we're very optimistic we had all the pieces in place and we'll be able to achieve bipartisan support to move this forward."
Dayton has voiced his support for a new stadium but was previously critical of the plan, calling it incomplete. One issue still pending is how to pay for road improvements around the site, and how much of an upgrade is necessary. Bagley said those costs have come down to around $100 million.
Wilf and the Vikings have pledged more than $400 million to the project, which also calls for a half-cent sales tax in Ramsey County that would contribute another $350 million. They've asked for $300 million from Minnesota, to be produced by new statewide sales taxes on sports memorabilia, luxury seats and digital video recorders as well as stadium naming rights, a Vikings-themed lottery game and an income-tax surcharge on NFL players.
Minnesota's $5 billion budget deficit blocked progress this spring, though, and the partisan impasse over how to fill that gap forced the state government to shut down for two weeks in July. The special legislative session on the budget didn't address the stadium issue, disappointing the Vikings.
The Vikings are pushing for another special session this fall, with the goal of approval by the end of October. Dayton has not committed.
"We're so close, folks," Bennett said. "It would be a shame not to put those people to work."
Dayton, at an unrelated news conference Wednesday, said he's asked officials from the Metropolitan Council and Metropolitan Sports Facilities Commission to further study the Arden Hills site before putting his approval on the project.
"It's not going to be resolved by the end of this week or whatever, but we're proceeding and hope people understand the need for the time that's involved," Dayton said. "There's still a lot of good will on both sides."
---
Associated Press Writer Martiga Lohn contributed to this report from St. Paul, Minn.
---
Follow Dave Campbell on Twitter: http://www.twitter.com/DaveCampbellAP

Copyright 2011 by The Associated Press
SPONSORED HEADLINES
MORE NFL HEADLINES
MOST SENT STORIES ON ESPN.COM
The NFL on ESPN.com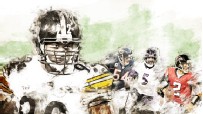 WEEK 1 PICKS
MORE NFL COVERAGE
2011 NFL PREVIEW
JOHN CLAYTON QB RANKINGS
NFL DRAFT
AdamSchefter

Adam Schefter


A snowstorm might have helped the Lions sign former Seahawks WR Golden Tate:... http://t.co/bxBJNB0ehp
6 minutes ago

AdamSchefter

Adam Schefter


One team making a push to trade for Saints RB Darren Sproles: the Washington Redskins. Sproles would be dynamic in Washington's backfield.
10 minutes ago

PGutierrezESPN

Paul Gutierrez


True story: back in the day at SI, while fact-checking @MikeSilver piece on Andre Rison, I was able to expense #2Pac's #AllEyezOnMe CD, FWIW
about 2 hours ago

RichCimini

Rich Cimini


What we learned on Day 2 of free agency: A few thoughts on a wild day (actually, night):1. Signs of life: Ye... http://t.co/ojKlOYZ3J5
about 3 hours ago

PGutierrezESPN

Paul Gutierrez


U were #Raiders fan who jumped in end zone, punched Buoniconti & got pummeled by Fernandez?!? MT @Jerrymcd Was in end zone for Sea of Hands
about 3 hours ago

PGutierrezESPN

Paul Gutierrez


RT @AustinHoward68: And excited to help bring back honor and pride to #Oakland!!!!!
about 3 hours ago

RichCimini

Rich Cimini


Rapid Reaction: Eric Decker and the Jets: A few takeaways on the signing of former Denver Broncos wide receiv... http://t.co/8iXLEWr1ic
about 4 hours ago

ScottBrown_ESPN

Scott Brown


RT @ESPNAFCNORTH: Dwyer loss leaves Steelers thin at RB http://t.co/3zZ0Jf4QOJ
about 4 hours ago

RichCimini

Rich Cimini


Numbers on Austin Howard's 5-yr/$30M deal: $5.0M roster bonus on Sat. Base salaries: $2.9M, $3.9M, $4.4M, $4.9M, $5.4M. First 3 yrs: $19.5M
about 4 hours ago

PGutierrezESPN

Paul Gutierrez


#Fingerman RT @Oklandraida84 @PGutierrezESPN A positive plus a positive equals a positive right?
about 5 hours ago

PGutierrezESPN

Paul Gutierrez


So, if RM and DA hook Tuck and Woodley tonight, does that make it better for #Raiders?
about 5 hours ago

MikeReiss

Mike Reiss


Column: The Patriots handle sudden change well as all the stars align in reaching agreement with Darrelle Revis: http://t.co/1yO4Wtog8v
about 5 hours ago

PaulKuharskyNFL

Paul Kuharsky


RT @MikeSilver: Titans want Woodley to visit ASAP. Will Raiders let him (and/or Tuck) leave without a deal?
about 5 hours ago

RichCimini

Rich Cimini


The great @MikeReiss offers his take on Darrelle Revis from the New England perspective. http://t.co/FVzeALQodF
about 5 hours ago

PGutierrezESPN

Paul Gutierrez


RT @CelReece45: Wow
about 5 hours ago

RichCimini

Rich Cimini


A Revis reunion (ha!) turns into nightmare: In the end, Darrelle Revis preferred to play for a coach he onc... http://t.co/pbSeKQ4wwK
about 5 hours ago

MikeReiss

Mike Reiss


Here's a fun one to revisit from September of 2013 when Aqib Talib was asked about the best cornerbacks in the game: http://t.co/2FV2c6MBMr
about 5 hours ago

GoesslingESPN

Ben Goessling


Vikings: Analyzing Linval Joseph's contract: MINNEAPOLIS -- The Vikings' deal with defensive tackle Linval Joseph... http://t.co/cJ34GGJPYN
about 5 hours ago

nwagoner

Nick Wagoner


So, any ideas what we should discuss on @WheelerShow101 tomorrow? Gotta be something going on, right? Tune in 9-noon on 101 ESPN.
about 5 hours ago

MikeReiss

Mike Reiss


From @RichCimini, Jets' perspective on the Patriots' agreement with CB Darrelle Revis: http://t.co/Vw7C9WljYF
about 6 hours ago

MORE FROM ESPN LOS ANGELES

Check out the new ESPN Los Angeles, the place for your local Los Angeles sports coverage.