Commentary
Peyton Manning not the only mystery
QB's status still unclear; uncertainty swirls around CJ and Texans' Foster, as well
Originally Published:
August 29, 2011
By
John Clayton
| ESPN.com
The third week of the preseason is considered the final tune-up time for teams heading into the regular season.
The problem this year is that there might be more questions than answers coming out of Week 3, knowing that coaches rest starters in Week 4. The biggest question involves Colts quarterback Peyton Manning, who is coming back from neck surgery and isn't sure he will be ready for the opening week.
QUESTIONS, PLEASE
Do you have a query for John Clayton?
Click here to send a note to his mailbag.
There are plenty of mixed signals. Friends believe Manning will be ready for the opener against Houston. The signing of Kerry Collins tipped many into believing Manning won't be ready. The Colts activated Manning from the physically unable to perform list Monday, clearing him to practice on a limited basis.
Manning isn't the only question mark.
Halfback Chris Johnson finally met with the Titans and it appears likely he'll take his holdout into the regular season. The Titans' offer of making him the highest-paid running back -- not one of the highest-paid players -- wasn't good enough.
Hamstring problems leave Texans halfback Arian Foster a question mark. He hasn't been able to shake the problem since the start of camp. Saturday's re-injury makes things even more questionable.
The Eagles' offensive line is also a question mark. Michael Vick has been pounded by defenses in the past two weeks. Andy Reid is moving guard Todd Herremans to right tackle and shaking up the entire offensive line after three preseason games. Poor line play by the Seahawks has quarterback Tarvaris Jackson scrambling for his life. The Bears' offensive line is shaky, too.
Then you move to the Dallas Cowboys, who could end up starting two rookie offensive linemen and might cut veteran center Andre Gurode for salary-cap reasons.
On the positive side, the Lions and Texans have looked great and continue to improve. Cam Newton, despite some struggles passing, still looks as though he will go into the regular season as the starter. John Beck still holds the edge over Rex Grossman as the Redskins' starting quarterback.
From the inbox
Short takes
To Matthew in Richmond, Va., Braylon Edwards was a nice pickup, but I -- like you -- thought the 49ers should have been a little more aggressive in free agency. They got moving late and made some nice moves, but if they weren't willing to upgrade the quarterback position significantly for this year, then they should have made the roster stronger. I think they needed to add a linebacker. … Luke in Indiana wants the Colts to look at Lofa Tatupu at middle linebacker and move Gary Brackett to the outside. Lofa is a smart player who would fit that defense, but he's a little banged up. They are fine with Brackett in the middle. … Eric in Trenton, N.J., wondered what I thought about Phil Costa at center or guard for the Cowboys. He wrote this before Costa suffered an injury that sidelines him for two to four weeks. I wanted to note this because Costa was challenging for the starting job at center and was impressive in the practice that I covered more than a week ago. He's an interesting prospect and has the ability to start. … Michael in Illinois believes the Redskins made a good deal in acquiring Tim Hightower in a trade. I'll even go further: I think they made a steal. Before the Ryan Williams injury, the Cards had an excess at running back and could get by without Hightower. But he looks like a nice runner in the Mike Shanahan offense. … Rick in Columbus, Ohio, thinks that the Browns should have traded for Lee Evans and that they don't have enough weapons on offense. It's not that I disagree, but I'm intrigued by the positive things I see from Greg Little, and I love Evan Moore at tight end. They are getting better. It's just not happening overnight. … Mark in Washington, D.C., wonders about the production numbers for Bengals rookie wide receiver A.J. Green given how young they are at quarterback. He looked great in the third week of the preseason after struggling the first two weeks. I don't see him having a 1,000-yard season with a rookie at quarterback, but I can see 55 catches and maybe 900 yards.
Q: Considering the dislike surrounding the new kickoff rule, I haven't seen any pundits offer up this suggestion. Rather than the kickoff at the 35-yard line with a 5 yard run-up, move the kickoff spot back to the 30 while retaining the 5-yard run-up rule (which used to be 10 yards under the old rules). I also don't understand why some are suggest removing the kickoff period. If the NFL is moving toward removing the kickoff, it's good the Saints won their championship when they did, because they wouldn't have otherwise.
Colin in Milwaukee
A: The Bears tried that for two kickoffs in their first preseason game. The league called the officials at the game and made the Bears stop kicking off from the 30. The rule was created for safety. It's not an option for a special-teams coach to use. Special-teams coaches are among the most creative thinkers in sports. They will try different things to test the rule. The one thing they won't be able to do is change the location of the spot.
Q: I'm not getting this whole Tim Tebow thing. Everyone said, "give the guy time and he'll be a good NFL quarterback, but not right away." Some realized he's a gamer and therefore won't show his true ability until in game situations. So why would everyone in Denver, who once wanted to trade Kyle Orton, now look in another direction? Especially when those ahead of him are Brady Quinn, who struggles to complete passes, and a kid from Minnesota who does nothing but throw interceptions, based on his college play? Why are they waiting to get Tebow out of town? Why not just trade him to a team like Buffalo, whom was high on him before the draft last year and was allegedly looking to move up to draft him where Denver did?
Gary in Middlebury, Ind.
A: At this point, it would be hard to garner any type of trade value for Tebow. You saw how Quinn, a former first-round pick, watched his trade value drop in Cleveland. The Broncos may have trouble getting any type of draft-choice compensation for Tebow. The best thing they can do is be patient and try to develop him.
Q: Last year, the St. Louis Rams won more games (7) than they had in the three previous years combined (6). Which team do you think could have that sort of revival this year? Though immediately following the draft I don't think I would have said this, the Carolina Panthers appear to be in the best position to make a leap. Like the Rams, they used the first overall pick on a Heisman-winning quarterback who is likely to start immediately. Also like the Rams, the Panthers have talent on the offensive line and in the backfield, but with Steve Smith, Greg Olsen and Jeremy Shockey, they may have even better receiving options. Is this a team, or at least an offense, that you could see really improving this year?
Charlie in St. Louis
A: You might be on the right track, but I don't see the jump being that high for the Panthers. I don't know if we'll see as huge a jump as the Rams had from other teams this season. The Denver Broncos, Cincinnati Bengals and Buffalo Bills were four-win teams. Maybe the Broncos could get to seven. I don't think that will happen with the Bengals or Bills. I do think you are on to something with the Panthers, though. They are more talented than a normal 2-14 team. Owner Jerry Richardson spent heavily in re-signing a good, core group of players. What might hold the team back from a five-game improvement is Cam Newton. I think Newton was the right choice and I think he will be a great quarterback for the franchise. But he won't have the completion percentage that Sam Bradford had to pull off some victories. Bradford was a 60-percent thrower as a rookie. Newton will be the low 50s. But I love the direction the Panthers are going. I think they can get to 6-10. What makes it tougher for them is being in the NFC South.
Q: I don't understand your comment that Ronnie Brown is "doing well" in Philadelphia. Brown is averaging a whopping 3.1 yards a carry against mostly second-teamers. I'm a diehard Dolphins fan and loved Ronnie's character, but I don't miss him. I think his signing in Philly is one of the most oversold free-agent acquisitions of the season. Great guy, but mediocre player who is not tough up the middle. I'm happier with Daniel Thomas and Reggie Bush.
Dave in North Carolina
A: Brown's signing isn't overrated financially -- he received only a one-year deal at $1 million. He went to Philadelphia with the clear understanding that he will be a backup. But he is doing well. If you watched him Thursday night, you saw him break a nice run for a touchdown. He offers the Eagles a power option to offset the elusiveness of LeSean McCoy. The Dolphins could be better in the backfield if Thomas comes on. The Larry Johnson addition was interesting -- if he has anything left.
[+] Enlarge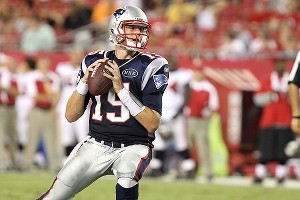 Kim Klement/US PresswireDid the Dolphins err in not drafting Ryan Mallett? What about the 49ers?
Q: I watched my Dolphins pass on Ryan Mallett only to let the rival Patriots acquire him in the draft. With Dan Marino long gone and Chad Henne at the helm, what do you perceive the state of the Dolphins is at the moment, especially seeing the Jets and Patriots make Super Bowl-type moves through the draft and free agency? Will we ever compete again?
Terence in Pensacola, Fla.
A: The Dolphins -- and all other franchises, for that matter -- passed on Mallet in the first two rounds because they feared off-the-field issues, not his talents. He has first-round talent. He was probably the best pure thrower in the draft. Despite that, it might have been worth the gamble for the Dolphins, but they did need a running back because they weren't going to re-sign Ronnie Brown and Ricky Williams. They picked Daniel Thomas. But I have reservations about the Dolphins. They needed a challenger to Chad Henne, and I don't think they found one in Matt Moore. They should have either traded for Kyle Orton or drafted Mallet. I would have felt better had they kept Ronnie Brown or Ricky Williams and used the second-round pick on Mallet.
Q: Do you think this is Houston's year to take the AFC South? I think that Wade Phillips has upgraded the defense tremendously and that the defense will be in the top 15 this season. What's your overall assessment of their chances to win that division and finally clinch a playoff berth?
Demetrius in Jackson, Miss.
A: This is their year. If they can't catch the Colts or if they can't get a wild card, change must happen. I believe in Phillips. As a defensive coordinator, he has always been able to establish himself quickly in a new job and make significant improvement. You can see improvement in the Texans' defense during the preseason. Matt Schaub is an elite quarterback, Arian Foster is one of the league's best runners, the offensive line is good and the offense can score a lot of points. I still think Peyton Manning will play enough games for the Colts to win the division, but I think the Texans can challenge the Jets for one of the wild-card spots.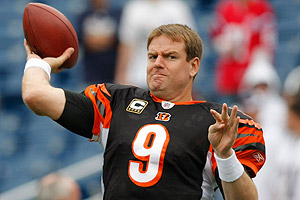 David Butler II/US PresswireCould Carson Palmer play for San Francisco in 2012?
Q: I'm a big-time 49ers fan. I'm concerned with the quarterback play. I think Jim Harbaugh thought he could help Alex Smith, and Colin Kaepernick has not looked good in the preseason. Do you think that they would make a play for Carson Palmer, and do you think they are kicking themselves for not drafting Ryan Mallett?
Mike in Vancouver, B.C.
A: What, seven years into the Alex Smith experiment and you aren't satisfied? Just joking, because you are right. Kaepernick is raw and not ready. It's hard to get excited about Smith. I couldn't see Harbaugh going for Mallet. I couldn't see them outbidding Arizona for Kevin Kolb. The best thing to do is trust in Harbaugh and see if he can create a good culture for the next quarterback and get the most out of the talent on this team. Palmer could be an option for next year, but the 49ers will be competing against the Seahawks and Dolphins in trade offers for his service. Yes, I do see Palmer being traded next year, not this year.
Q: I really liked the Falcons' decisions to draft Oregon State running back Jacquizz Rodgers in the fifth round of the draft and to let frequently injured Jerious Norwood walk in free agency. I was never quite sold on Norwood, and I feel Rodgers has more of an upside than Norwood as a change-of-pace back. Jason Snelling will no doubt be the #2 RB and Rodgers will serve simply a change-of-pace/special teams role, assuming Michael Turner stays healthy. However, Snelling, who signed a short-term deal, will likely be leaving in 2012. Any chance that Rodgers is given a more prominent role in the Falcons offense, and maybe Turner/Rodgers is a 1-2 combination at RB for the Falcons somewhere down the line?
Josh in Washington
A: If Snelling had a better market in free agency, a Turner-Rodgers backfield could have happened. I like a lot of the things the Falcons are doing on offense. Julio Jones is a beast. The offensive line didn't get hit too hard in free agency. Matt Ryan looks great. What's nice about getting Snelling back is that it buys Rodgers a year to learn the offense. The lockout makes it tough for rookies to make the transition. Although Rodgers might have been fine, the re-signing of Snelling doesn't force the Falcons to rush him into service. They can still use him in certain packages this year.
John Clayton, a recipient of the Pro Football Hall of Fame's McCann Award for distinguished reporting, is a senior writer for ESPN.com. Follow Clayton on Twitter @ClaytonESPN
NFL senior writer
Senior NFL writer and commentator
Joined ESPN in 1995
Member of the writers' wing of the Pro Football Hall of Fame in Canton, Ohio
SPONSORED HEADLINES
MORE NFL HEADLINES
MOST SENT STORIES ON ESPN.COM
The NFL on ESPN.com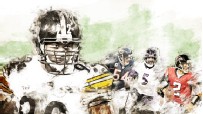 WEEK 1 PICKS
MORE NFL COVERAGE
2011 NFL PREVIEW
JOHN CLAYTON QB RANKINGS
NFL DRAFT
dandalyonsports

Dan Daly


Pro Football Daly: Sammy Baugh threw (purposely) deflated footballs. http://t.co/gUgzRHl9Wj #Redskins #Patriots #Colts #Steelers #Seahawks
43 minutes ago

dandalyonsports

Dan Daly


Pro Football Daly: Cheating: an #NFL tradition for 95 years. http://t.co/Jwes4CDfoU #Patriots #Colts #Redskins #Browns #Bears #Lions
47 minutes ago

MikeReiss

Mike Reiss


Bill Belichick takes high road in opening news conference at Super Bowl XLIX. http://t.co/I8F1reWckC
about an hour ago

PFF_Pete

Pete Damilatis


For anyone wondering about the behind-the-scenes work of @PFF, this is a must-read by @JennyVrentas: http://t.co/DvmsElE1M2
about an hour ago

BWilliamsonESPN

Bill Williamson


@SandoESPN will do thanks
about 2 hours ago

WilliamsonNFL

Matt Williamson


Dynasty: Traded D Allen (I have Graham) & 3.03 for Ridley, 2.12 & 2016 2nd (which should be early) @DynastyTrades
about 2 hours ago

SandoESPN

Mike Sando, ESPN.com


@BWilliamsonESPN Sure hope you're feeling better. Be well.
about 2 hours ago

BWilliamsonESPN

Bill Williamson


@SandoESPN 50 percent of it
about 2 hours ago

SandoESPN

Mike Sando, ESPN.com


@BWilliamsonESPN I see what you did there. Do you?
about 2 hours ago

BWilliamsonESPN

Bill Williamson


@SandoESPN I will keep an eye out for you
about 2 hours ago

SandoESPN

Mike Sando, ESPN.com


2 of best players from '07 #NFL draft (@Revis24, @MoneyLynch) in this SB. That was yr NE took Meriweather with pick from SEA (Branch trade).
about 3 hours ago

SandoESPN

Mike Sando, ESPN.com


@BWilliamsonESPN Bay Area Super Bowl next year. We'll have to grab a good meal somewhere.
about 3 hours ago

WilliamsonNFL

Matt Williamson


What #NFL team has the best & worst talent 25 yrs old & younger? (Insider) http://t.co/6B0zegdUNw
about 3 hours ago

BWilliamsonESPN

Bill Williamson


@SandoESPN you do it right Sando
about 3 hours ago

SandoESPN

Mike Sando, ESPN.com


@BWilliamsonESPN great grub http://t.co/gE7whpYFNY
about 3 hours ago

MikeReiss

Mike Reiss


Thoughts on Robert Kraft's remarks. http://t.co/KUgwPVsqpF
about 3 hours ago

andyheisel

Andrew Heisel


My piece for @VICESports on 90s ball doctoring that puts #DeflateGate to shame: https://t.co/QJFHGB4zd2
about 3 hours ago

MikeReiss

Mike Reiss


Patriots owner Robert Kraft says NFL owes team apology if league's investigation doesn't uncover wrongdoing. http://t.co/q0Y9pBEwci
about 4 hours ago

sfujita55

Scott Fujita


I like it, Mr. Kraft.
about 4 hours ago

MikeReiss

Mike Reiss


Story: Bill Belichick's opening news conference of Super Bowl week, as he puts focus on Seahawks: http://t.co/pin23ubPPK (by @Jeff_Legwold)
about 4 hours ago
ESPN FAN SHOP