Chris Johnson defends tweets
Updated:
September 1, 2011, 11:38 AM ET
Associated Press
NASHVILLE, Tenn. -- Titans running back Chris Johnson seems to be finding out about the downside of Twitter during his contract holdout.
Kuharsky: Johnson Has A Point

Some of Chris Johnson's points in his tweets Wednesday were valid, just not well framed, ESPN.com's Paul Kuharsky writes. Blog
Johnson tweeted Wednesday to "fake Titan fans" to shut up. Fans are calling him greedy and saying his demands are too high.
Johnson went on to write, "I don't have a regular job so don't compare me to you and I can care less if uthink I'm greedy."
He earlier tweeted his thanks to people praying for him through his "situation."
Johnson has more than 441,000 followers on Twitter. He has refused to report until he gets a new contract. The Titans say they are willing to make him the highest-paid running back in NFL history, but no deal has been reached.
The Titans' opener is Sept. 11 in Jacksonville.
Johnson's comments made almost immediate headlines on the Internet and became a hot topic on talk radio. The running back returned to Twitter Wednesday afternoon to defend himself, writing that he was targeting fake fans because real fans wouldn't be upset with his comment.
"My titan fans taking it all wrong I'm talking to the ones writing me racist Comments. I'm not call the Titan fans fake at all. #LUV," Johnson tweeted.

Copyright 2011 by The Associated Press
The NFL on ESPN.com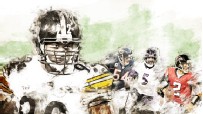 WEEK 1 PICKS
MORE NFL COVERAGE
2011 NFL PREVIEW
JOHN CLAYTON QB RANKINGS
NFL DRAFT
ESPNStatsInfo

ESPN Stats & Info


Anthony Mason passed away this morning. He led the NBA in minutes per game in back-to back seasons from 1995-97. http://t.co/Im9sTPDnyB
12 minutes ago

McShay13

Todd McShay


Neb DE R. Gregory loaded with talent but needs size to set edge + improve recognition. 1st 6 plays vs. WIS show upside, next 10 show flaws
17 minutes ago

NFLAlumniNYNJ

NFLAlumniNYNJ


Our condolences to the family & friends of former @nyknicks #AnthonyMason. Mase was a fierce competitor & good guy. #RIPAnthonyMason
17 minutes ago

Espngreeny

Mike Greenberg


So terribly sad about Anthony Mason. Epitomized the #Knicks teams he played on. Tough as they come. And much too young. #RIP
24 minutes ago

RichCimini

Rich Cimini


First Q to Sandy Alderson: Why do you hate shortstops so much? Laughs. Says he used analytics in decision to go w/ Flores, "likely" starter.
26 minutes ago

McShay13

Todd McShay


Neb DE R. Gregory loaded with talent but needs size to set edge + improve recognition. 1st 6 plays vs. WIS show upside, next 10 show flaws
26 minutes ago

SeifertESPN

Kevin Seifert


Chatted with @Hawk at @SloanSportsConf. Wants to be an NFL GM one day. Owners would be wise to put him on the futures list. #SSAC15
36 minutes ago

RichCimini

Rich Cimini


RIP, Anthony Mason, a heart-and-soul player who personified the 90s Knicks and the city itself. #Mase
43 minutes ago

SportsHoopla

Sports Hoopla


@Edwerderespn Please know that your family is an inspiration, man. THANK YOU for these reminders not to take it for granted. Never quit!
46 minutes ago

john_keim

John Keim


Redskins mailbag: Part 2: For Part 2 of the mailbag, I squeezed in a record eight questions, ranging... http://t.co/Vr4HenYtdH #Redskins
51 minutes ago

SeifertESPN

Kevin Seifert


.@ZebraTechnology says real-time data is coming. NFL wants to measure competitive impact. #SSAC15 Inside Slant: http://t.co/tmxmEsGuBW
about an hour ago

Edwerderespn

Ed Werder


Nothing is more important than good health. I've sat in hospitals, looking out window at those driving past, unaware of their good fortune
about an hour ago

MikeWellsNFL

Mike Wells


Frank Vogel has gone from being a video guy to taking over a beat up Pacers team in 2011 to now having most wins in team history. Great run.
about an hour ago

Edwerderespn

Ed Werder


Our sincere gratitude to #DMN and @bhorn55 for using his talent to tell the story of Christie and Trey in a way that honors their courage.
about an hour ago

bhorn55

Barry Horn


Tougher folks than you watch on Sunday's. @Edwerderespn shares the battle.http://t.co/qwJH2HVOxf http://t.co/3oAAEwM8YA
about an hour ago

PatMcManamon

PatMcManamon


From last night: The #Browns added a great mentor in Josh McCown, but who the heck plays quarterback? — http://t.co/VrPlVTJet2
about an hour ago

SeifertESPN

Kevin Seifert


ICYMI, inserting terrorism into the LA stadium competition is reprehensible even for big business. Terrible, AEG: http://t.co/imelNcLwjQ
about an hour ago

SandoESPN

Mike Sando, ESPN.com


WRs consider 22 mph to be fast for the position, according to @Hawk. #SSAC15
about an hour ago

SandoESPN

Mike Sando, ESPN.com


That is @Hawk on left with #SSAC15 panel on wearable tech. Solid info/perspective. Said data helped manage injuries. http://t.co/XZyt6oDf8l
about an hour ago

SandoESPN

Mike Sando, ESPN.com


Laughter at #SSAC15 when @Hawk of #Browns said wearable tech led to mph wars among WRs. Joked that they threw a chip to get 42 mph reading.
about an hour ago

MOST SENT STORIES ON ESPN.COM