Jaguars avoid television blackout
Updated:
September 9, 2011, 3:38 PM ET
Associated Press
JACKSONVILLE, Fla. -- The Jacksonville Jaguars have sold enough tickets to lift the NFL's television blackout, meaning the team's home opener against division rival Tennessee will be shown in local and secondary markets.
AFC South blog

ESPN.com's Paul Kuharsky writes about all things AFC South in his division blog.
The Jaguars have about 1,400 non-premium tickets remaining for Sunday's game.
Macky Weaver, the team's senior vice president in charge of sales and marketing, says the Jaguars sold roughly 2,500 tickets in the past 24 hours.
He says more than 1,400 extra tickets were bought and donated to the USO in the past three days, likely producing a strong military showing for the NFL's 9/11 tribute.
Jacksonville, which blacked out seven games in 2009, televised every home game last season despite the slumping economy.

Copyright 2011 by The Associated Press
SPONSORED HEADLINES
MORE NFL HEADLINES
MOST SENT STORIES ON ESPN.COM
The NFL on ESPN.com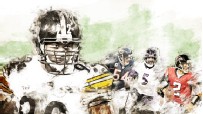 WEEK 1 PICKS
MORE NFL COVERAGE
2011 NFL PREVIEW
JOHN CLAYTON QB RANKINGS
NFL DRAFT
jamisonhensley

Jamison Hensley


Came across old game program. Here is what #Ravens secondary looked like a decade ago. Recognize these faces? http://t.co/MQIstsiUxt
about a minute ago

JamesWalkerNFL

James Walker


Ryan Tannehill on Bill Lazor: 'Our relationship has definitely grown' http://t.co/HwbtMybwFE #Dolphins
3 minutes ago

WilliamsonNFL

Matt Williamson


Also very informative for @RoFloESPN @DanielDopp #PracticeSquad …start around 1:55...https://t.co/iZusQvfano
7 minutes ago

joshweinfuss

Josh Weinfuss


#AZCardinals are 7-3 when Gene Steratore is their referee.
10 minutes ago

taniaganguli

Tania Ganguli


Arian Foster misses Thursday's practice: HOUSTON -- Houston Texans running back Arian Foster missed Th... http://t.co/ilSRPGqL0o #Texans
11 minutes ago

nwagoner

Nick Wagoner


From @eric_d_williams, Kellen Clemens leading the Chargers scout team in preparation for Rams. ... http://t.co/1Plfvy68hx
12 minutes ago

ChetCoppock

Chet Coppock


@RobDemovsky @PitchPerfect #JayCutler talks about his role in #FranchiseWrecker
13 minutes ago

PaulKuharskyNFL

Paul Kuharsky


Ray Horton on Titans' D: 'We're not going to be simple for them': NASHVILLE, Tenn. -- The pace of the ... http://t.co/8I3Gr7W5pr #Titans
13 minutes ago

RobDemovsky

Rob Demovsky


#Packers 'movie stars' talk about their roles in @PitchPerfect http://t.co/shpJCPSSfu
15 minutes ago

toddarcher

Todd Archer


Dez Bryant will have full attire ready Sunday: IRVING, Texas -- When Dez Bryant plays against the New... http://t.co/AxPkK8oUeq #Cowboys
15 minutes ago

Jeff_Legwold

Jeff Legwold


Broncos D goes all survival of the fittest on "Turnover Thursday'' -- http://t.co/rOKZ8l0Rlf
17 minutes ago

PatMcManamon

PatMcManamon


Scout confirms to @JFowlerESPN that there's always a spot for a player with the ability of Josh Gordon -- #Browns -- http://t.co/m0aJtdqmvj
18 minutes ago

john_keim

John Keim


Steve Young: 'No insight' into RG III's work: Hall of Fame quarterback Steve Young knows how hard it... http://t.co/JmD6pKG033 #Redskins
20 minutes ago

PatMcManamon

PatMcManamon


And here is #Falcons report for #Browns — Note Julio Jones and Steven Jackson — http://t.co/D2WAYvtkzq
21 minutes ago

footballzebras

Football Zebras


Referee for Cardinals at Seahawks: Gene Steratore
21 minutes ago

PatMcManamon

PatMcManamon


#Browns Thursday injury report for #Falcons — http://t.co/85dM0x2mrz
23 minutes ago

john_keim

John Keim


Steve Young: 'no insight' into #RGIII's work #Redskins http://t.co/xZbJK7LR1n
24 minutes ago

joshweinfuss

Josh Weinfuss


Since missing that game in 2007, Larry Fitzgerald has played in 110 straight games, the second-longest active streak in the league.
25 minutes ago

john_keim

John Keim


Here's how it works: practice well, show that you know your assignments, etc., and then you'll play. Until then, you wait.
25 minutes ago

john_keim

John Keim


And if all u do is throw young guys on the OL, are you giving your offense the best chance? please don't say "some guys are gamers"
27 minutes ago