Ron Rivera praises Cam Newton
Updated:
September 12, 2011, 6:13 PM ET
Associated Press
CHARLOTTE, N.C. -- Questions regarding Panthers rookie Cam Newton have turned from if he'll be a good NFL quarterback to how good he'll be.
At least for now.
More From ESPN.com

Did you see what Cam Newton did? Of course you did. It was too amazing to miss, writes Gene Wojciechowski. Story
• Stats & Info: What a debut
• Blog: NFC South | NFC West
• Year of the Quarterback
In his NFL debut, Newton ignited a Carolina offense that finished last in the NFL in total offense, passing yards and scoring last season by throwing for 422 yards -- the most ever by a rookie quarterback in his first career start. His passing total was one yard shy of the team record set by Chris Weinke and the fourth-highest opening day total in NFL history.
Panthers coach Ron Rivera said Monday that Newton "exceeded expectations" on Sunday, but cautioning that there will be tougher times ahead for the Heisman Trophy winner out of Auburn.
"We still have some things to work on," Rivera said.
Newton threw touchdown passes of 77 and 26 yards to 32-year-old Steve Smith and ran for another score, although his bid for a game-tying drive in the final minute fell a yard short and the Panthers lost 28-21 to the Arizona Cardinals.
"He's just one of those guys when he gets in the game, there's just something about him," tight end Greg Olsen said. "There's some guys that have it, and some don't."
Newton had it on Sunday.
He completed 24 of 37 passes, answering lingering questions about his accuracy issues. Newton completed just 40.4 percent of his passes during the preseason.
Smith said Newton answered a lot of questions.
"He did everything everybody didn't expect him to do. He was on point," Smith said. "He made some great runs, some great reads and some fantastic throws. He made some throws out there that, honestly as a receiver, it made it easy to catch them."
It's clear the Panthers' offense won't look like it did last year under offensive coordinator Jeff Davidson.
The Panthers weren't afraid to go to the air on third downs and regularly took shots down the field, one resulting in Newton's 77-yard hookup with Smith, who finished with 178 yards receiving and two touchdowns.
Cam You Dig It?
Cam Newton's debut may have been a team loss, but individually the Heisman Trophy winner put on a record-breaking display. Newton became the first player in NFL history to throw for 400 yards in his debut in NFL history.
300-Yard Passing Games in NFL debut
Team
Pass Yards
2011
Cam Newton
Panthers
422
1950
Otto Graham
Browns
346
1987
Ed Rubbert
Redskins
334
2005
Ryan Fitzpatrick
Rams
310
1988
Mark Rypien
Redskins
303
1998
Peyton Manning
Colts
302
-- Source: Elias Sports Bureau
Rookies To Throw For 300 Yards
In Team's Season Opener
| | Manning | Newton |
| --- | --- | --- |
| Season | 1998 | 2011 |
| Team | Colts | Panthers |
| Result | L, 24-15 | L, 28-21 |
| Pass yds. | 302 | 422 |
| TD-INT | 1-3 | 2-1 |
— from Elias Sports Bureau
Newton may have made a believer out of some of his critics, but his teammates have always been in his corner.
"Everybody believes in him," two-time Pro Bowl left tackle Jordan Gross said. "We're never looking around wondering who's going to make the play. I know our receivers believe in him as well. He's our quarterback and he's taken that by the reins and led the charge."
Newton downplayed his own success after the game, continually turning questions about his success into talk that he needs to improve.
"There's going to be a lot more things I can look back on ... after I watch the film," Newton said. "One thing I know right now is you have to capitalize. When you're in the red zone you can't take a sack, you can't digress. You have to capitalize and get points when it matters."
Smith said this is just the beginning of what the Panthers can accomplish as an offense in Rob Chudzinski's new scheme.
"I think it could be better," Smith said. "We were off at some times. This is the disadvantage of having a lockout."
Added Gross: "I mean he did all of that and he didn't even really scramble and do anything with his legs. That will come. I'm excited to be on a team with him. Our offense is much improved and I expect us to get a lot better next week."
That's a strong statement about Newton and the Panthers, who host the defending Super Bowl champion Green Bay Packers in their home opener at Bank of America Stadium on Sunday.
But Gross said he was impressed, but unlike some others, not surprised with Newton's early success.
"He's had the world on his shoulders for a year now and I think he's sort of getting used to it," Gross said. "It was a tough game. He got hit a lot and there was a lot of crowd noise. He had incredible composure against all odds. He was as advertised."
Despite all the excitement about Newton's performance, the Panthers lost. And the rookie QB will face a complex scheme led by Packers defensive coordinator and former Panthers head coach Dom Capers.
"We performed well, but not well enough to win. That's a stinger, but we have a lot to build on," Smith said. "You don't want to be hangdog, but you also don't want to walk around and strut your stuff.
"We've got a lot of work to do."

Copyright 2011 by The Associated Press
NFL WEEK 1 COVERAGE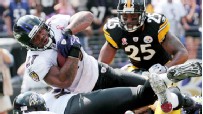 MNF: Patriots 38, Dolphins 24
Raiders 23, Broncos 20
COMMENTARY/BLOG POSTS

MOST SENT STORIES ON ESPN.COM