Chargers' Nate Kaeding out for season
Updated:
September 12, 2011, 6:54 PM ET
By
Arash Markazi
| ESPNLosAngeles.com
SAN DIEGO -- San Diego Chargers kicker Nate Kaeding is out for the season after MRI exams on Monday revealed he tore ligaments in his left knee, and is scheduled to have surgery.
"He planted and he kind of got spread out and there was no contact on the play," Chargers coach Norv Turner said. "It's about adversity and we'll handle it. Nate is unbelievable. Hopefully we can get someone who can be just as accurate."
Markazi: Scifres Steps Up

Mike Scifres had't been a place kicker since college, but he was there for the Chargers when they needed him, writes Arash Markazi. Blog
• Williamson: Another Chargers gaffe
Chargers defensive end Luis Castillo will also be out for an extended period of time with a broken tibia in his left leg. Turner wasn't sure yet if Castillo's injury would knock him out for the season and said further tests would be conducted Monday. A source told ESPN NFL Insider Adam Schefter that the team privately does not think Castillo will miss the season.
Third year defensive lineman Vaughn Martin is expected to see extended playing time in Castillo's absence.
"The way Vaughn Martin went out there and played at a real high level, he's an outstanding young football player," Turner said. "One of the things I felt last year is we played Luis and Jacques (Cesaire) too much, and these young guys we've wanted them to play more and now Vaughn will play a lot more."
Kaeding injured his left knee on the opening kickoff of the game and Castillo injured his left leg in the fourth quarter.
Both players were carted off the field after their injuries.
Kaeding was not in the locker room when the media was allowed in after Sunday's game, but Castillo was wearing a large brace around his left knee and had crutches by his side as he spoke to trainers.
Chargers punter Mike Scifres, who hadn't attempted a field goal in a game on any level since 2000 when he was at Western Illinois, took over place-kicking duties after Kaeding's injury. He hit a 40-yard field goal in the fourth quarter to tie the game, hit all three extra point attempts he attempted and knocked two kickoffs out of the back of the end zone.
Despite Scifres' performance, Turner said the Chargers would sign a replacement kicker immediately from a short list he has already assembled. That list includes Ricky Schmitt, who was with the team in camp, and Kris Brown, who was on the team last season.
The Chargers will have tryouts on Tuesday. One of those scheduled to come in is veteran Nick Novak, who was in camp with the Chargers in 2010.
"I think that you go down the wrong road when you ask a guy to do that," Turner said of Scifres kicking and punting. "The punters I've been around who've had to kick end up with leg problems. We had a guy tear a muscle on the side during the bye week. I just don't know if that's in our best interest." The Chargers were able to avoid another injury scare Sunday when running back Mike Tolbert, who had three touchdowns and 93 yards rushing and receiving, limped off the field in the fourth quarter. Tolbert was walking without a limp after the game and brushed off the injury when he was asked about it.
"Mike's doing good," Turner said Monday. "Mike got banged around pretty good. He's obviously a very physical player. I don't expect him to miss any time."
Arash Markazi is a reporter and columnist for ESPNLosAngeles.com. Information from The Associated Press was used in this report.
ESPNLosAngeles.com
Former columnist and writer after five years with Sports Illustrated
Markazi has also written for Slam, King, Vibe and Playboy
On board of directors for Jim Murray Memorial Foundation.
SPONSORED HEADLINES
MORE NFL HEADLINES
MOST SENT STORIES ON ESPN.COM
NFL WEEK 1 COVERAGE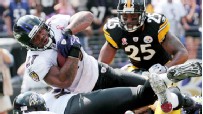 MNF: Patriots 38, Dolphins 24
Raiders 23, Broncos 20
COMMENTARY/BLOG POSTS
ESPN FAN SHOP
MORE FROM ESPN LOS ANGELES

Check out the new ESPN Los Angeles, the place for your local Los Angeles sports coverage.