Raiders honor Al Davis at home game
Updated:
October 16, 2011, 9:36 PM ET
Associated Press
OAKLAND, Calif. -- Every facet of the silver and black came together one last time to honor Raider Nation's late king, Al Davis.
Fans decked out in spikes, war paint and bandanas. Former players and coaches gathered in suits and sweats. Rappers Ice Cube and MC Hammer stood along the sideline in traditional Raiders garb.
All stood united at the Oakland Coliseum again in a 24-17 win over the Cleveland Browns to pay tribute to the owner with a simple two-letter message supplanted on the Raiders shield, spreading across helmets, shirts, posters, pins and programs: "AL."
[+] Enlarge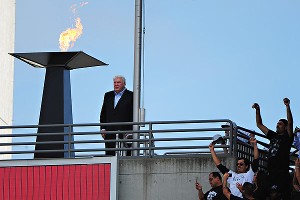 Kyle Terada/US PresswireJohn Madden lit a flame at the Oakland Coliseum on Sunday as part of a tribute to Al Davis.
"We're just delighted at the way everybody has come together to honor him. Whether to say he was a great man or wasn't a great man, the turnout says it all," Davis' older brother, Jerry, told The Associated Press. "While he might not have always looked it, Al's mind was sharp right until the end."
The celebrations of Davis' life were all over.
The most poignant moment came during a halftime ceremony with dozens of former players standing in a circle around the Raiders emblem at midfield. Super Bowl-winning coach John Madden then lit a caldron on the plaza level in the corner of the stadium with the public address announcer saying the fire will "burn forever" for fans to remember Davis.
"I know he's looking down saying, 'Just win, baby,'" Raiders coach Hue Jackson said, echoing the owner's longtime motto. "That's what we did."
A video presentation of Davis' life began playing 20 minutes before kickoff and continued throughout the game against the Browns, the first at home since Davis died Oct. 8 of an undisclosed illness. A moment of silence was held before former Raiders offensive lineman Henry Lawrence sang the national anthem.
Coaches, players and team employees wore T-shirts with "AL" inside the Raiders shield. Fans came with signs that read "R.I.P. AL" and "King AL." Most simply carried handmade posters and ironed out shirts with the phrase, "Just Win, Baby."
"It's like losing a family member," said a fan with 6-inch spikes attached to his pads who wanted only to be identified by the name "Violator," which was taped to the back of his black No. 57 jersey.
Davis turned the Raiders into one of the league's premier franchises with a "Commitment To Excellence." The franchise won Super Bowls after the 1976, 1980 and 1983 seasons -- the last one in Los Angeles, where the franchise moved in 1982 after protracted court fights before returning to the Bay Area in 1995.
Past and present Raiders took flights from all over the country to stand along the sidelines in respect.
"

A lot of people knew him as an antagonist. But if you were a Raider, you were a Raider for life.

"

-- Former Raiders QB Jim Plunkett
on former owner Al Davis
Jim Plunkett, Jim Otto, Ted Hendricks, George Atkinson, Greg Biekert, Morris Bradshaw, Cliff Branch and Bill Romanowski were among those at the game. Madden watched from Davis' suite.
They told stories and recounted memories of the renegade owner who became one of the most important figures in pro football history, from his role in the development of the AFL, the merger with the NFL and the success he built on the field with the Raiders.
"A lot of people knew him as an antagonist. But if you were a Raider, you were a Raider for life," said Plunkett, a championship quarterback who played for the Raiders from 1978-86. "Al was unquestionably loyal."
He never backed down, either.
That was most evident during the 1980s when he went to court -- and won -- for the right to move his team from Oakland to Los Angeles. Even after he moved the Raiders back to Oakland, he sued for $1.2 billion to establish that he still owned the rights to the L.A. market.
While some in Southern California and the Bay Area remain bitter about the moves, others never lost love for the Raiders because of what they -- and Davis -- stood for, not where they played.
"I don't know if he would condone this, but to me, he's the original gangster," said Ice Cube, a Los Angeles area native whose rap group "NWA" embraced the Raiders' attitude and colors in the early 1990s. "He did it his way. I call him the Frank Sinatra of football. He really showed that you could be yourself and you still could be the best. You don't have to conform to be the best."
Ice Cube and MC Hammer also enjoyed hugs with each other before the game and with Jackson, CEO Amy Trask and Davis' son, Mark, who is expected to run the franchise along with the late owner's wife, Carol.
"Al was like an uncle to many fans growing up," said MC Hammer, an Oakland native. "Just had to show my respects."
People carrying flowers, flags, silver and black pompoms, jerseys, helmets and other cherished memories have stopped by Raiders headquarters since Davis died to pay tribute to the longtime owner.
For others, Sunday was the first -- and perhaps final time -- to say goodbye.
"He was a man's man," said Hendricks, a Hall of Fame linebacker for the Raiders from 1975-83. "It's a sad day for Raider Nation. But the Raiders will live on. And so will Al's memory."

Copyright 2011 by The Associated Press
RAIDERS OWNER AL DAVIS: 1929-2011