Mike Smith: Falcons didn't execute
Updated:
November 15, 2011, 11:34 AM ET
Associated Press
FLOWERY BRANCH, Ga. -- Everyone seems to be playing Monday Morning Quarterback with Atlanta Falcons coach Mike Smith.
Stats & Info: Odds Favored Gamble
Mike Smith is taking heat for his gamble to go for it on fourth and inches in overtime vs. the Saints, but when the decision is viewed from the Falcons' win probability based on the possible outcomes of the play, he made the smart choice. Blog
By sending Michael Turner up the middle for no gain, Smith might have doomed the Falcons to an overtime loss to New Orleans, but the fourth-year coach wasn't surprised by the public's response.
"I'll say this, OK? We have passionate football fans here in Atlanta, OK?" Smith said with a smile. "Regardless of what the outcome is, someone has an opinion, and that's great for your fan base. That's what you want to have happen, and I'll just leave it at that."
Though the move backfired, Smith repeated his postgame stance from Sunday night -- that he would do it again given the circumstances and the Falcons' spotty history of defending Saints quarterback Drew Brees in the late stages of a game.
After watching film of the Falcons' 26-23 defeat, Smith disputed reports that New Orleans guessed correctly on quarterback Matt Ryan's snap count and thus had no trouble stopping Turner to set up John Kasay's 26-yard, game-winning field goal four plays later.
"They didn't jump the snap," Smith said. "We didn't execute on that play. I really don't want to get into any more details than that."
Smith pointed out that the offense converted a fourth-and-1 with a similar power formation call late in the third quarter. Turner ran for 5 yards, and Jason Snelling caught a 21-yard touchdown pass on the next play to give the Falcons a 13-10 lead.
But Atlanta's inability to consistently control the line of scrimmage throughout the game led to its ninth loss in the last 11 meetings with New Orleans.
Smith knows Atlanta (5-4) must correct its mistakes before Tennessee (5-4) visits the Georgia Dome on Sunday.
NFC South blog

ESPN.com's Pat Yasinskas writes about all things NFC South in his division blog.
"Twice in the red zone we had a miscommunication in terms of what we were trying to get done with some protections and we had a free runner" bearing down on Ryan, Smith said. "I think you guys probably saw 94 (defensive end Cameron Jordan) coming off of our right side, but it really was not an issue with what they did. It was an issue of what we did. We didn't execute very well in the red zone."
Penalties didn't help, either. The Falcons were flagged a season-high 12 times -- four on offense, four on defense and four on special teams.
"Really, three of them were penalties that you just can't have," Smith said. "You can't flip the field position on 15-yard penalties. One of them, we were able to overcome and ended up kicking a field goal on the first drive, but the other ones, we weren't as successful in terms of overcoming them."
Each little setback played a part in the predicament Atlanta found itself in by the 12th play of overtime.
Turner never had a chance.
"I had my choices between the holes I could hit if they were there, but they just came with the all-out blitz, guys shot the gap and things like that," Turner said. "There really wasn't anywhere to go. I just tried to try harder and give that great effort to get those couple of inches that we needed."

Copyright 2011 by The Associated Press
NFL WEEK 11 PREVIEW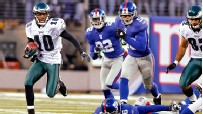 WEEK 11 PICKS
HOT READ: It's tough to be a DB
POWER RANKINGS
FINAL WORD
HOT BUTTON: No. 1 seed in AFC?
COMMENTARY/BLOG POSTS
MNF: Chiefs at Patriots, 8:30 ET
NFL DRAFT
ESPN FAN SHOP