Commentary
Rookie Watch: Ponder has promise
I am a fan of Christian Ponder. Even when many criticized the Vikings for using such a high pick on him (No. 12 overall), I commended the pick.
Minnesota has found its quarterback of the future. There will be plenty of growing pains. And the Vikings' wide receivers outside of Percy Harvin, who remains a work in progress himself, really struggle to gain separation or get deep downfield. Ponder needs a No. 1 wideout to help his progression. The Vikings' offensive line also needs a lot of work.
But Ponder is smart and decisive. He gets the ball out quickly and throws a very catchable ball. He is light on his feet and a very good athlete. His arm isn't the strongest, but it is not a liability either. Ponder makes his share of questionable decisions, but he puts those mistakes behind him and moves on to the next play.
The rest of the 2011 season should have plenty of valleys for Ponder and the Vikings overall, but that is often just part of growing up in the NFL -- particularly at quarterback. Ponder has the makeup of a successful starting quarterback.
Ranking
Player, position (draft position)
Last week

1

Von Miller, Broncos LB (first round, No. 2)
In that mess of a Thursday night game against the Jets, who was the best player on the field? No, it wasn't Tim Tebow, it was Miller. He is widening the gap between himself and every other 2011 rookie. This is a very special player who should be in the running for defensive player of the year.

1

2

Cam Newton, Panthers QB (first round, No. 1)
This wasn't Newton's best game. He particularly struggled in Detroit with his deep passing. And when he is missing his target, he is missing high -- which leads to interceptions in this league. But, as usual, Newton also made several spectacular plays that most NFL quarterbacks just couldn't pull off.

2

3

Andy Dalton, Bengals QB (second round, No. 35)
Dalton had some rookie moments in Baltimore, but overall, I thought he played an excellent game. And much like against the Steelers in Week 10, Dalton brought the Bengals back to almost squeak out a victory -- even with WR A.J. Green out of the lineup. Dalton looks like he will be a thorn in Baltimore's and Pittsburgh's sides for years to come.

3

4

Tyron Smith, Cowboys OT (first round, No. 9)
The more I look around the league, the more I am convinced Dallas' first-round pick is the best right tackle in the entire league. He has far exceeded expectations as a run blocker in particular.

8

5

Ryan Kerrigan, Redskins LB (first round, No. 16)
The Redskins' defense was quite strong in an overtime loss to Dallas. And Kerrigan continues to make plays; he disrupted Tony Romo on several occasions. Kerrigan's 45 tackles is a very big number for a 3-4 outside linebacker at this point of the season.

10

6

A.J. Green, Bengals WR (first round, No. 4)
Cincinnati could have used Green in its defeat in Baltimore. But even without him, Dalton threw for 373 yards. Assuming he can get healthy, Green could help propel Cincinnati into the playoffs. Green still has the most receiving yards of all rookies.

5

7

Aldon Smith, 49ers LB (first round, No. 7)
The Cardinals are extremely weak at their offensive tackle spots, but Smith cannot be discredited for abusing poor players. He registered another sack and was consistently disruptive once again, even though he was featured only in a part-time role. The Ravens' Joe Flacco is the next quarterback in Smith's sights.

9

8

DeMarco Murray, Cowboys RB (third round, No. 71)
The holes were not as gaping for Murray against Washington. But he was effective and ran hard. His pace up until that point was unsustainable. You just are not going to gash NFL defenses for well over 100 yards every week. Murray did chip in with six receptions as well. It was telling that Murray kept Felix Jones relegated to backup duty now that Jones is healthy. Let's see if that continues on Thanksgiving.

4

9

Julio Jones, Falcons WR (first round, No. 6)
Like Green, Jones missed Week 11 due to injury. If that hamstring situation persists, Jones will find himself among the honorable-mention crew, but for now, I think what he has shown in the NFL warrants a spot in the top 10.

6

10

Denarius Moore, Raiders WR (fifth round, No. 148)
The Raiders didn't have to throw a lot to get the victory in Minnesota. And Moore was targeted infrequently. I still think there are plenty of huge days to come in the near future for Moore.

7
Other notables:
J.J. Watt
, Texans DE;
Torrey Smith
, Ravens WR;
Christian Ponder
, Vikings QB;
Marcell Dareus
, Bills DT;
Mike Pouncey
, Dolphins C;
Phillip Taylor
, Browns DT;
Jurrell Casey
, Titans DT.
Scouts Inc. watches games, breaks down film and studies football from all angles for ESPN.com.
ESPN.com
Joined ESPN in 2005
Was an NFL and college scout for the Cleveland Browns
SPONSORED HEADLINES
MORE NFL HEADLINES
MOST SENT STORIES ON ESPN.COM
NFL WEEK 12 PREVIEW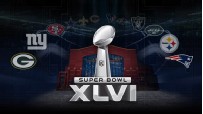 WEEK 12 PICKS
FINAL WORD
HOT READ: Jim Schwartz
POWER RANKINGS
JOHN CLAYTON/ADAM SCHEFTER
MNF: Giants at Saints, 8:30 ET
HOT BUTTON: Perfect Packers?
COMMENTARY/BLOG POSTS
NFL DRAFT
ESPN FAN SHOP