Fan thrilled by Cam Newton's gesture
Updated:
December 7, 2011, 8:22 AM ET
ESPN.com news services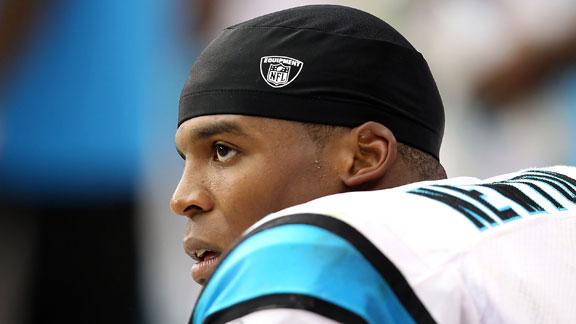 Cam Newton Interview
Cam Newton sat down with The Mag as one of the candidates to lead this year's NEXT class. To see the entire list and cast your vote for who will be NEXT, visit espn.com/NEXT.
Cam Newton Interview
CHARLOTTE, N.C. -- When Cam Newton ran across the end zone after his NFL record-setting 13th rushing touchdown Sunday at Tampa Bay and handed 16-year-old Katie Brown the game ball, she was speechless and trembling with excitement.
A few minutes later, however, she was asked to give the football up. That ball, it turns out, is destined for the Pro Football Hall of Fame in Canton, Ohio.
Yasinskas: Panthers Have Franchise QB

When Andrew Luck passed on the NFL draft last winter, it turned out to be lucky for the Panthers, who wound up using the No. 1 overall pick on Cam Newton instead, Pat Yasinskas writes. Blog
Newton's third touchdown of the game gave him 13 for the season, the most ever by an NFL quarterback, breaking Steve Grogan's 35-year-old record.
Panthers assistant equipment manager Don Toner, knowing beforehand the importance of Newton's milestone, had the awkward job of asking Brown for the ball.
"The funny thing is when Cam scored and started running over there, we're all yelling, 'Oh no, don't,' " Toner said with a laugh. "It was like watching it happen in slow motion. It was painful."
Painful because he knew he'd have to be the one to retrieve the ball.
At first Toner started toward the corner of the end zone, but then realized he still had the kicker's tee for the upcoming kickoff in his pocket. After he gave that up, he grabbed one of the game balls from the ball boys and later snagged four hats from an equipment trunk on the sideline.
Toner said Brown was understanding.
"I just asked her real nice, 'Would you mind exchanging that ball -- we kind of need it,' " Toner said. "And she was real sweet about it. She didn't hesitate. She was so excited, she was trembling. She was just giddy about what had just happened."
"It was some quick thinking on Donnie's part," Panthers equipment manager Jackie Miles said.
Brown said she didn't mind trading the ball.
"I was like, 'OK, no problem,' " Brown said. "I honestly believe Cam deserves to have that ball because it was his record and his achievement. He should have it."
"

I honestly believe Cam deserves to have that ball because it was his record and his achievement. He should have it.

"

-- Katie Brown
Miles said the team also plans to send Brown something in the mail.
"It was the most amazing moment," Brown said in a phone interview on Monday. For the game, she was dressed in a homemade black T-shirt she'd had made the night before that said "Katie and Cam" on the front and "Mrs. Newton" on the back, along with Newton's No. 1.
"I thought he was going to do his Superman celebration like he normally does, but then all of sudden he started running over and pointed right at me," the teenager from New Port Richey, Fla., said. "I was in shock. I thought, 'I must be in a dream.' "
All in all, it was an incredible day for Brown, who didn't even know she was going to the game until a few hours before kickoff.
She doesn't live far from Raymond James Stadium and had asked her father, D.J., if going to see Newton play could be her Christmas present.
He told his daughter they couldn't afford the tickets, but secretly purchased four: for himself, Katie, her 11-year-old brother, Noah, and their mother, Renee. On Sunday, Katie's father didn't tell her where they were going until they were on the way to the game.
"She was just so thrilled," D.J. Brown said. "I think she had an inkling, though, because she had the T-shirt made up the night before the game."
Brown can thank the fans around her for getting an opportunity to meet Newton.
Newton Rushes Into Record Book
Cam Newton rushed for three touchdowns Sunday, giving the No. 1 overall pick in April's draft the NFL single-season record for rushing touchdowns by a quarterback.
Most Rush TD by QB in Single Season
Season
Cam Newton
13
2011
Steve Grogan
12
1976
Kordell Stewart
11
1997
Tobin Rote
11
1956
Johnny Lujack
11
1950
• Stats & Info: Today was a good day
powered by

After a Carolina touchdown in the second quarter, several fans began shouting Newton's name while he stood with DeAngelo Williams around the water cooler on the sideline. Newton noticed the ruckus and finally turned to their section. When he did, Katie turned around and showed him the back of her shirt.
"I pointed at my T-shirt and he just started smiling and shaking his head, laughing," she said.
D.J. Brown said his daughter became a Newton fan while he was playing at Auburn. They were watching a game together when Katie asked him, "Who's that guy?"
He told her.
"I told my father right there, I'm going to be a fan of whatever team drafts him," Brown said. "So I'm a Panthers fan."
Brown said returning to school Monday at River Ridge High was a blast -- several of her classmates had seen what happened on television.
"It was an amazing day," Brown said. "I was a really great early Christmas present."
Only one thing could top it, she said.
"I'm wondering if Cam can take me to my prom?" she said.
Information from The Associated Press was used in this report.
SPONSORED HEADLINES
MORE NFL HEADLINES
MOST SENT STORIES ON ESPN.COM
NFL WEEK 14 PREVIEW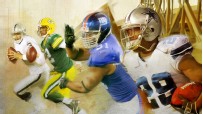 FINAL WORD
MNF: Rams at Seahawks, 8:30 ET
HOT READ: Scouting Andrew Luck
POWER RANKINGS
HOT BUTTON: Romo vs. Manning
JOHN CLAYTON/ADAM SCHEFTER
COMMENTARY/BLOG POSTS
NFL DRAFT