Commentary
Rookie Watch: Helu a good fit for Skins
It took a while, but the Redskins finally figured out that Roy Helu was their best ball carrier. Helu had three straight 100-yard games before Washington played the Giants in Week 15. In that game, Helu injured a toe, knee and eye but still carried the ball 23 times for 53 yards.
Helu has yet to make it on my Rookie Watch list because the body of work for the season just isn't there, but obviously he has become the foundation of Washington's running game. Helu has the physical dimensions you look for in a lead runner with a powerful square build and a low center of gravity. He is also quite fast in a straight line and a rather accomplished receiver as far as rookie running backs go.
But Helu isn't very agile laterally and is more of a straight-line running back. That deficiency is masked somewhat in Mike Shanahan's one-cut zone blocking running game, which Helu fits well because he is decisive and quick to stick his foot in the ground and get his pads parallel with the line of scrimmage.
To me, Helu is not an ideal feature back because of this deficiency, but with all the other needs the Redskins have on offense and Helu's fit in the scheme, he is most likely a suitable enough option to carry the load going forward.
Ranking
Player, position (draft position)
Last week

1

Von Miller, Broncos LB (first round, No. 2)
Aldon Smith is nipping on Miller's heals for the Defensive Rookie of the Year honor, but my vote still firmly goes to Miller. He has played many more snaps and helps his defense on every down. Both are fantastic pass-rushers, but Miller is the more established all-around player.

1

2

Cam Newton, Panthers QB (first round, No. 1)
Newton limited his mistakes and put on a very professional performance as his Panthers defeated the Texans. The knock on Newton early in the season was that he was posting huge numbers but the Panthers couldn't win games. Carolina has won three of its last four. I say this often, but the future is very bright for Newton and the Panthers.

2

3

A.J. Green, Bengals WR (first round, No. 4)
Green went over 100 yards again in Week 15. But he injured his shoulder in that game, so we need to keep an eye on him this week. I commend Green for playing with the injury -- and playing well.

3

4

Aldon Smith, 49ers LB (first round, No. 7)
Again, Smith was not a starter this week. But he was a big-time impact pass-rusher Monday night against the Steelers. Smith recorded 2½ sacks and had another sack that didn't count because of a penalty.

4

5

Tyron Smith, Cowboys OT (first round, No. 9)
Before, I wasn't sure if the Cowboys' flipping of Smith and Doug Free from their present right and left tackle spots was a good idea. But at this point, Smith needs to be Dallas' left tackle next season. Right tackle just isn't challenging enough for him. He makes it look too easy.

5

6

Julio Jones, Falcons WR (first round, No. 6)
Jones was impressive again in Week 15, this time Thursday night for the nation to watch. He quickly made an impact by taking a short crossing route to the house to kick start the rout over Jacksonville. Jones just keeps getting better. He reminds me of Terrell Owens in his prime.

10

7

Andy Dalton, Bengals QB (second round, No. 35)
Week 15 was not Dalton's best showing, but the Bengals defeated St. Louis and Dalton became just the fifth rookie to surpass 3,000 yards passing.

6

8

J.J. Watt, Texans DE (first round, No. 11)
Unlike many rookies, Watt is doing his best work of the season now and isn't showing any signs of wearing down. He is a tough guy with fantastic tools -- that is a winning combination.

8

9

Patrick Peterson, Cardinals CB (first round, No. 5)
The Cardinals are now using Peterson much like the Jets use Darrelle Revis. He still has his ups and downs as a cover cornerback, but that is to be expected -- and his role in the defense certainly is not an easy one. Peterson can be great.

NR

10

Jabaal Sheard, Browns DE (second round, No. 37)
Sheard recorded two sacks in the Browns' overtime loss in Arizona. Despite his team's problems, Sheard continues to play at a very high level against the run and pass. He is exactly what you look for in a 4-3 left defensive end.

7
Other notables:
Ryan Kerrigan
, Redskins LB;
Mike Pouncey
, Dolphins C;
Marcell Dareus
, Bills DT;
Richard Sherman
, Seahawks CB;
Jurrell Casey
, Titans DT;
Doug Baldwin
, Seahawks WR;
Adrian Clayborn
, Buccaneers DT.
Scouts Inc. watches games, breaks down film and studies football from all angles for ESPN.com.
ESPN.com
Joined ESPN in 2005
Was an NFL and college scout for the Cleveland Browns
NFL WEEK 16 PREVIEW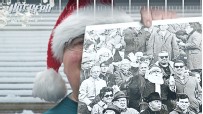 WEEK 16 PICKS
POWER RANKINGS
MNF: Falcons at Saints, 8:30 ET
HOT BUTTON: Non-QB MVP
HOT READ: Booing Santa in Philly
FINAL WORD
JOHN CLAYTON/ADAM SCHEFTER
COMMENTARY/BLOG POSTS
SPORTSNATION
NFL DRAFT