Commentary
Rookie Watch: Yates warrants attention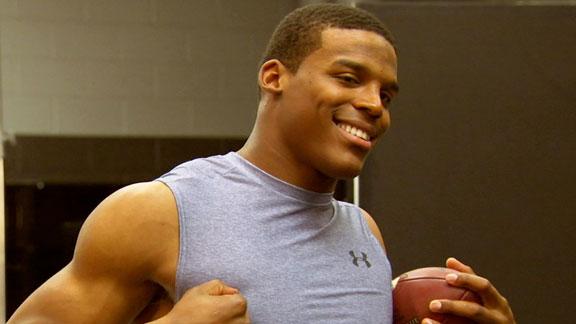 Cam Newton's Magazine Cover Shoot
Behind the scenes with Cam Newton on his ESPN the Magazine NEXT photo shoot.
Cam Newton's Magazine Cover Shoot
T.J. Yates hasn't done enough to warrant a spot on my Rookie Watch list, but he is quarterbacking a playoff team.
Overall, he has been a pleasant surprise behind center for the Texans. He has shown enough physical ability to succeed at the position at this level and plenty of poise in the pocket. The game has not been too big for Yates, and that in itself is a major accomplishment considering Yates' circumstances.
But things haven't gone so well of late, as Houston has lost two in a row. Everyone saw the Colts notch their second win of the season this past Thursday night against Yates' Texans, a game in which Houston rarely threw downfield; Yates ended up with a paltry 132 yards through the air. Yates really struggled on third down against the Colts, and fumbles have been a problem for him since taking over.
Penalties also really hurt the Texans in that loss, but the game overall just shows that, right now, this franchise has very little room for error. Much of that is because of the quarterback situation. That isn't to crush Houston's quarterback -- playing the position in this league isn't easy. But compared with the other playoff teams, this is clearly an area of concern. Houston is hopeful of getting WR Andre Johnson back into the mix, which is crucial for Yates and the Texans' playoff chances.
Ranking
Player, position (draft position)
Last week

1

Cam Newton, Panthers QB (first round, No. 1)
Carolina destroyed division rival Tampa Bay in Week 16. The running game did most of the damage, gaining a whopping 270 yards. Newton wasn't asked to do a ton through the air, but he again produced a professional performance behind center and is making fewer mistakes while handling the rush well. And his 48-yard touchdown run was a thing of beauty.

2

2

Von Miller, Broncos LB (first round, No. 2)
Miller has slowed down of late and was not much of a factor in Denver's loss in Buffalo. His body of work is immense, but I am starting to consider the idea of Aldon Smith edging him out for defensive rookie of the year. Miller hasn't been a major difference-maker in three of the four games since his thumb surgery. And, in case you didn't notice, I did drop Miller out of the top spot.

1

3

Aldon Smith, 49ers LB (first round, No. 7)
Smith had only one sack in Week 16. Only one. That is what it is getting to when describing this phenomenal pass-rusher. The Niners have done a fantastic job of using Smith with Justin Smith on stunts, which frees the rookie up on an inside rush.

4

4

A.J. Green, Bengals WR (first round, No. 4)
Green was battling a shoulder injury and tight coverage in Week 16. And his numbers reflected those obstacles. But Green has put together a Pro Bowl-caliber season and I just can't drop him out of the top four.

3

5

J.J. Watt, Texans DE (first round, No. 11)
Despite its being a losing effort (to Indianapolis, no less), Watt was amazing Thursday night. He gets better with every viewing. Watt does everything well for the position, and the sky is the limit for how good he can be.

8

6

Patrick Peterson, Cardinals CB (first round, No. 5)
Peterson was injured (Achilles) in the second half in Cincinnati, so his rookie season might be over. But he was playing great -- mostly against Green -- before the injury in Week 16. Peterson also had an interception taken away from him because of a roughing-the-passer penalty. And overall, his prowess as a cover man has improved dramatically throughout his rookie season.

9

7

Tyron Smith, Cowboys OT (first round, No. 9)
In what became a meaningless game, the Eagles dominated Smith and the Cowboys. Collectively, Dallas' offensive line could not protect QB Stephen McGee or open holes in the run game. The Philadelphia defense is playing at a very high level right now, but this was a worrisome performance. Smith had a long day. The Giants' defensive line should provide a stiff test this week -- in a game that means much more.

5

8

Richard Sherman, Seahawks CB (fifth round, No. 154)
Sherman played another strong game, but his Seahawks couldn't pull off the upset at home against San Francisco. Led by Sherman and Earl Thomas, it appears Seattle is set in the secondary for years to come. Collectively, the back end of the Seahawks' defense has great size, youth and upside. Sherman looks like a true No. 1 NFL cornerback. What a find he has been.

NR

9

Julio Jones, Falcons WR (first round, No. 6)
The Falcons were thoroughly dominated Monday night. But Matt Ryan and Jones played very strong games, with the rookie wideout catching eight passes for 128 yards and a touchdown. Jones is just scratching the surface of what he can become.

6

10

Andy Dalton, Bengals QB (second round, No. 35)
Dalton's numbers are dwindling quickly, but the Bengals did win at home in a very tight game. The rookie signal-caller has 3,000-plus passing yards and 20 touchdowns for the season -- putting him in a select class for rookie quarterbacks. Dalton could make a further name for himself in the playoffs, which is an opportunity Newton won't have.

7
Other notables:
Marcell Dareus
, Bills DT;
Ryan Kerrigan
, Redskins LB;
Jabaal Sheard
, Browns DE;
Mike Pouncey
, Dolphins C;
Jurrell Casey
, Titans DT;
Adrian Clayborn
, Buccaneers DT.
Scouts Inc. watches games, breaks down film and studies football from all angles for ESPN.com.
ESPN.com
Joined ESPN in 2005
Was an NFL and college scout for the Cleveland Browns
NFL WEEK 17 PREVIEW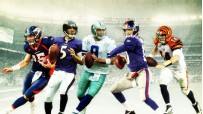 WEEK 17 PICKS
FINAL WORD
JOHN CLAYTON/ADAM SCHEFTER
HOT READ: Playoff momentum
POWER RANKINGS
HOT BUTTON: Set up for 2012
COMMENTARY/BLOG POSTS
NFL DRAFT
Nike Women's Home Game Jersey Denver Broncos Von Miller #58 Shop »

MOST SENT STORIES ON ESPN.COM