Hue Jackson rips Raiders after loss
Updated:
January 2, 2012, 8:33 PM ET
ESPN.com news services
OAKLAND, Calif. -- Watching his offense repeatedly stall near the end zone, his defense get shredded by Philip Rivers and the San Diego Chargers, and his special teams get gashed for a 105-yard kickoff return was hard enough for Oakland Raiders coach Hue Jackson.
"

I know one thing, this team needs an attitude adjustment. The killer instinct has got to exist here.

"

-- Hue Jackson
Jackson was left fuming at his team's shoddy performance, finding out afterward that the Raiders got the help they needed to win the AFC West and reach the playoffs when Denver lost to Kansas City. Instead, they were clobbered 38-26 at home by San Diego.
"I'm pissed at my team. At some point in time as a group of men you go in the game and you can say whatever you want about coaches, you win the game. Here's your time. Here's your time to make some plays," Jackson said in initially unloading on his players. "We didn't get them stopped and we didn't make enough plays. Yeah, I'm pissed at the team. Like I tell them, I always put it on me, but I am pissed at my team because when you have those kind of opportunities, you've got to do it and we didn't do it."
Rivers threw three touchdown passes and Richard Goodman returned a kickoff 105 yards for another score.
The team plans to hire a general manager to help fill the void left by the death of longtime owner Al Davis last October.
However, Jackson wouldn't say whether defensive coordinator Chuck Bresnahan would return next season, or whether he plans to overhaul personnel on defense. The Raiders allowed a franchise-worst 31 touchdown passes this season.
"I know one thing, this team needs an attitude adjustment," Jackson said. "The killer instinct has got to exist here. It's something I've talked about. When you don't finish games at the end like we haven't, this has been going on all year. I mean, this feeling I've had has been there all year and you try to change it, change it, change it and I haven't been able to get it changed. I know what needs to happen and we'll move forward."
AFC West blog

ESPN.com's Bill Williamson writes about all things AFC West in his division blog.
Oakland (8-8) began the day needing a win and some help to make the postseason. The Broncos cooperated with a 7-3 home loss to Kansas City, but the Raiders couldn't do their part against the Chargers, who also finished 8-8. The Broncos won the division based on record versus common opponents.
Jackson, whose expertise is on the offensive side of the ball, said he plans to take a stronger role in the defense next season.
"Let me tell you something, I'm going to take a stronger hand in this whole team, this whole organization. There ain't no way that I'm going to feel like I feel today a year from now. I promise you that. I ain't feeling like this no more. This is a joke. To have a chance at home to beat a football team that is reeling after being beaten in Detroit, who's one of your rivals and they come in here and beat us like that, I'm going to take a hand in everything."
The Raiders set single-season records for penalties and yards penalized by committing eight for 64 yards. That gave them 163 for 1,358 yards, surpassing the totals of 158 for 1,304 set by the 1998 Chiefs. The record-setting penalty was a hold by Rock Cartwright on the opening kick of the second half.
Information from The Associated Press was used in this report.
SPONSORED HEADLINES
MORE NFL HEADLINES
MOST SENT STORIES ON ESPN.COM
NFL WEEK 17 COVERAGE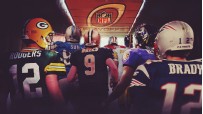 POLIAN, MORRIS, SPAGNUOLO OUT
BENGALS AT TEXANS (Sat., 4:30 ET)
LIONS AT SAINTS (Sat., 8 ET)
FALCONS AT GIANTS (Sun., 1 ET)
BRONCOS AT STEELERS (Sun., 4:30 ET)
COWBOYS AT REDSKINS (Sun., 8:20 ET)
WEEK 17 COVERAGE
NFL DRAFT