Commentary
Rookie Watch: Awards go to ...
Andy Dalton. Von Miller. Those guys' games dropped off as the season concluded, which is what happens to most rookies.
[+] Enlarge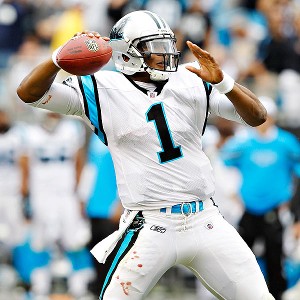 Bob Donnan/US PresswireThe Panthers' Cam Newton has rare abilities and a strong desire to win.
But Carolina QB Cam Newton, my choice for NFL Offensive Rookie of the Year, isn't like everyone else. And I don't mean that just compared with the other rookies on this list. I mean it compared with the other quarterbacks in the NFL. Newton's physical tools are just off the chart. Not only does he have a fantastic right arm but his strength at the position is on par with a guy like Ben Roethlisberger and his agility and running skills are superior even to those of Steve McNair in his prime.
He can physically do whatever is asked of him, but the way he took to coaching and the speed of the game as a rookie was astonishing. He handles the blitz well, can go to his second and third reads, and understands ball placement to best help his receivers make the catch and do something with the ball after securing it.
He set records in his rookie year, but Newton also shows excellent leadership on the field. He wants to win -- it is clearly very important to him. Newton is a star, and he is only getting started.
NFL Defensive Rookie of the Year: 49ers LB Aldon Smith
I really didn't think I would do it. I thought for sure Miller had this honor locked up. But Miller's play and production fell off a cliff after his thumb surgery, and, although Smith played far fewer snaps and is more one-dimensional than Miller, I had to give him this award.
I actually considered giving it to Texans DE J.J. Watt, as well, but, in the end, this is a passing league and the pressure Smith can put on a quarterback was just too overwhelming to ignore.
Smith has a fantastic body type for rushing the passer off the edge. He is tall with very long arms with big strides. Smith is built for speed. But he also uses those long arms extremely well to hand fight and to keep blockers away from his body. Many players with Smith's dimensions lack power, but that simply isn't the case here. He is a natural knee bender who plays low with leverage, and he can convert his fantastic initial explosion off the snap into bull-rush power. He is adept with stunting and has more than just speed and a bull rush in his repertoire.
Smith was not a full-time player as a rookie, and he still needs work on early downs against the run as well as on his coverage skills. But those things will come before long. Smith is just too good not to be on the field full time.
Ranking
Player, position (draft position)
Last week

1

Cam Newton, Panthers QB (first round, No. 1)
Newton finished the season strong after going through a short stretch of inconsistency. He is unlike any other quarterback in the NFL. And his stats say that he had the best rookie season of any quarterback ever. The sky is truly his limit.

1

2

Aldon Smith, 49ers LB (first round, No. 7)
Smith is already one of the best pass-rushers in all of football. Only four players in the league had more sacks than Smith's 14. He is fantastic.

3

3

Von Miller, Broncos LB (first round, No. 2)
The Broncos played great defense against the Chiefs, but the only thing that showed up on the box score for Miller was a quarterback hit. Still, 11½ sacks and 64 tackles are nothing to sneeze at. But wow, has Miller ever cooled down from where he was for the majority of the season, when he was a legitimate defensive player of the year candidate. The wear and tear of the position and so often dealing with bigger bodies seemed to take a toll in Miller's rookie season.

2

4

A.J. Green, Bengals WR (first round, No. 4)
Green finished the season slowly after injuring his shoulder, but his overall work this year was just superb. He is an immediate mismatch in coverage with rare deep and go-up-and-get-it abilities. It might not be long before Green is one of the top five wide receivers in football.

4

5

J.J. Watt, Texans DE (first round, No. 11)
While Houston floundered to finish the season, Watt just kept getting stronger and better at his craft. Rarely do 3-4 defensive ends stand out as much as Watt, and it is much rarer for rookies at this position to be impact guys on the level of what Watt accomplished. He is a foundation piece of the Texans' excellent defense.

5

6

Patrick Peterson, Cardinals CB (first round, No. 5)
Peterson was fighting an Achilles tendon injury, but he still was a big-time force on special teams -- as usual -- in the Cardinals' overtime win over Seattle. As the season went along, Peterson became better and better as a cover man, and the Cardinals trust him a great deal in that capacity, often putting him on an island against the opponent's best weapon. Just wait and see how good he is at corner in Year 2.

6

7

Tyron Smith, Cowboys OT (first round, No. 9)
The final two games of the season hurt Smith's stock. There isn't any shame in having a rough time against Jason Babin and a now-healthy Justin Tuck -- and there surely was some rookie fatigue for Smith as well in those matchups. But overall, Smith was outstanding in Year 1 and is a special prospect going forward.

7

8

Richard Sherman, Seahawks CB (fifth round, No. 154)
Against the Cards, Sherman had an interception, and, although Larry Fitzgerald had a monster day, Sherman certainly did not embarrass himself. Of the entire rookie class, Sherman best qualifies as the diamond in the rough. He is already very good, but he soon will be a top-10 type of corner.

8

9

Julio Jones, Falcons WR (first round, No. 6)
Jones and his Falcons teammates dominated the hapless Buccaneers in Week 17 and are heading on the road to battle the Giants in the playoffs. Because of some rawness to his game and injuries, Jones was up and down in 2011, but his ups were very high -- a great sign of things to come.

9

10

Andy Dalton, Bengals QB (second round, No. 35)
Dalton started all 16 games this season, but his first eight games were much better than his final eight. Dalton is superb at anticipating routes, is very accurate with the football and excels at handling the often-overlooked finer aspects of playing quarterback at this level. But he also needs to be more decisive pulling the trigger than he was late in the regular season. Dalton does have his Bengals in the playoffs, which gives him a fantastic opportunity to enhance his profile. But I still have my doubts about how well Dalton will handle rough weather this time of year.

10
Other notables:
Marcell Dareus
, Bills DT;
Ryan Kerrigan
, Redskins LB;
Jabaal Sheard
, Browns DE;
Mike Pouncey
, Dolphins C;
Adrian Clayborn
, Buccaneers DT;
Jurrell Casey
, Titans DT.
Scouts Inc. watches games, breaks down film and studies football from all angles for ESPN.com.
ESPN.com
Joined ESPN in 2005
Was an NFL and college scout for the Cleveland Browns
2011 NFL PLAYOFFS
CHAMPIONSHIP GAME PICKS
HOT READ: Hakeem Nicks and Victor Cruz
RAVENS AT PATRIOTS, Sun., 3 p.m. ET
GIANTS AT 49ERS, Sun., 6:30 p.m. ET
MORE NFL COVERAGE
NFL DRAFT
Nike Men's Home Game Jersey Denver Broncos Von Miller #58 Shop »

MOST SENT STORIES ON ESPN.COM