Commentary
Plenty of action lies ahead
Manning saga, tricky cap situations among storylines to watch as free agency nears
Originally Published:
February 28, 2012
By
John Clayton
| ESPN.com
The March 13 start of free agency is more than a week later than normal because of the new collective bargaining agreement, so there wasn't a lot of urgency to lay the foundation for trades and signings at the scouting combine in Indianapolis.
QUESTIONS, PLEASE
Do you have a query for John Clayton?
Click here to send a note to his mailbag.
Now that the combine is over, things will heat up. General managers and coaches will go into meetings and start to execute their plans for the offseason. This league works on deadlines. The first one is the March 5 deadline for naming franchise players. The second is March 13, the start of free agency and trades.
Here are the five things to watch as we prepare for a busy offseason.
1. Tag, you're it: Last year, 16 teams used franchise tags, and more tags are expected to be handed out this year. What has slowed things down is players being offered long-term contracts that are commensurate to the decreased value of the franchise tags. Owners added a provision to the new CBA that turned the value of the franchise tag, which used to give players an average of the five highest-paid players at a position, into a lower number that factors franchise tags for the previous five years. That's decreased the value of the franchise tags by, in some cases, 30 percent. Teams are effectively using the decreased numbers to their advantage. The Packers were going to tag tight end Jermichael Finley at around $5.4 million, but he accepted a two-year, $15 million deal that will pay him only $5.25 million this year.
2. Manning saga: Look for Peyton Manning's situation, at least the first part of it, to be resolved by March 8. Colts owner Jim Irsay will meet with Manning and see if the quarterback is willing to renegotiate his contract. Manning is due $28 million in an option bonus March 8. Coming off four neck surgeries, Manning is regaining the strength in his triceps muscle and hopes to play in 2012, but the Colts aren't going to give him the $28 million unless he's 100 percent. If he's released -- which is likely -- Miami and Washington will lead the charge to see who lands the future Hall of Famer. The Colts are expected to draft Andrew Luck. Some teams, namely the Redskins and Dolphins, will have to judge whether they should pull the trigger on a Manning deal or on a trade to land Baylor QB Robert Griffin III.
3. Salary-cap slashing: Over the next several days, teams have to trim payroll to get under the salary cap. The Steelers restructured five starting contracts to clear $25.9 million, but they still need to clear more. They have to re-sign restricted free agent Mike Wallace. The Steelers also have other restricted free agents and veterans to re-sign, so players such as Aaron Smith, Casey Hampton, James Farrior and others might be purged. The Giants and Panthers are over the cap and face interesting decisions. The Chargers are expected to clear cap room with the potential retirement of guard Kris Dielman and the potential releases of tackle Marcus McNeill and defensive end Luis Castillo. Some big names might be cut, so it could create an interesting secondary market. The Chiefs dabbled into that market already, signing former Raiders cornerback Stanford Routt.
4. Trade talks heat up: The Rams are shopping the No. 2 overall pick to the Cleveland Browns and Washington Redskins, giving the best bidder the chance to draft Griffin. But there are usually about a half-dozen or so trades during the first two weeks of free agency. The Jets want to dump the salary of linebacker Bart Scott, so he is available for virtually nothing. The Giants are talking about extending defensive end Osi Umenyiora, but it's not out of the question for a team to trade for him. Teams looking for quarterbacks may make calls.
5. Restricted free agency drying up: Restricted free agency is clearly overrated and in time will be almost nonexistent. Restricted free agency involves players with three years of experience. At the moment, there are about 73 restricted free agents. More than two dozen will be cut because teams won't want to give these players one-year, $1.26 million offers. At the present time, the restricted market usually involves players who were drafted in the third round or lower, because second-round picks have received four-year deals and first-rounders have received five. In the future, the market will be smaller because most teams will have all rookies under four-year deals.
John Clayton, a recipient of the Pro Football Hall of Fame's McCann Award for distinguished reporting, is a senior writer for ESPN.com. Follow Clayton on Twitter @ClaytonESPN
NFL senior writer
Senior NFL writer and commentator
Joined ESPN in 1995
Member of the writers' wing of the Pro Football Hall of Fame in Canton, Ohio
The NFL on ESPN.com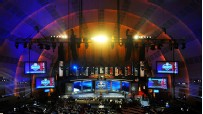 NFL DRAFT ON ESPN
NFL DRAFT PROFILES
HOT BUTTON: KIPER-MCSHAY DEBATES
NFL DRAFT TEAM NEEDS
MORE NFL COVERAGE
MORE NFL DRAFT

MOST SENT STORIES ON ESPN.COM