Drew Brees coy about contract
New Orleans Saints quarterback Drew Brees isn't tipping his hand about whether he'll attend the team's voluntary offseason program that starts Monday.
Speaking at a news conference to promote his charity golf tournament, Brees repeatedly was asked if he'll show up Monday at the team's facility in Metairie, La.
Mike and Mike in the Morning
ESPN NFL Insider John Clayton comments on the league's decision to uphold its discipline of the Saints for their illegal bounty system, how New Orleans will handle Sean Payton's absence, Bill Parcells, Steve Smith's contract extension, Matt Forte, Drew Brees and more.
"We're continuing to work on a long-term deal," Brees told reporters at the La Costa Resort & Spa in California. When asked the same question several different ways, Brees responded with the same answer.
The Saints placed the exclusive-rights franchise tag on Brees just before the start of free agency. The tag means Brees would earn about $16 million in 2012, but he has yet to sign the tender.
Even while he temporarily tabled negotiations during the second half of the 2011 season, Brees continually has said he expects to work out a long-term contract before next season.
If a deal isn't in place or Brees hasn't signed his tender by Monday, it could make for another crazy day in the Saints' already stressful offseason. Coach Sean Payton is scheduled to begin his season-long suspension on April 16 and an interim coach has not been named yet.
When asked about the bounty situation, Brees said: "This is a shock to all of us."
He also was asked about the recording in which former New Orleans defensive coordinator Gregg Williams urged his team to target San Francisco players for injury in a speech the night before last season's playoff game.
"Hard for everybody to hear," Brees said.
NFC South blog

ESPN.com's Pat Yasinskas writes about all things NFC South in his division blog.
Brees was asked if he felt he had been a target of a bounty program during his career.
"I know this, that when a guy has an opportunity to take a shot at the quarterback, he's going to take it," Brees said. "I'm not saying that he's trying to end your career, that he's trying give you a concussion or what have you, but between the knees and the neck, they're trying to take you out every time. I know that for a fact, every defensive player that's trying to hit you. That's just football. We play a violent game."
Then, he added: "I am not condoning by any means any kind of a bounty structure, and I will clarify that there is a difference between pay-for-performance and pay-for-injury, and I'd say what we've been accused of in regards to pay-for-injury is not the case."
Beginning the offseason program without Brees would only complicate things further for the Saints, but he continued to maintain his role as the team's unquestioned leader Tuesday.
"Whatever's thrown at us this year, we'll continue to thrive," Brees said when asked how the Saints will get through the obstacles.
Information from The Associated Press contributed to this report.
ESPN Tampa Bay Buccaneers reporter
Previously covered NFC South for ESPN.com
Covered Panthers for The Charlotte Observer from 1999-2008
Began journalism career with The Tampa Tribune in 1990
SPONSORED HEADLINES
MORE NFL HEADLINES
MOST SENT STORIES ON ESPN.COM
The NFL on ESPN.com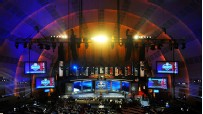 NFL DRAFT ON ESPN
NFL DRAFT PROFILES
HOT BUTTON: KIPER-MCSHAY DEBATES
NFL DRAFT TEAM NEEDS
MORE NFL COVERAGE
MORE NFL DRAFT

Fathead Marques Colston Wall Graphic Shop »