Commentary
Young guns lacking in AFC
Conference could soon have up to 10 starting QBs 30 or older; will NFC rule?
Originally Published:
April 13, 2012
By
John Clayton
| ESPN.com
When Peyton Manning went to the Broncos and David Garrard went to the Dolphins, it struck me how old the AFC is becoming at quarterback.
With Philip Rivers, Ben Roethlisberger, Matt Schaub, Ryan Fitzpatrick and Matt Cassel either at 30 or right on the cusp, the AFC -- if Garrard wins the Dolphins' job -- will have 10 starting quarterbacks in their 30s by the end of November (Fitzpatrick turns 30 on Nov. 24). That's a lot. And in some respects, it's a little scary.
As Manning proved in Indianapolis, nothing is forever. The surefire Hall of Famer -- who never missed a game, much less a play, during his first 13 years -- missed the 2011 season because of at least three neck operations. The Colts were fortunate to lose enough games to be in position to draft Andrew Luck, who could be the next Manning.
Quarterbacks aren't like running backs, who are targeted for replacement once they get past the age of 28. But when quarterbacks start to get into their mid-30s, you start to worry about their longevity. That's a concern for a conference with this many veteran quarterbacks.
[+] Enlarge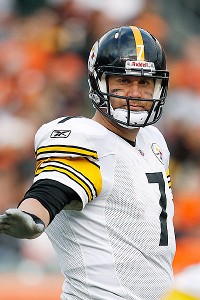 Frank Victores/US PresswireNow 30, Ben Roethlisberger is being urged to take steps to lengthen his shelf life.
Everyone knows this is a quarterback-driven league. Since 2003, only teams with elite quarterbacks -- Tom Brady, Peyton Manning, Eli Manning, Roethlisberger, Aaron Rodgers and Drew Brees -- have won Super Bowls. The pattern is no different from when John Elway, Joe Montana, Troy Aikman and other quarterbacks dominated the football landscape.
Defenses may help get a team to a championship, but you need a great quarterback to win one, and the quarterback stakes are even higher with the league's emphasis on creating more offense.
You look at the AFC and wonder what happens next. Over the past several years, the NFC has loaded itself with great young quarterbacks: Rodgers, Jay Cutler, Matthew Stafford, Matt Ryan, Josh Freeman, Cam Newton (and next season, Robert Griffin III likely will be with the Redskins).
With the NFC winning four of the past five Super Bowls and finally winning the regular-season interconference title last year, the NFC has surpassed the AFC as a conference. That gap could grow if the AFC ages too quickly at quarterback.
One of the reasons the AFC had such a huge advantage throughout the 2000s was because it had the better quarterbacks. Peyton Manning and Brady dominated the 2000s. Roethlisberger entered from the talented 2004 QB draft class along with Rivers and eventually Schaub, who was drafted that year but didn't become a starter until he was traded to Houston in 2007. The NFC was throttled in the regular season and postseason.
In 2004, the AFC won 44 of the 64 interconference games. The AFC had a 15-year run from 1996-2010 in which it didn't lose the interconference battle to the NFC. As the AFC quarterbacks age, the NFC could go on a similar run.
Having an elite quarterback spoils franchises, and rightfully so. The Dolphins always felt they had a chance with Dan Marino. The Broncos thought championships with John Elway. The Montana-Steve Young transition kept the 49ers a Super Bowl contender for the longest time.
But look what happened to those franchises after those quarterbacks retired. The Dolphins are still looking for a quarterback. The Broncos patched the position for years until they drafted Cutler, but former coach Josh McDaniels ruined that by trading Cutler to Chicago.
The good news for the AFC is that Roethlisberger, Cassel, Rivers, Schaub and Fitzpatrick are in their primes and should be good for years. Peyton Manning could have a good three- or four-year run with the Broncos if his neck heals properly. Brady will want to play until he's 40.
In Pittsburgh, much has been made of owner Art Rooney's suggestion that Roethlisberger change his game and take fewer hits. That's smart thinking. Once Roethlisberger loses his ability to move and throw out of the pocket, he will be just an average quarterback. Now, he's a great one.
Unless a team is willing to gamble on a Manning or a Brees when he's coming off surgery, a franchise has to lose a lot of games to get the quarterback who can keep it competitive for a decade or more.
With 10 starting quarterbacks in their 30s, the AFC has to worry about the future. The NFC, meanwhile, can put its worries in the past. It now has more of the best young guns.
NFL senior writer
Senior NFL writer and commentator
Joined ESPN in 1995
Member of the writers' wing of the Pro Football Hall of Fame in Canton, Ohio
The NFL on ESPN.com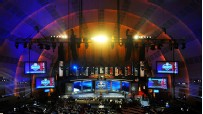 NFL DRAFT ON ESPN
NFL DRAFT PROFILES
HOT BUTTON: KIPER-MCSHAY DEBATES
NFL DRAFT TEAM NEEDS
MORE NFL COVERAGE
MORE NFL DRAFT

MOST SENT STORIES ON ESPN.COM