Commentary
Highlight these 2012 matchups
Peyton Manning's addition vaults Broncos-Pats into must-see territory
Originally Published:
April 17, 2012
By
John Clayton
| ESPN.com
Peyton Manning's move from Indianapolis to Denver caused major ripples in the 2012 NFL schedule.
Before Manning's departure from Indianapolis, networks bid to position themselves to get a couple of Denver Broncos games because of the popularity of Tim Tebow. John Elway changed that. He brought in Manning and shipped off Tebow to be a backup with the Jets, increasing the value of Broncos games.
As long as Manning is healthy and playing like Manning again, his presence changes the landscape for big games this fall. Here are the top matchups to watch this season:
1. Denver Broncos at New England Patriots, Sun., Oct. 7: The Tom Brady-Peyton Manning duel was always the highlight of a season. That game usually set the plate for which team was going to be the best in the AFC, the Patriots or the Colts. Now Manning has a new team and a new challenge. His move to Denver could add four or five wins to the Broncos' record if he's healthy. That would turn an 8-8 playoff team into a Super Bowl contender. The Patriots play the league's easiest schedule, but all of a sudden what looked to be a winnable home game against Tebow got tougher because Manning is the Broncos' quarterback.
2. San Francisco 49ers at New Orleans Saints, Sun., Nov. 25: The fallout from last season's playoff game has already made a big impact on the 2012 season. The audio tapes of former Saints defensive coordinator Gregg Williams telling his defenders to go for Frank Gore's head and Michael Crabtree's ACL are replayed frequently on TV and radio stations. The Saints' bounty system cost the team suspensions for two coaches, a general manager and possibly players. The week leading up to this game will generate a lot of reflection.
3. Baltimore Ravens versus Pittsburgh Steelers, Sun., Nov. 18 and Sun., Dec. 2: This has become the best rivalry in the NFL now that Joe Flacco has shown he can win against the Steelers' defense. This game features two of the best hitting teams in football and some of the most ardent fans. Last season, the Ravens finally took the AFC North title, which should cause the Steelers to be more determined.
4. Dallas Cowboys at New York Giants, Wed., Sept. 5: The Giants will find out early how tough it will be to repeat as Super Bowl champs and NFC East title holders. The Giants host the Cowboys in the season opener. Despite having an off season in 2011, the NFC East is still a big draw because of the longstanding rivalries. The Cowboys are hoping to rebound from a disappointing season and should have a great training camp knowing they open the season against one of their best rivals.
[+] Enlarge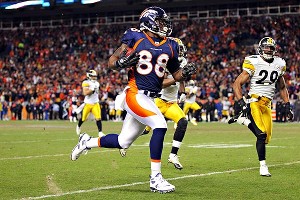 Doug Pensinger/Getty ImagesThink this was exciting? Wait until Steelers-Broncos features Ben Roethlisberger versus Peyton Manning.
5. Pittsburgh Steelers at Denver Broncos, Sun., Sept. 9:
Even though this is a repeat of a 2011 playoff game, the stakes could be even bigger. The Steelers had an entire offseason to reflect on losing in overtime against Tim Tebow when he caught them in an untimely blitz. Now they have to come back to the Mile High City to face a Broncos offense that should be better with Peyton Manning.
6. San Francisco 49ers at Green Bay Packers, Sun., Sept. 9 : Now that Alex Smith has been to a championship game, a matchup involving Smith and Aaron Rodgers becomes even more fascinating. Rodgers has established himself as one of the top quarterbacks in the league. Smith is still trying to gain respect, but at least he won over 49ers coach Jim Harbaugh, who kept Smith as his starter.
7. Carolina Panthers versus New Orleans Saints, Sun., Sept. 16 and Sun., Dec. 30: The best rivalry in the NFC South is the Saints versus the Falcons, but the Panthers-Saints battles this fall should be scrappy. Why? The Panthers are fuming since they heard the Saints put a bounty on their quarterback, Cam Newton. Owner Jerry Richardson is steaming. Players are mad. This could lead to two of the nastiest games of the regular season.
[+] Enlarge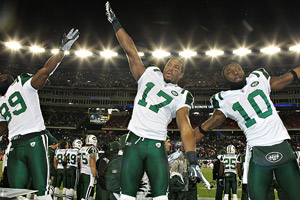 Al Pereira/Getty ImagesThe Jets' win over the Patriots in the 2010 postseason has added spice to this AFC East rivalry.
8. New York Jets versus New England Patriots, Sun. Oct. 21 and Thur., Nov. 22:
Thanks to Rex Ryan and the Jets' playoff win in New England after the 2010 season, there is a great edge to these two regular-season AFC East games. The Jets play with a chip on their shoulder, and the Patriots love to knock it off. The Jets' man-to-man defense creates problems for the Patriots' passing offense. We'll see whether the offseason has made the Patriots better equipped to handle those issues.
9. Detroit Lions at San Francisco 49ers, Sun., Sept. 16: Who can forget the sight of Lions coach Jim Schwartz chasing down 49ers coach Jim Harbaugh after the 49ers' victory last year? Schwartz didn't think the 49ers and Harbaugh handled their victory with class. Both teams are geared up with high-energy, emotional defensive players. Both coaches are fiery. Expect a lot of talking and pushing after plays.
10. Green Bay Packers versus Chicago Bears, Thur., Sept. 13 and Sun. Dec. 16: This NFC North rivalry is always a highlight of the season. The Packers have the edge in the division, but the Bears feel better about their chances. They picked up Brandon Marshall to give Jay Cutler a pass-receiving target he feels comfortable with. Bears coach Lovie Smith was hired to beat the Packers. It's a passion for him.
NFL senior writer
Senior NFL writer and commentator
Joined ESPN in 1995
Member of the writers' wing of the Pro Football Hall of Fame in Canton, Ohio
SPONSORED HEADLINES
MORE NFL HEADLINES
MOST SENT STORIES ON ESPN.COM
The NFL on ESPN.com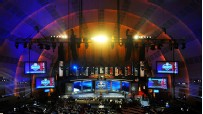 NFL DRAFT ON ESPN
NFL DRAFT PROFILES
HOT BUTTON: KIPER-MCSHAY DEBATES
NFL DRAFT TEAM NEEDS
MORE NFL COVERAGE
MORE NFL DRAFT