49ers break ground on new stadium
Updated:
April 20, 2012, 12:31 AM ET
Associated Press
SANTA CLARA, Calif. -- Jed York stuck a gold shovel in the ground, planted his right foot on top and took a ceremonial step to plant the San Francisco 49ers -- and the NFL -- into Silicon Valley.
So long, San Francisco.
[+] Enlarge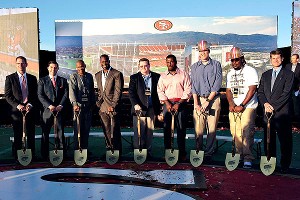 Kelley L Cox/US PresswireThe 49ers broke ground on their new stadium in Santa Clara on Thursday.
Under clear skies and a setting sun behind the mountains towering in the distance, the 49ers CEO and Santa Clara leaders made history at 6:53 p.m. local time, touching off a confetti-filled and champagne-flowing celebration on the future 50-yard line that took parts of three decades to make happen.
"I see a team building with a shovel in one hand and a sword in the other," a loud and proud 49ers coach Jim Harbaugh declared to a crowd of about 3,000 fans, team executives and past and present players.
The move some 40 miles south of Candlestick Park sets the stage for the NFL's debut in the technology-rich region.
York hopes to open the stadium for the 2014 season -- with strong incentives for builders to meet the deadline -- and bid for the Super Bowl in 2016 and 2017 with hopes of landing one. The $1.2 billion project calls for a 68,500-seat stadium featuring 165 luxury suites, 9,000 club seats and even a green roof-top deck that includes solar panels and harvested herbs for some on-site food preparation.
"I want this to be a showcase of technology that enhances the game experience," York said. "And I want it to be something unique to Northern California."
The makeshift football field, stage and suit-and-tie ball was stuck in the middle of what has been a gigantic construction zone for months.
A sign advertising the franchise's "new home" welcomed guests on a paved path surrounded by dirt, and oversized inflatables of a 49ers helmet and football -- with the official signature of NFL commissioner Roger Goodell -- stacked at least a story high. Cranes and chain-link fences still surround the team's adjacent facility, and a news helicopter hovered overhead.
"This is pretty special," tight end Vernon Davis said. "There's never been a better time to be a 49er."
A colossal cake of the stadium served as the center of the party that moved indoors, and renderings of the facility were posted along the walls. Some of the drawings even included a banner of current All-Pro linebacker Patrick Willis among the 49ers greats.
"I'm honored," Willis said "This day is huge. So many people have worked on this for so long, and this day is all about them. It's finally here."
The 49ers tried -- and failed -- several times to keep the team in the city by the bay.
In 1997, San Francisco voters approved a ballot measure to build a new facility in the city. The deal later crumbled, and when former owner Eddie DeBartolo -- York's uncle -- was forced to cede control of the franchise in 2000 following a corruption scandal in Louisiana, momentum for future projects in San Francisco struggled.
NFC West Blog

ESPN.com's Mike Sando writes about all things NFC West in his division blog.
The shovels also signaled the beginning of the end for the team's tenure on San Francisco's shores.
The 49ers have played in San Francisco since their establishment in 1946, including the last 41 years at historic Candlestick Park, where the team has won all five of its Super Bowl titles.
The whipping winds and cold air from the city's famous fog made conditions constantly change. That's far from the near year-round sunshine -- and temperatures that can be 20-25 degrees warmer -- down in Santa Clara, where most players and coaches already live.
The aging Candlestick facility is long overdue for a makeover, has some of the worst sightlines of any major professional sports venue and is a logistical nightmare for commuters. Two power outages also delayed a Monday night victory over Pittsburgh last season.
Candlestick never has failed to deliver memories, good and bad, from "The Catch" by Dwight Clark to win the 1982 NFC championship and the first earthquake captured on live television during pregame warm-ups for Game 3 of the 1989 World Series, coincidentally between the San Francisco Giants and the Oakland Athletics.
All that has made the transition difficult for some fans.
"I realize this is a bittersweet day for a lot of people," York said. "I want to make this clear: We are the San Francisco 49ers, and we will always be the San Francisco 49ers."
The cost of the Santa Clara stadium will be covered by three primary sources.
The team and the city received an $850 million bank loan. Santa Clara voters passed a plan two years ago for the city and area hotels to contribute $114 million, and NFL owners in February approved a $200 million loan -- the first under the league's new G-4 loan policy initiated after the new collective bargaining agreement.
The G-4 policy replaces a plan that allowed a maximum of $150,000 per team in loans.
"It's a far cry from where I started at Kezar (Stadium)," former 49ers coach George Seifert said. "It's pretty awesome."

Copyright 2012 by The Associated Press
SPONSORED HEADLINES
MORE NFL HEADLINES
MOST SENT STORIES ON ESPN.COM
The NFL on ESPN.com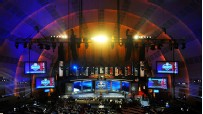 NFL DRAFT ON ESPN
NFL DRAFT PROFILES
HOT BUTTON: KIPER-MCSHAY DEBATES
NFL DRAFT TEAM NEEDS
MORE NFL COVERAGE
MORE NFL DRAFT