Minn. Senate approves stadium bill
Updated:
May 9, 2012, 4:40 AM ET
Associated Press
ST. PAUL, Minn. -- After 11 hours of debate and some close calls, the Minnesota Vikings stadium legislation won approval late Tuesday from the state Senate to set up a final round of negotiations.
The full Legislature is now on record, with a majority of lawmakers opting for a publicly subsidized stadium. Barring reversals or late surprises, the Vikings are primed to emerge this month with authorization for a new $975 million stadium it has chased for more than a decade.
NFC North blog

ESPN.com's Kevin Seifert writes about all things NFC North in his division blog.
The Senate's 38-20 vote Tuesday came a day after the House approved its own stadium bill. A conference committee will work out differences, and the Vikings are already on record against the House version for a $105 million hike in the amount they would pay. The Senate's version includes a smaller bump.
If both chambers pass the final product, the measure goes to Democratic Gov. Mark Dayton, who has led the charge for a new stadium for months.
The Vikings say they can't make enough money in the 30-year-old Metrodome to compete.
It was clear from the get-go Tuesday that stadium supporters wanted to turn to offense rather than defense in the Senate. It was Sen. Julie Rosen, the stadium bill sponsor, who promoted user fees on suites, parking and Vikings merchandise. Another backer pushed for the $25 million additional team contribution, and that amendment was approved unanimously.
The user fee amendment - adopted on a 40-26 vote - would levy a 10 percent fee on suites and on parking within a half-mile of the stadium, and impose a 6.875 percent fee on Vikings clothing, trading cards and other memorabilia.
Throughout a debate that stretched from early afternoon past nightfall, senators twice approved amendments they overturned later. One would have imposed a more aggressive slate of user fees that could cut into Vikings profits and a second would have subjected portions of the bill to a potential Minneapolis voter referendum.
Sen. Dave Thompson, R-Lakeville, said the deal to date has been negotiated by people too willing to please the team.
"When stadium proponents are putting things on that make the deal less appealing to the Vikings, you wonder if it's been put on just for the purpose of attracting votes and then getting pulled out in conference committee," said Thompson, the leader of the conservative faction within the Senate GOP caucus. "But I guess time will tell."
Earlier Tuesday, a Vikings executive warned state lawmakers against making major changes to the financing proposal, saying they risked losing the team's support for the deal. Vice President Lester Bagley told reporters after the vote that the team wasn't ready to commit to an uptick in the private share. He said there were "a lot of issues that needed to be sorted through" in the upcoming conference committee.
Bagley has pointed to a bill for a new Twins ballpark that cleared the Legislature in 2002, only to fall apart later. It took the team another four years to win legislative support for a workable bill.
Under a plan negotiated last winter by the governor, key lawmakers, the Minneapolis mayor and the team, the Vikings would pay $427 million and the state would pay $398 million, with the money coming from an expansion of gambling. The city of Minneapolis would kick in $150 million by redirecting an existing hospitality tax.
But lawmakers will have the final say on how big a taxpayer subsidy is provided.
The Vikings are no longer under a Metrodome lease, leaving some to worry they could bolt if they don't have a new stadium after next season.
"We don't want the Vikings to leave," said Sen. Geoff Michel, R-Edina. "We want to take the wheels off this franchise and keep them for our children and grandchildren. I don't want to cheer for the Green Bay Packers. I don't want to cheer for the Chicago Bears. We need an NFL franchise in Minnesota. This is the bill. This is the day."
Others weren't buying the threat of team flight.
"I want to know where the Vikings are going if they leave," said Democratic Sen. Barb Goodwin of Columbia Heights.
She added, "I think we're scaring a lot of people for no good reason." Goodwin wound up supporting the bill anyway.

Copyright 2012 by The Associated Press
SPONSORED HEADLINES
MORE NFL HEADLINES
MOST SENT STORIES ON ESPN.COM
The NFL on ESPN.com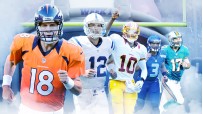 CLAYTON/FOX/SCHEFTER
MONDAY NIGHT FOOTBALL
WEEK 1 PICKS
BOUNTY BANS OVERTURNED
FINAL WORD
2013 NFL DRAFT
MORE NFL COVERAGE