Mike Wallace working out on own
Updated:
May 23, 2012, 11:43 AM ET
ESPN.com news services
PITTSBURGH -- Mike Wallace has one of offensive coordinator Todd Haley's playbooks. What the Pittsburgh Steelers' wide receiver doesn't have is a new long-term contract.
Until the Pro Bowler gets one, don't expect to see Wallace running drills alongside his teammates.
The Steelers began organized team activities Tuesday, and while attendance for the voluntary workouts was high -- even All-Pro safety Troy Polamalu showed up -- the focus remained very much on the speedy receiver who remains home in New Orleans.
More From ESPN.com

Mike Wallace is fast on his feet, but when he does return, the disgruntled wideout will have to be a quick learner, writes Jamison Hensley. Blog
The restricted free agent has yet to sign his one-year tender of about $2.7 million, as he continue to try to secure a lengthier deal.
Both sides remain positive one will get done. Neither appears to be in a hurry.
"It'll be over, a little bit of short-term misery," coach Mike Tomlin said. "It won't be significant in the big scheme of things hopefully."
Wallace missed the opportunity to get the first on-field look at Pittsburgh's new-look offense under Haley, who took over in February, replacing longtime coordinator Bruce Arians.
However, Wallace has a copy of the Steelers' playbook, which he received in a visit to Pittsburgh last week, receiver Antonio Brown told the Pittsburgh Tribune-Review.
"He's going to be studying, so when he comes he knows (the plays)," Brown told the newspaper.
The changes, judging by the first day at least, are sweeping.
From the terminology to the blocking schemes to the receiver routes, quarterback Ben Roethlisberger likened Haley's system to learning a new language. Right now, the Steelers are at the equivalent of saying "hello." Anything else might be asking for too much.
The process has Roethlisberger feeling like a rookie again, so much so he asked receivers Brown and Emmanuel Sanders to be patient and stop looking for the ball.
"I tried to tell (them) don't get frustrated because I know you're used to getting a lot more balls, but this is how it was my rookie year," Roethlisberger said. "I know what one guy does and I go to him. If he's not open, I start scrambling."
Which, actually, is the wrong choice. Haley was brought in to give the offense some balance and take some of the pressure off the franchise quarterback.
The Steelers passed the ball on 56 percent of their offensive plays last year -- right about the NFL average -- but the team would prefer Roethlisberger not drop back so much in order to avoid the kind of punishment that forced him to play most of the 2011 season with a series of injuries.
"I know that I'm supposed to get rid of the ball, stay in the pockets and not get hits," Roethlisberger said. "I guess I better learn where the protections are coming from so I don't get hit."
Pittsburgh drafted a pair of offensive linemen in the first two rounds of the NFL draft -- Stanford guard David DeCastro and Ohio State tackle Mike Adams -- and there's a good chance both will be starting when the Steelers open the season in Denver on Sept. 9.
Under NFL rules, the rookies will miss OTAs until their schoolwork is done. But proof the line is in the midst of a makeover was evident. Former right tackle Willie Colon lined up at left guard, with Marcus Gilbert at right tackle. The moves free up DeCastro to start at right guard with Adams getting the first shot at protecting Roethlisberger's blind side.
The line wasn't the only place where changes were noticeable. Tuesday marked the first time in a decade the Steelers began OTAs without linebacker James Farrior, wide receiver Hines Ward and defensive end Aaron Smith, all of whom were either released or retired during a bumpy offseason for one of the league's most stable clubs.
All of that movement is one of the reasons Polamalu opted to head east from his offseason home on the West Coast early. Polamalu rarely shows up at the beginning of OTAs, preferring to work out on his own until minicamp. Not this year.
"I think it's my time to just be around the team a little bit more," he said.
The Steelers could use the stability. While change is part of the game, the departure of Farrior and Smith also created an emotional void in the huddle. Farrior's locker is empty and the team gave his familiar No. 51 to rookie linebacker Sean Spence.
"It's already weird," linebacker Larry Foote said. "I just look in the locker room and they gave the little, young linebacker (Farrior's) number. His locker is gone. But that's how it is, you've got to move on."
The Steelers are eager to move forward after a 12-4 season ended with a shocking 29-23 overtime loss to Denver in the wild card round, capping a year in which they never quite looked like the team that won the AFC in 2010.
The road back to the Super Bowl began on Tuesday. Though Wallace's absence was noted, there was hardly a sense of panic. Contract disputes in Pittsburgh are a rarity. Wallace will be back at work at some point. If it's later, so be it, though his teammates would prefer it be sooner.
"You're always going to miss something," Sanders said. "Whether it's camaraderie of the teammates or just the physical aspect of (implementing) the playbook. But Mike is one of those guys that's going to get in here and hit the ground running."
Information from The Associated Press was used in this report.
SPONSORED HEADLINES
MORE NFL HEADLINES
MOST SENT STORIES ON ESPN.COM
The NFL on ESPN.com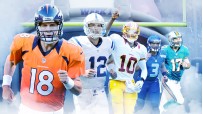 CLAYTON/FOX/SCHEFTER
MONDAY NIGHT FOOTBALL
WEEK 1 PICKS
BOUNTY BANS OVERTURNED
FINAL WORD
2013 NFL DRAFT
MORE NFL COVERAGE