Sources: Saints using ex-FBI director
Updated:
June 8, 2012, 2:42 PM ET
By
John Barr
| ESPN
NEW ORLEANS -- The Saints have hired a firm run by former FBI director Louis J. Freeh to investigate allegations that the team's general manager, Mickey Loomis, had an electronic device in his Superdome booth that enabled him to eavesdrop on opposing coaches during games, according to sources familiar with the internal probe.
As early as May 15, according to sources, investigators with Freeh Group International Solutions were in the New Orleans area interviewing people, some of whom have also been interviewed by FBI agents working on a separate investigation run by the U.S. Attorney's Office.
[+] Enlarge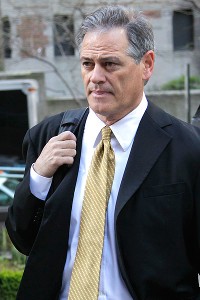 AP Photo/Seth WenigSaints GM Mickey Loomis has acknowledged the presence of a listening device within his Superdome suite but has denied it had the capability to listen to opponents' coaches.
A spokesperson for Freeh's company did not respond to a request for comment Friday, and neither did the Saints. But team spokesman Greg Bensel confirmed Freeh's involvement to profootballtalk.com Friday morning.
"Serious allegations have been made about our organization this offseason; we take these allegations very seriously," Bensel said via email, according to profootballtalk.com. "As a result, we have hired the Freeh Group, founded by former director of the FBI and former federal judge Louis Freeh. Mr. Benson (Saints owner Tom Benson) moved quickly to hire them and has spared no expense to get to the bottom of these allegations.
"We have given the Freeh Group complete access to our team and all of the individuals who have been associated with this news story."
The Freeh investigation began not long after Loomis and the Saints dismissed the eavesdropping allegations, first reported by ESPN's "Outside the Lines" on April 23, as "1,000 percent false ... 1,000 percent inaccurate."
The scope and exact nature of the investigation is unclear. Sources told "Outside the Lines" that questions asked by Freeh investigators covered the possibility that there was a listening device and who they thought might have leaked information that led to the "Outside the Lines" report.
Vicky Neumeyer, the team's vice president and general counsel, is the Saints' point person on the Freeh investigation. Neumeyer, a longtime legal adviser to Benson, also could not be reached for comment.
Sources familiar with the game-day operations of the Superdome told "Outside the Lines" that Loomis had an electronic device in his Superdome suite secretly rewired enabling him to eavesdrop on visiting coaching staffs for nearly three NFL seasons. Loomis, who faces an eight-game suspension from the NFL for his role in the recent bounty scandal, had the ability to secretly listen for most of the 2002 season, his first as general manager of the Saints, and all of the 2003 and 2004 seasons, according to sources.
The FBI in New Orleans launched an investigation just days after ESPN's initial report. A spokesperson for the Louisiana State Police said a lone state trooper, regularly assigned to the FBI New Orleans field office, is monitoring the progress of the investigation, which is ongoing.
If proved, the allegations could be a violation of NFL rules and potentially a state and federal crime, according to legal sources. The federal Electronic Communications Privacy Act of 1986 prohibits any person from intercepting communications from another person using an electronic or mechanical device.
NFC South blog

ESPN.com's Pat Yasinskas writes about all things NFC South in his division blog.
"The ECPA bars any person from intentionally intercepting wire, oral or electronic communications by using an electronic or mechanical device," said Mike Emmick, who worked for 25 years as an assistant U.S. attorney in Los Angeles, serving for eight years as chief of the public corruption and government fraud section.
But the statute of limitations, the window federal prosecutors have to pursue any criminal charges against Loomis or the Saints, would extend for only five years after the date of such an offense, Emmick said. According to Emmick, if Loomis no longer had the ability to eavesdrop on opposing coaches after the 2004 season, he would be free from any potential criminal prosecution for a violation of the ECPA. Other legal experts told Outside the Lines that the statute of limitations on any state crimes would have also expired, given the dates of the alleged offense.
Sources told "Outside the Lines" the listening device was first installed in the general manager's suite in 2000, when Loomis' predecessor, Randy Mueller, served as Saints GM. At that time, according to sources, Mueller had the ability to plug an earpiece into a receiver under his desk and monitor only the game-day communications of the Saints' coaching staff, not the opposing coaches. Mueller, now a senior executive with the San Diego Chargers (he also was an ESPN.com NFL analyst from 2002 to '05), declined to comment when contacted by "Outside the Lines."
After the transition from Mueller to Loomis, according to one source, the electronic device under the desk in the general manager's booth was rewired to listen only to opposing coaches and could no longer be used to listen to any game-day communications between members of the Saints' coaching staff.
"There was a switch, and the switch accessed offense and defense," said the source. "When Randy was there, it was the Saints offense or defense, and when Mickey was there it changed over so it was the visiting offense or defense," the source said.
"Outside the Lines" could not determine for certain whether Loomis ever made use of the electronic setup.
When initially confronted with allegations he had the ability to secretly eavesdrop on opponents during games, Loomis issued a firm denial.
"In my 28 or 29 years in the NFL I have never listened to an opposing teams' communications. I have never asked for the capability to listen to an opposing team's communications. I have never inquired into the possibility of listening in on an opposing teams' communications and I have never been aware of any capability to listen in on an opposing team's communications at the Superdome or at any NFL stadium," Loomis said during an April 26 news conference.
Later that day, during an interview with profootballtalk.com, Loomis acknowledged the presence of a listening device within his Superdome suite.
"When I took over general manager in 2002, we did have an earpiece that I could hear our coaches on their headset. I couldn't understand what was being said particularly because of the static. Shortly after I took over I just quit putting that in and then a little while later I had it switched over so I could hear our radio broadcast, so occasionally I would put in an earpiece and listen to the radio broadcast. Even then, I rarely do," Loomis said.
"Outside the Lines" has interviewed several sources familiar with the wiring inside Loomis' Superdome suite. None could recall a time when the listening device in Loomis' suite was "switched over" so that Loomis could hear the local radio station's game broadcast.
Robert Carroll, an engineer for WWL radio who is familiar with the internal wiring of the Superdome, said he never rewired Loomis' Superdome suite, although Carroll acknowledged it's possible somebody else completed the project without his knowledge.
Sources with direct knowledge of the wiring inside Loomis' Superdome booth told "Outside the Lines" that they could not recall a time when Loomis had the WWL broadcast hard-wired to a receiver under, on or near his desk.
The Freeh firm is the same firm hired by the Pennsylvania State University Board of Trustees to lead a review of the university's actions with regard to the child abuse allegations against former Penn State defensive coordinator Jerry Sandusky.
John Barr is a reporter in ESPN's Enterprise Unit. Enterprise Unit producer David Lubbers contributed this report.
The NFL on ESPN.com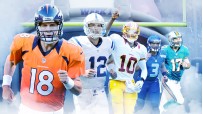 CLAYTON/FOX/SCHEFTER
MONDAY NIGHT FOOTBALL
WEEK 1 PICKS
BOUNTY BANS OVERTURNED
FINAL WORD
2013 NFL DRAFT
MORE NFL COVERAGE
Nike Women's New Orleans Saints Rewind Script Black Long Sleeve Shirt Shop »

MOST SENT STORIES ON ESPN.COM