Commentary
New CBA causing fits for coaches
Teams are challenged by lighter offseason workouts; Sure-thing RBs
Originally Published:
June 11, 2012
By
John Clayton
| ESPN.com
It's hard to believe by the end of the week all but six teams will have concluded their pre-camp preparations.
Minicamps start and conclude this week for 26 teams. Only Atlanta, Buffalo, Miami, Minnesota, San Diego and Tennessee will delay their minicamps until next week. After minicamps are over, the question remains whether coaches feel they were given enough tools to prepare under the new offseason rules.
QUESTIONS, PLEASE
Do you have a query for John Clayton?
Click here to send a note to his mailbag.
"Offseason lite" has been a challenge for coaches. The new collective bargaining agreement mandates no contact except for minicamps. Live blocking and tackling were prohibited. Pass-rushing drills against offensive linemen was banned. No bump-and-run press coverage was allowed in workouts.
Last week, Seattle Seahawks coach Pete Carroll made an example for the rest of the league's coaches when he lost two days of organized team activities because of too much contact.
Carroll didn't do too much wrong, but contact is contact. As he said, it was a few plays here or there that led to the two-day penalty. A Seahawks safety hit a receiver in one workout and safety Earl Thomas had to rush over to break up the skirmish. Once that incident drew media attention, the league had the right to call for the practice tapes and study to see if there were more contact plays.
The Seahawks have an aggressive, man-to-man press defense, so it may not have been hard to find some contact. Teams like the Seahawks that run zone-blocking schemes might also be vulnerable to having contact plays even if they were accidental.
Cincinnati Bengals defensive coordinator Mike Zimmer said he's found the toughest part of getting his defense ready is not having the time to teach and perfect press-coverage techniques. Those coaching tactics are now reserved for minicamps and training camp, meaning cornerbacks will have roughly 18 practice days -- minicamps and the first two weeks of training camp -- to work on those skills before the first preseason game.
It wasn't surprising the New Orleans Saints had to give up their practice tapes when it was reported linebacker Curtis Lofton hit a quarterback in practice, even though it was an accident. The assembled media didn't see any problems, but contact is contact, so the league checked it out.
Short takes
Curran in Leesport, Pa., wonders if it wouldn't be a good idea to change the matchup in the Pro Bowl. He thinks it might not be a bad idea to have a veteran team against a rookie team that features third-year players or younger. Not a bad idea, but if it gets to that point, I think Roger Goodell would just junk the game. … Thaddeus in Seattle wonders what happened to Baltimore Ravens linebacker Sergio Kindle. Before his first season and after the draft, Kindle suffered a head injury in an accident at an apartment and missed his rookie season. He's battling back to get some playing time. With the turnover at linebacker, he will have a chance. … Connor in State College, Pa., wants to know the location of the video review equipment in games. The location is either in the press box or a suite near the press box. Different stadiums have different layouts. The ideal spot is a suite similar to a coaching booth. … Bob in Stratford, Conn., sees the upgrades in the Chicago Bears' pass-catching talent and the improvements on the offensive line reducing the number of sacks. I can see that happening. Offensive coordinator Mike Tice will call quicker plays and not leave Jay Cutler as exposed to hits. … To Ricky in Piney Flats, Tenn.: The reason I didn't have Heath Miller in my top 10 tight ends is that I had him No. 11 because he hasn't been used as much in passing situations. With Todd Haley calling the plays for the Pittsburgh Steelers, Miller will be targeted more and get into the top 10. … John in Philadelphia, I don't see the Philadelpia Eagles trading for Joe Webb to back up Michael Vick. They are loaded with quarterbacks already. There is no opening or need for such a trade. … Before Friday's signing of veteran Ronnie Brown, Mike in St. George, Utah, wondered if the San Diego Chargers were lax in not signing a backup to Ryan Mathews. Remember, they have Le'Ron McClain to use as a big back and they can use Jacob Hester. Getting Brown completes the backfield if he can make the team.
Lighter offseasons were the tradeoff for the players to reduce percentages of their revenue share with the owners to get a CBA done last August. Attendance in the offseason programs league-wide has been strong even though they are voluntary. Minicamps will be filled with signed players because those who fail to attend are subject to as much as $60,000 in fines.
For years, long-time coaches and fans have been complaining about poor techniques in tackling and on defense. If that happens during the preseason and carries over into the regular season, it wouldn't be a surprise.
From the inbox
Q: How do you see the Detroit Lions' O-line shaping up for next season?
Robert in West Palm Beach, Fla.
A: As it turns out, the Lions have to be concerned about their offensive line. A few years ago when the Chicago Bears let their offensive line get too old with five starters in their 30s, I came up with what I called the "Theory of 150."
If a team lets its starting offensive line exceed the total age of 150 years for five starters, the clock is ticking on its remaining success. Three teams hit that mark over a three-year period -- the Bears, Washington Redskins and Dallas Cowboys. The New York Giants hit the 150 mark a couple years ago and, even though they won a Super Bowl, they had concerns along the offensive line.
Well, the Lions' starting offensive line totals 152 years in age. Clearly, Riley Reiff was drafted to replace Jeff Backus either this year or next year. Gosder Cherilus is in the final year of his contract. He's 27, so he will either be re-signed as a tackle or be allowed to hit the free-agent market. Rob Sims is solid at left guard. Dominic Raiola, 33, is in the final two years of his deal and centers can last a little longer than guards. Stephen Peterman is 30. If he is declining, the Lions are gambling on the right side of the line with the hopes of it holding up one more season.
Q: The only three "sure-thing running backs" this year seem to be Ray Rice, LeSean McCoy and Arian Foster. Everyone else is coming off injury, is aging, or is on a team that can't produce offense. Would you add anyone to my list?
Bradley in Shanghai, China
A: For television, I just did a note talking about the draft classes of 2009 and 2010. Beanie Wells, Shonn Greene and Ryan Mathews each had their first 1,000-yard season, but this is a make-or-break year for all three.
Trent Richardson should get 1,000 as a rookie. Marshawn Lynch should be considered a sure thing. After that, it's a little chancy.
Q: What do you think about the Oakland Raiders' offense with a healthy Darren McFadden and Carson Palmer having a full training camp with all that talent at wide receiver?
Mark in Norwalk, Calif.
A: For the Raiders to succeed, the pressure will fall on the offense. They have problems at cornerback and linebacker, which makes me worry about their defense.
The Raiders may have to score 24 or more points to win games. They can do that if Palmer has a big year and McFadden stays healthy. Denarius Moore was one of the surprise players of last year. He's sensational. Juron Criner has been great in the OTAs.
Palmer has been throwing the ball well. I expect more big plays coming from their offense, but it's essential if they want to stay at the 8-8 level or do better.
Q: I care about compensatory draft picks way too much. Having just read your article about them and being a Seahawks fan, I need to know what to make of Justin Forsett's signing with Houston.
From Justin in Cuyohoga Falls, Ohio A: Always happy to answer technical questions. Forsett signed after June 1, so he doesn't count in the compensatory formula for the Seahawks. They signed four free agents, but they lost five. They could get one compensatory pick.
The loss of John Carlson for $5 million a year could give them a No. 5, but that might be balanced out by the gain of Matt Flynn for $6.5 million. If that is the case, they might get a No. 7.
Q: I disagree with you on Tampa Bay as the free-agency winner this year. Kansas City, by far, had the best and lost the least. Tampa Bay will have a lot of work to stay out of the cellar in its division, and Carolina, New Orleans and Atlanta all are better.
Patrick in Cape Carol, Fla.
A: By far the best? That's a little bit of an overreaction. The Chiefs had a good free-agency period. In my opinion, they have more talent than the Bucs. They've added a No. 2 cornerback in Stanford Routt and a starting right tackle in Eric Winston.
After that, they added good backups: Kevin Boss, Brady Quinn, Peyton Hillis and Abram Elam. How can two starters top three starters: Vincent Jackson, Carl Nicks and Eric Wright? I'm not even mentioning the backups signed by the Bucs.
But I do agree the Panthers could end up having a better record than the Buccaneers.
Q: Although analysts have written both sides, I want to know what you think: Will Mike Neal be a starter for the Packers or looking for minimum salary with another team?
Larry in Cedar Rapids, Iowa
A: The Green Bay Packers have been waiting for years for Neal to become the starter on the defensive line, and I think they'll still be left waiting. His potential cost them Cullen Jenkins, who left for free agency. He had an open shot at the starting job this year, but he has a four-game suspension to start the season. I think he will make the team, but it's hard to say if he's going to be a starter.
Q: How do you see the Bills using a healthy Fred Jackson and a potential up-and-comer like C.J. Spiller? Jackson was having one special season before getting hurt, and once Spiller figured it out, he showed some of the skills that made him a first-round draft pick.
Derek in Harrisburg, Pa.
A: Jackson should be the featured back on first and second downs. Spiller can mix in on special packages and on passing downs. He can also line up in the backfield with Jackson on certain packages and try to catch defenses off guard with his speed.
Chan Gailey is very creative with his offense and can use Spiller in a lot of ways. But Jackson is the more dependable back, which is why he got an extension.
Q: Is it possible the Bears drafted Shea McClellin to actually replace Brian Urlacher?
Justin in Singapore
A: I doubt it. They want McClellin to become their pass-rusher. He could maybe fit in as a 3-4 inside linebacker. He could be like a Tedy Bruschi in that regard. That works great for a 3-4, but I don't know if it's a fit for the 4-3, particularly a Cover 2 4-3.
That's why I think Urlacher will be back after this season. To give up on Urlacher is to give up on this round of Bears success. I think he will get a deal after the season to stay.
NFL senior writer
Senior NFL writer and commentator
Joined ESPN in 1995
Member of the writers' wing of the Pro Football Hall of Fame in Canton, Ohio
The NFL on ESPN.com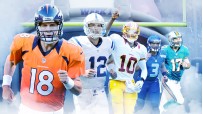 CLAYTON/FOX/SCHEFTER
MONDAY NIGHT FOOTBALL
WEEK 1 PICKS
BOUNTY BANS OVERTURNED
FINAL WORD
2013 NFL DRAFT
MORE NFL COVERAGE

MOST SENT STORIES ON ESPN.COM