Commentary
League scores big on blackouts
Decision to ease the requirements for home games is the right move
Originally Published:
July 2, 2012
By
John Clayton
| ESPN.com
The NFL's recent decision to ease blackout requirements for home games is smart, but also a little scary.
What's smart is it should limit the last-minute scramble to find a local business or television station buying a couple thousand tickets to keep the games on live television. Under the new rules, the blackouts will be lifted if at least 85 percent of the tickets are sold.
QUESTIONS, PLEASE
Do you have a query for John Clayton?
Click here to send a note to his mailbag.
What's scary is, despite the NFL's increasing clout and popularity, ticket sales are in a downward cycle. Since 2007, league-wide attendance has dropped 4.5 percent. With the economy struggle and unemployment high, that shouldn't be a surprise.
Having games blacked out doesn't help business either, because it takes the regular fan out of the habit of getting their Sunday NFL fix for a local team when they can't get to the game.
In some ways, the league created more options last year to keep games on TV. Despite the economy, only 16 games were blacked out last season: Cincinnati (six), Tampa Bay (five), Buffalo (three) and San Diego (two). In 2010, there were 26 blackouts.
This move takes a lot of pressure off franchises such as the Jacksonville Jaguars, who have been putting tarp on empty seats in order to meet the sellout requirements to prevent blackouts. The Colts now have the pressure off to sell their remaining 1,900 empty seat. Colts fans can now watch Andrew Luck grow with a rebuilt roster and get excited enough to buy the remaining tickets.
This will help a Miami Dolphins franchise that averages less than 61,000 fans in a 75,000-seat stadium. The Redskins average 77,000 in a 91,704-seat stadium.
Under the new blackout rules, teams can tailor their blackout policies to keep games on television and still sell their remaining tickets. That's good business.
From the inbox
Q: Considering all the back and forth between the NFLPA and NFL over the bounty player penalties, with players never really having a chance to defend themselves, how much responsibility lies on DeMaurice Smith?
Skipper in Gig Harbor, Wash.
A: The NFLPA will argue it got 55 percent of the revenues in 2011, much more than the 47 percent negotiated. It will contend the deal preserved the game and it has been able to get a $120.6 million salary cap this year instead of the $113 million it would have received by the revenue reviews from last year. It will talk about the improved benefits package. It will talk about getting more relaxed and easier offseasons and preventing hard-line coaches from pushing players too hard during the season. But there were sacrifices.
The Steelers voted against Roger Goodell's control, but 31 teams of players voted for it. Flat caps in future years won't give Smith good reviews. Still, this is only Year 2 of a 10-year deal, so it's too early to throw Smith under the bus with criticism. If it is a bad deal for the players, a better judgment will be in Year 5. If that's the case, he'll be the one criticized.
Short takes
Michael in Tulsa, Okla., thinks the Steelers will be OK running the football with Isaac Redman, but he wonders how long before the Steelers will make a change if he struggles. Until Rashard Mendenhall gets healthy, the Steelers don't have many other options. They will try to mix in Jonathan Dwyer to get him ready if Mendenhall struggles coming off the knee injury. … Tim in Fircrest, Wash., wants to know if players are paid for attending organized team activities and have their expenses paid. They are. It's all part of the benefits package. … To Eric in Charlotte, N.C., I think Clay Matthews can get back to the 10-sack level if Nick Perry does well at left outside linebacker. … Michael in New York thinks Darren McFadden is the key to the Raiders making the playoffs. I still worry about the defense. Good running may not compensate for failures defending the pass. … Bruce in Washington, D.C., wonders what happened to the 20 players who were investigated by the NFL for the Saints' bounty case. They have been cleared. Roger Goodell wanted to make examples of four players and the coaches. … Lucas in Carmel, Ind., likes what the Colts have done with their offense, and he has hopes of a possible 10-6 wild-card season. I don't see it. They are rebuilding. A six-win season would be a good start for Andrew Luck. … Don in New Orleans asks a good question. He doesn't think the Saints' suspensions were warranted because the players weren't warned. He asks why the league didn't go public with the warnings three years ago. The answer is they wanted to build a case. They warned Saints management. By not warning the players, Saints management became implicated in the suspensions. … Robert in Springfield, Mo., is a big fan of the Panthers' DeAngelo Williams and wonders if Williams will rebound after a poor season last year. He better. Jonathan Stewart is in a contract year. If Stewart does better than Williams, the Panthers might keep Stewart and let Williams go. Remember, Williams is 29, which is a little old for a running back. … Joe in Brooklyn, N.Y., wants to see if Jim Harbaugh would go 6-10 or 7-9 whether he would go with Colin Kaepernick or one of the backups. If they are that bad, he would clearly do that. I just don't see them being that bad. … Cody in Puxico, Miss., this will be another great year for quarterback numbers. As you mentioned, 10 quarterbacks threw for 4,000 or more yards. I don't see a 6,000-yard season, but there is a chance another quarterback or two will get 4,000. My vote is for Jay Cutler. … Scott in Chattanooga, Tenn., wanted a follow-up to report that Titans RB Chris Johnson will get less than 25 touches a game. Don't confuse touches with carries. It's rare for a back nowadays to get 20 carries a game on a consistent basis. Johnson will probably get around 280 to 290 carries. If he's lucky, he'll get 30 to 40 receptions. … David in New Orleans noted my comment about the big loss of Carl Nicks, who has been replaced by Ben Grubbs. Grubbs may be a Pro Bowl alternate in the AFC, but Nicks is probably the best or second-best guard in football, depending on what you think about Logan Mankins. That's a loss for the Saints.
Q: I think it's pretty evident that in terms of talent and youth, the Bengals are the best team in that division.
The Steelers' traditionally strong areas on defense and in the running game are old and lack talent, respectively. The Ravens lack the QB and WR talent to compete in the modern NFL and have serious injury/age questions at pass rush and in the secondary.
Yet even with all of this pretty evidence, people peg the Bengals as a nine-win team.
Matt in Clifton Park, N.Y.
A: I wouldn't say it was pretty evident the Bengals were the best team in the AFC North. They finished third. And they didn't win a playoff game. I don't agree the Ravens lack a quarterback. Joe Flacco, even though he wasn't great last year, has won playoff games and has kept his team in the playoffs. One of the hardest things to do in the NFL is repeating as a playoff team.
Sure, the future is bright for the Bengals. They have a good, young quarterback in Andy Dalton. They have a great wide receiver in A.J. Green. But they have to prove they can repeat as a playoff team to get the recognition that they are better than the Ravens and Steelers.
Dalton is good, but, at the moment, he's the third best quarterback in the division.
Q: The Eagles have loaded up on draft picks over the years. If they make a run this year, could they have the pieces to make a trade to draft a guy like Matt Barkley with future first-round picks?
Why not sacrifice some of your future and go for a guy like Barkley in next year's draft?
Stephen in Atlanta, Ga.
A: No chance. To get Barkley, the Eagles would have to lose 13 or 14 games. There aren't enough draft choices to move from the lower part of the draft to the top to get a quarterback.
Clearly, the Eagles won't tank a season to get a quarterback. They have put everything into Michael Vick, and he has to carry the offense for the next couple of years.
If Vick gets too old, the Eagles won't be in position to draft a highly rated quarterback. A Donovan McNabb comes around once in maybe 15 years for a franchise. They gambled on Vick and it worked out. I think they will win the NFC East this season, so they can forget about getting the quarterback of the future for a while.
Q: What are the long-term salary cap implications of Drew Brees signing a long-term contract?
Capt in Atlanta, Ga.
A: What the Saints can't do is keep Brees at a franchise number of $19 million or $23 million when they are over the 2013 cap. Brees is willing to do a long-term deal that will keep his cap number around $10 million for the first three years, which would allow the Saints to keep more of their players. The Saints can't afford to let Brees go because they don't have any quarterback to replace him. He's one of the best players in the league. That's why I think both sides will get a deal in the next two weeks. Neither side has a choice.
Q: This Matt Forte contract situation is getting a bit ridiculous. The market has been long ago set with recent deals for LeSean McCoy and Arian Foster, and the guaranteed money seems to be right. How come this isn't getting done?
Craig in Visalia, Calif.
A: The market is set, but the Bears apparently don't believe Forte fits in that market. If they have questions about his knee, then they aren't going to pay $9 million a year.
As it stands now, they have 16 starters, including Forte, who become free agents in the next two years. That includes Jay Cutler, who is a free agent after 2013. If they commit too much to Forte, in their eyes, they won't be able to keep the rest of the team together.
Still, they need to get something done around the $7.5 to $8 million a year level.
Q: Are the Bills the real deal? They look great on paper, signing guys like Mario Williams and Mark Anderson to go with second-year man Marcell Dareus, and drafting Stephon Gilmore to go with Terrence McGee and Jairus Byrd in the secondary. Add the killer run game and receiver Steve Johnson, they look like the clear favorites to win that division. Yet, we saw this with Philly last year, and we saw how that turned out.
Chris in Largo, Fla.
A: To be the real deal, the Bills would need to be a playoff team for the next three years. Still, the schedule and roster are set to make a wild-card run this year and I think they could do that.
For years, the Bills were hopeless in a division that was loaded with 3-4 defenses. Chan Gailey installed an offense that caused opposing defenses to get out of the 3-4. The Bills' defense should make a dramatic improvement.
Plus, they don't face a lot of great quarterbacks in their eight games in the AFC South and NFC West. If you are a Bills fan, enjoy.
Q: How is it a team that goes to the Super Bowl (New England) would receive the weakest schedule in the NFL?
Jesse in Wichita, Kan.
A: No need to call for an investigation. The Patriots just happened to get a break in the schedule, as did every team in the AFC East. It was determined long ago the AFC East would play the AFC South and NFC West this season. The Colts no longer have Peyton Manning, which makes life easier for AFC East teams. The Jaguars are in a rebuilding mode at quarterback. There isn't an elite quarterback in the NFC West.
The first-place schedule gave them a Denver Broncos team that finished 8-8. We'll see if Peyton Manning can take the Broncos to a better record.
Don't forget the Packers, who were 15-1, have the second-easiest schedule.
Q: I can't believe you actually think the Chicago Bears will be a better team than the Lions.
The Lions have added a healthy Nick Fairley and Mikel Leshoure, a ton of depth at CB, and most importantly have the best QB/WR combo in the game continuing to build chemistry. Watch for the Lions to legitimately challenge the Packers for the division title.
The Lions' ascent has only just begun. They will only get better for the foreseeable future.
Scott in Detroit
A: We'll see if you are right. I love the direction the Lions are headed. With Matthew Stafford and their offensive talent, they will be a playoff contender for the next few years. But the Packers have the best team and best quarterback in the NFC North, so the Lions are battling for a wild card.
LeShoure and Jahvid Best are coming off serious injuries, so it's hard to say where the running game will be. The defense didn't make any upgrades and Fairley is still a question mark.
The Lions got worse in the secondary, losing Eric Wright and not truly replacing him. If Brandon Marshall, Alshon Jeffery and the Bears exploit that, they will finish a game ahead of the Lions.
Still, it will be close.
NFL senior writer
Senior NFL writer and commentator
Joined ESPN in 1995
Member of the writers' wing of the Pro Football Hall of Fame in Canton, Ohio
SPONSORED HEADLINES
MORE NFL HEADLINES
MOST SENT STORIES ON ESPN.COM
The NFL on ESPN.com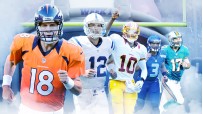 CLAYTON/FOX/SCHEFTER
MONDAY NIGHT FOOTBALL
WEEK 1 PICKS
BOUNTY BANS OVERTURNED
FINAL WORD
2013 NFL DRAFT
MORE NFL COVERAGE
Nike Women's Home Limited Jersey New Orleans Saints Jimmy Graham #80 Shop »