Commentary
Saints running out of time with Brees
Staggering financial implications if team has to franchise QB again
Originally Published:
July 9, 2012
By
John Clayton
| ESPN.com
The delay in the Saints getting a long-term deal done with Drew Brees has been one of the most baffling stories of the NFL offseason.
Both sides have until July 16 to carve out such a deal, and I still think that will happen. In fact, I came up with 23.5 million reasons a deal will be struck in the next week. The Saints can't afford to franchise him next year both from the financial and the personnel standpoint.
Unless the Saints plan to release him -- which can't be the case -- the salary-cap impact of a $23.6 million franchise tag in 2013 would be devastating to the franchise, so let's study the numbers.
QUESTIONS, PLEASE
Do you have a query for John Clayton?
Click here to send a note to his mailbag.
The cap is only expected to increase from $120.6 million to around $121 million. With one unsigned draft choice, the Saints are already about $3 million over for next year and they have about $2.2 million of room for this season. Franchising Brees again would put the Saints more than $26 million over the cap and give them limited options for next year.
First, they would have to start evaluating expendable players. Cutting Jonathan Vilma would save them $6 million, so you can understand why Vilma's fighting as hard as he can to overturn his suspension. Because he would be the highest cap savings on the Saints' 2013 roster, he would lose this year's salary if the suspension holds and then would face the possibility of being off the roster next February.
The Saints could save $16 million by cutting linebacker Will Herring, $2.5 million by cutting running back Pierre Thomas and $1.7 million by cutting tight end David Thomas. Figuring a long-term deal with Brees might cost $10 million to $12 million, any of those four players might be cap casualties anyway, but the extra cap expense of a Brees franchise tag would cause more problems.
The Saints would have to look at whether or not they could keep safety Roman Harper, whose release would save them $3.4 million.
The Saints had $15.7 million of cap room headed into the 2012 offseason. They didn't re-sign wide receiver Robert Meachem, guard Carl Nicks, cornerback Tracy Porter, linebacker Jo-Lonn Dunbar and seven backups.
They freed up $14.5 million of cap room by restructuring five contracts, and in doing so, they had the luxury of signing guard Ben Grubbs, defensive tackle Brodrick Bunkley and linebackers Curtis Lofton, David Hawthorne and Chris Chamberlain.
Franchising Brees would make it difficult to re-sign 2013 free agents Devery Henderson, Sedrick Ellis, Jermon Bushrod, Scott Shanle and Jonathan Casillas.
All signs point to a deal getting done this week -- or else.
From the inbox
Q: I understand that judges have their own moral and religious beliefs, but [the Saints bounty scandal] is just about did you or did you not break a rule. Being able to find a judge that you are pretty certain will rule in your favor is exactly why we have little faith in the judicial system or government.
Matthews in Oregon
A: Some judges are conservative. Some judges are liberal. Some favor labor. Some favor management. All judge the law, but let's look at recent examples to understand where I'm coming from.
The NFLPA has usually had great success in federal court in Minnesota. Judge David Doty has been a great judge for decades, but his decisions tended to be more favorable to the union than to ownership.
Decades ago the NFLPA figured out this might be a favorable court. Last year, owners appealed rulings in the Minnesota federal court and took the case to an appeals court in St. Louis, which is considered conservative and often shapes rulings more favorable toward business.
Ultimately, it's up to the Supreme Court to see if there is anything wrong with any of the rulings. From its first action Friday, the court didn't tip its hand. It ordered both sides to appear in a settlement hearing July 23 before a magistrate.
Short takes
Chris in Syracuse, N.Y., has followed the six main quarterback battles around the league and wonders why no one is talking about the Bills' situation. Simple. There is no controversy. Ryan Fitzpatrick is the quarterback. The only competition is between Vince Young and Tyler Thigpen for the backup job. You're right, Fitzpatrick isn't Jim Kelly, but the Bills haven't been in the position to draft a Hall of Fame quarterback. It's Fitzpatrick or bust this season. & Rocco in Reading, Pa., has been a Chiefs fan his entire life and he admits he's more excited with this team than he's been in a long time. What baffles him is why I didn't think the Chiefs will have a winning season. In my opinion, it's a three-way race for the AFC West, but I just think they'll finish third. We'll see if I'm right, but you should still be excited. & Michael in Kansas City, Mo., doesn't think the Broncos should be the favorites to win the AFC West. He questions the offensive line, an aging Willis McGahee in the backfield, an unproven receiving corps and some holes in the middle of the defense. Peyton Manning makes them a playoff contender, but their schedule is brutal. The signing of Manning is the reason a lot of people are jumping on the Broncos' bandwagon. & Michael in Kansas City, Mo., wants my take on the NFLPA's collusion case. I don't think there is much of a chance for it to go too far. Last year the players and owners agreed not to sue over past financial grievances. & Mike in Monroe, Ohio, can't figure out why the Browns didn't go for more wide receiver help. He suggests Plaxico Burress, Braylon Edwards or Terrell Owens. No way. Too old and not enough speed. I thought the Browns waited too long in the draft to address the receiver position, but you can't do everything in one year. They needed help at quarterback, running back, wide receiver and the right side of the offensive line. They went 3-for-4. & Mark in Connecticut watched the Patriots go to the Super Bowl with one of the worst pass defenses in football. He wonders why the Patriots can do so well knowing pass defense is vital to success. In this quarterback-driven league, the Patriots have a Hall of Famer in Tom Brady who's able to do enough in fourth quarters of games to produce victories. Plus, Brady's offense often gets enough of a lead that it gives the team a better cushion to win. & John in Buffalo, N.Y., wanted a Shawne Merriman update. He's probably his healthiest in years and could be a good asset to the Bills' defense. He'll be part of the defensive end rotation. & C.C. in Baltimore, Md., saw excerpts of a Ray Rice interview in which Rice claimed Joe Flacco outplayed Brady in the 2011 playoffs. He contends a dominant defensive team such as the Ravens would invest more in defense than offense. He contends the Patriots put more money into the offense, which gives Brady more weapons than Flacco. I don't totally buy that. The money spent on offense for the Patriots is mostly in Brady's contract. Once the Ravens sign Flacco to a long-term deal, the finances between both offenses will balance out.
Q: With Cam Newton at quarterback, and Brandon LaFell and the other young receivers evolving into great players alongside Steve Smith, and Jon Beason coming back strong to team with Luke Kuechly, could the Panthers reach the Super Bowl?
Chris in Largo, Fla.
A: I doubt it. I project good things for the Panthers, but I consider their rise similar to that of the Detroit Lions. Back in the early and mid-2000s, the AFC had most of the top quarterbacks, so it was easier to make a quick turnaround in the NFC than the AFC.
Now, the NFC is loaded with great quarterbacks, and that includes the Panthers. The problem facing the Panthers is they are in a division with Drew Brees, Matt Ryan and Josh Freeman.
My comparison to the Lions is they won their final four games at the end of the 2010 season and carried it over to a wild-card season last year. I don't know if the Panthers will make the playoffs, but they could win anywhere from seven to nine games.
Q: When will Roger Goodell wake up and realize that the officials aren't capable of making roughing the passer calls in a fair and consistent basis on the field, and that these new tackling violations should be disciplined by the league (during the week, with the benefit of instant replay and slow motion) through fines and/or suspensions?
Billy in Eastchester, N.Y.
A: I don't think officiating is atrocious. I do think there is an adjustment by officials and players on the new rules pertaining to hits. It's easy to sit back during the week in the league office and determine fines after the fact. It's not as easy on the field. Officials make mistakes. They are human. But imagine how bad it will be if replacement officials are making the calls, particularly because the NFL can't go after the top officials in college?
Q: I'm all for improvements to the game, but with the addition of having all turnovers and touchdowns reviewed by instant replay, are they basically diluting the value of the coaches' challenges? Should they consider reducing the number of challenges a coach gets from 2 to 1?
Shane in Robins Air Force Base, Ga.
A: I have a problem with that change, too, but for a different reason. It could add time to the game and it sets up a trend where ultimately all the replay decisions will be made from the replay booth.
When replay came into the league, the replay officials made calls from the press box and the decisions were made by mostly retired officials not used to watching games on a television monitor. The delay on scoring plays last season didn't make a substantial change in the length of games, but it did water down the excitement of touchdowns. If this change adds time to the game, the games may start to drag.
Q: Dallas' Anthony Spencer has come under a lot of fire for not putting up big sack numbers, but doesn't get much praise for being a solid run defender. When linebacker Jarret Johnson signed with the Chargers, there was a lot of talk about how he's so underrated. I was wondering why people selectively critique Spencer and not Johnson. Spencer had better stats this past season, and has a higher sack total for his career than Johnson despite being younger.
Max in Atlanta, Ga.
A: This is where draft expectations can come back and haunt a player. Spencer was a first-round choice, while Johnson came into the league as a fourth-rounder. That first-round label puts more demands on the performance of that player. Being a fourth-round pick, success tends to give fans the idea the player overachieved. Average numbers by a first-rounder tends to put him in the underachieving role. This is where perception can become reality.
Q: Is it too early to be worrying about Tom Brady's backup or are the Patriots going to be lacking when he retires?
Neil in Cambridge, Mass.
A: Quarterbacks as good as Brady come around once in a generation for a franchise. Either luck or a horrible season that puts a franchise at the top of a draft can come up with something comparable.
With that in mind, the Patriots need to ride Brady until he retires. That's what the Colts did with Peyton Manning. With Manning sitting out last season, they played so badly that they were able to draft Andrew Luck. All you have to do is see the parade of quarterbacks after Dan Marino's retirement in Miami to see how tough it is a replace a Hall of Fame quarterback.
Q: How much will the Lions' secondary improve with the acquisitions of Sean Jones, Jacob Lacey and their three draft picks at CB? Additionally, do you believe Aaron Berry will be suspended for his recent DUI? Seeing as a major problem with the secondary was depth last year, have they done enough to improve in this area?
Robert in West Palm Beach, Fla.
A: I hate to say it, but I don't think the Lions will be better. I don't think they came up with a satisfactory replacement for Eric Wright. Because this is Berry's first DUI charge, he won't be suspended if he's guilty. He might be a good No. 3 corner, but starting him might be too much of a push. Jones will help for depth. He's smart and he's a good football player, but I think he will start the season as the third safety. Lacey comes from a zone system in Indianapolis, and the Lions need more man-to-man talent.
NFL senior writer
Senior NFL writer and commentator
Joined ESPN in 1995
Member of the writers' wing of the Pro Football Hall of Fame in Canton, Ohio
The NFL on ESPN.com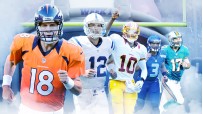 CLAYTON/FOX/SCHEFTER
MONDAY NIGHT FOOTBALL
WEEK 1 PICKS
BOUNTY BANS OVERTURNED
FINAL WORD
2013 NFL DRAFT
MORE NFL COVERAGE


MOST SENT STORIES ON ESPN.COM