Commentary
Browns will be green on offense
Mailbag: Cleveland makes right call; Is criticism of Detroit secondary fair?
Originally Published:
July 16, 2012
By
John Clayton
| ESPN.com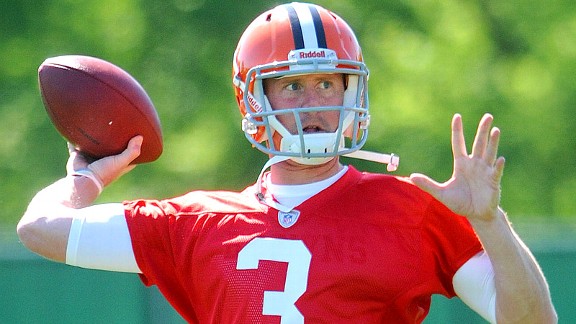 Eric P. Mull/US PresswireWith the exception of their 28-year-old rookie QB, Brandon Weeden, the Browns are going young at the skill positions on offense this season.
When the Browns selected
Josh Gordon
in the second round of Tuesday's supplemental draft, they made a total commitment to go young at wide receiver.
QUESTIONS, PLEASE
Do you have a query for John Clayton?
Click here to send a note to his mailbag.
Gordon is 21.
Greg Little
is 23. Fourth-round pick
Travis Benjamin
is 24.
Mohamed Massaquoi
is 25 and in the last year of his contract.
Carlton Mitchell
is 24 and will fight just to make the roster. Throw in 21-year-old running back
Trent Richardson
and you can see that the Browns will be green at the skill positions this season.
The only age issue is rookie quarterback Brandon Weeden, who turns 29 in October, but he'll have four seasons to prove his worth.
History tells Browns fans to be patient. Teams have been successful going young at the skill positions, but in most cases, the growing pains hurt them in the first year.
Short takes
Jon G in Washington has noticed that NFL defensive and offensive players have become more specialized. He wonders if a team could start experimenting with specialization of offensive linemen. There isn't much to do. Teams do use a sixth offensive lineman in "Jumbo" packages, but the key for linemen is to coordinate their blocks together. Specialization wouldn't help that. … Ray in Puyallup, Wash., notes that all the other sports hold their All-Star Game in the middle of a season. Why not the NFL? No fan should want to see a regular-season week replaced by an All-Star Game. Plus, the NFL tries to schedule its regular season between Labor Day and as close as it can to New Year's Day. A midseason All-Star Game would force the NFL to start before Labor Day. That won't happen. Secondly, it would ruin bye weeks. As nice as it is to have an All-Star Game, it isn't worth ruining the regular season to have one. … Josh in Iowa understands why most people (me included) think the 49ers will drop from 13 wins to 10 or 11 because of a tougher schedule. I go to the old Dick Vermeil concept. He said for years you can be a .500 team against winning teams and go to the Super Bowl just as long as you don't play a lot of winning teams. Normally, teams play close to .500 against winning teams. If you play six winning teams, that's 3-3. If you play 10, that's five losses. … Phil in Bridgeview, Ill., wonders if I trust Robert Meachem as a No. 1 receiver for his new team, the San Diego Chargers. I think he can be a decent No. 2. Antonio Gates is their No. 1 option. … Matt in Towson, Md., wonders if this will be the breakthrough season for Ravens quarterback Joe Flacco. I think he will be better than last season, but I'm worried about how the offensive line will protect him. If the line does well, he could have that breakthrough year. … Denny from Corpus Christi, Texas, has concerns about the Cowboys' backfield. DeMarco Murray and Felix Jones have had injuries, but both have a lot of talent. Like all positions, you need to stay healthy to be good. … Perry in San Diego, I have high hopes for the Chargers this year because Philip Rivers is their quarterback. He'll cut down on the interceptions.
In 2009, there were several examples of franchises going young on offense. The most successful were the Eagles. Running back
LeSean McCoy
and wide receiver
Jeremy Maclin
were 22.
DeSean Jackson
was 23. Tight end
Brent Celek
was 25. The Eagles went 11-5, but they still had
Donovan McNabb
, who was 33 at the time.
The comparison that might match the Browns would be the 2009 Oakland Raiders. Weeden won't be as bad as JaMarcus Russell, but his experience level fits the model. Russell was 24 and in the third year of a disastrous career. He was working with 25-year-old tight end Zach Miller, 23-year-old running back Darren McFadden and wide receivers Darrius Heyward-Bey, Jacoby Ford and Louis Murphy, who were all 23 years old.
That Raiders team finished 5-11. Since then, Russell has been replaced and the young receiving group has developed enough to make the Raiders an 8-8 team the past two seasons. This year's Browns? I think 5-11 or 4-12 seems reasonable. (See my early projections for AFC North teams.)
In 2009, the Bears were young with Earl Bennett, Matt Forte, Greg Olsen and Johnny Knox, along with a 26-year-old Jay Cutler at quarterback. They ended up going 7-9. The 2009 New York Giants had Eli Manning trying to break in a young group that included Ahmad Bradshaw, Mario Manningham, Steve Smith, Hakeem Nicks and tight end Kevin Boss, all 25 or younger. They went 8-8.
Going young is the right way for the Browns to go, but it will take time for everything to come together.
From the inbox
Q: I do not understand why the Lions' secondary keeps getting blasted by the media. They were killed by injuries last year and still gave up the fewest passing yards of the NFC North teams, even fewer than the mighty Chicago D everyone seems to love. The Packers gave up the most passing yards ever, but they seem to get a pass.
Ryan, Charlotte, N.C.
A: The secondary gets criticized because it has been in rebuild mode since the 0-16 season in 2008. Safety Louis Delmas is the Lions' best player in the secondary, but I worry long term about his knees. Chris Houston did a good job at corner, but he has only a year left on his contract. Eric Wright left for Tampa Bay and Aaron Berry, who was undrafted, must take over at the other corner. The Lions have stability on offense and are solid along the defensive line. If the Lions agreed with you on the pass defense, some of the guys in the secondary would start being locked up to long-term contracts. Hasn't happened.
Q: To a previous questioner, you said that many teams end up in bad situations at QB after the departure of a Hall of Famer (example: Dolphins after Dan Marino). But you brought up the Colts and how they were able to replace Peyton Manning with Andrew Luck. Yes, they might have just gotten themselves their QB for the next 15 seasons, but they had to suffer through an atrocious season to do so. My question is, shouldn't the Packers' model be the standard? They knew the end for Brett Favre was coming and they drafted Aaron Rodgers. Yes, they got a bit lucky because he fell to them, but the plan was always to have him sit behind Favre for a season or two to learn the playbook and get used to the NFL before taking over.
Kyle, Watertown, N.Y.
A: Sure, but drafting Rodgers wasn't their primary plan. Weeks before the draft, they never felt Rodgers would fall to them. To their credit, as they got to Friday of draft week, they were made aware Rodgers could fall to them if he got past the 10th pick. General manager Ted Thompson scrambled his staff and made a decision to take him if he were there. It was smart management, but it was also lucky. To get a quarterback of Rodgers' quality, you probably need to lose 13 or 14 games in a season.
[+] Enlarge
Dennis Wierzbicki-US PresswireUnder new offensive coordinator Mike Tice, Devin Hester's playing time may decrease, but his opportunities for big plays may go up.
Q: With a glut of respectable WRs in Chicago, can you see the Bears trying to work Devin Hester more out of the backfield? There has been some success with similar skill players like Percy Harvin and Dexter McCluster, and I would think that he would be effective on short screens and swing passes with a little space to work with. Wouldn't this be a better way to use him than having him run sloppy patterns and occasional deep routes?
Billy, Flemington, N.J.
A: Mike Tice, the Bears' new offensive coordinator, has packages for Hester that could include him in the backfield. Tice will make sure he gets Hester in position to make plays whether it's in the backfield or at receiver. Hester's playing time will decrease, but his chances to do positive things could increase. I think you are on to something.
Q: Why doesn't the NFL offer a preseason package? They would make millions.
New York Nicks, Pensacola, Fla.
A: Teams control the rights to their preseason games and have them live on their local television stations. The NFL can't put together a package similar to NFL Ticket for preseason games because it would take away from the teams' negotiating ability within their cities. There are options: the NFL offers a live audio streaming package, and the entire preseason package league-wide eventually appears on the NFL Network. Fans also have the ability to view tape-delayed video replays of games on NFL Game Rewind. The NFL could make money televising all live preseason games, but not at the expense of the teams that can make their own money.
Q: What's the situation with the refs this season? If they have to hire new ones for this year, how will that affect the game?
Josh D, Philadelphia
A: Games could be longer. Mistakes on the field by officials could multiply. Officials could look confused in making their rulings on the field. I don't see good things. Like most negotiations, deals aren't usually struck until the end. I could see the replacement officials working a few preseason games, but I see a deal being done for the regular season. There is too much at stake. Officials are well paid and they are part-time employees. There isn't an inclination to make officials full time. It's all about money, which is why I feel there will be a resolution.
[+] Enlarge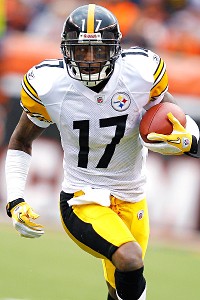 Joe Robbins/Getty ImagesExpect the Steelers to have disgruntled receiver Mike Wallace in for training camp.
Q: The Steelers, historically, do not generally sign WRs to long-term deals. With the contract of Mike Wallace ending this upcoming year while Antonio Brown will be a restricted free agent next year, whom should the Steelers focus on for a long-term deal next offseason?
Deep in Nyack, N.Y.
A: Talking to Steelers officials, they think they will get a Wallace deal done in time for camp. It might not be as easy to get one done for Brown, but they will have him as a restricted free agent next year and could franchise him if necessary in 2014, so they do have the ability to keep Brown and Wallace together for three full seasons. All teams are facing a juggling act trying to keep their top young players because of flat salary caps over the next several years. (See my column posted Saturday.) The Steelers do a great job with their cap. They will keep most of the players they want. It helps now that they have drafted well for the offensive line and that they have Ben Roethlisberger in his prime.
Q: For years I've heard of quarterbacks handing out money to their linemen if they didn't get sacked in the previous game and wide receivers having to pay into a pool for every dropped pass. These are incentive-based payouts by players to players, similar to the Saints program. The difference between these and Saints program is the intent to injure other players. Will the NFL punish these types of incentive-based programs as well or only the ones where there is a clear intent to injure?
James, Minneapolis
A: Because of the bounty case, the NFL is eliminating all player money pools. That might be hard to police, but the NFL doesn't want to create any incentive that brings back an injury-inspired performance pool. Quarterbacks have been taking care of blockers for decades, and there wasn't anything wrong with that. Bounty systems were around, too. To clean up the bounty system, Roger Goodell banned all incentive pools.
NFL senior writer
Senior NFL writer and commentator
Joined ESPN in 1995
Member of the writers' wing of the Pro Football Hall of Fame in Canton, Ohio
SPONSORED HEADLINES
MORE NFL HEADLINES
MOST SENT STORIES ON ESPN.COM
The NFL on ESPN.com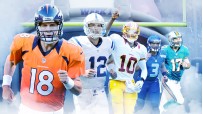 CLAYTON/FOX/SCHEFTER
MONDAY NIGHT FOOTBALL
WEEK 1 PICKS
BOUNTY BANS OVERTURNED
FINAL WORD
2013 NFL DRAFT
MORE NFL COVERAGE