Browns to pay tribute to Art Modell
Updated:
September 7, 2012, 3:56 PM ET
Associated Press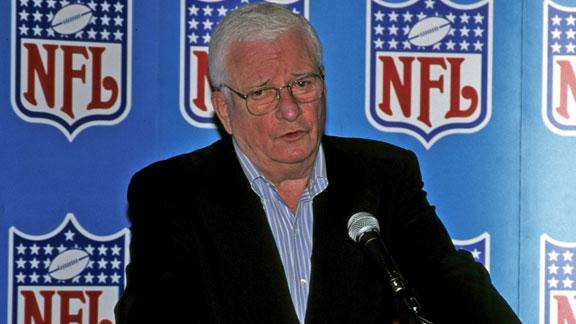 Remembering Art Modell
Bill Polian reflects on the life and career of former Browns and Ravens owner Art Modell.
Remembering Art Modell
BEREA, Ohio -- Art Modell will be recognized Sunday by the team he moved to Baltimore.
Art Modell's Legacy at a Glance
• Majority owner of Browns and then Ravens franchises for 43 seasons (1961-2003)

• One of 15 finalists for the Pro Football Hall of Fame in 2001; semifinalist for 7 additional classes (2004-07; 2009-11)

• Moved Browns from Cleveland to Baltimore in February 1996; changed team name to Ravens, leaving Browns history in Cleveland for a future team to claim (NFL returned to Cleveland in 1999)

• In 43 seasons of ownership, 24 teams had winning records, 18 made the playoffs, 2 won NFL championships (Browns in 1964, Ravens in 2000)

• Only elected NFL president in league history (served from 1967-69)

• Chairman of the Owners Labor Committee (1968), which successfully negotiated the NFL's first players' CBA

• Served on the NFL-AFL Merger Committee, breaking the impasse for realignment of the two leagues by moving the Browns to the AFC

• Worked closely with then-commissioner Pete Rozelle to establish NFL Films and became its first chairman

• In 1970, was an important negotiator with ABC to launch "Monday Night Football" and volunteered to host the first game in Cleveland (Browns beat the Jets 31-21)

The Cleveland Browns plan to have an "appropriate recognition" for the late Modell at the season opener against the Philadelphia Eagles.
Modell died Thursday at the age of 87 from natural causes. He remains a vilified figure in Ohio for moving the Browns to Maryland after the 1995 season.
Browns spokesman Neal Gulkis said plans have not yet been finalized, but the team will acknowledge Modell's death. Any tribute will likely take place before the opening kickoff.
"We're trying strike the right balance," Gulkis said Friday. "We want to show respect and dignity for the Modell family, the community and the fans."
NFL spokesman Greg Aiello said the league has requested that all its teams observe a moment of silence or other appropriate gesture in memory of Modell this week.
The Ravens are staging a silent tribute to their former owner Saturday by placing his casket on the team's home field. The Lombardi Trophy presented to Modell after the Ravens' Super Bowl win in 2001 will be placed nearby.
Modell owned the Browns for 34 years. After he was unable to get Cleveland city leaders to build him a new stadium, he moved the team in 1996.
Gulkis did not say if the Browns will also hold a moment of silence for Modell. The team is being sensitive to both the passing of an innovative owner and the passion of Cleveland's rabid fans, many of whom have not forgiven Modell for moving the franchise.
Other Browns fans seem to be more sympathetic toward Modell.
"I know when they moved to Baltimore a lot of people were pretty hurt, especially considering as soon as they moved they won a Super Bowl," said Michael Stewart, 30, of Cleveland.
But Stewart has forgiven Modell.
"Sure, I have," he said. "Everybody makes mistakes and it's his team, he can do what he wants with it."

Copyright 2012 by The Associated Press
The NFL on ESPN.com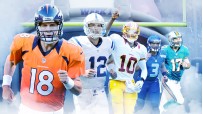 CLAYTON/FOX/SCHEFTER
MONDAY NIGHT FOOTBALL
WEEK 1 PICKS
BOUNTY BANS OVERTURNED
FINAL WORD
2013 NFL DRAFT
MORE NFL COVERAGE

MOST SENT STORIES ON ESPN.COM