Ravens host Art Modell memorial
Updated:
September 8, 2012, 4:26 PM ET
ESPN.com news services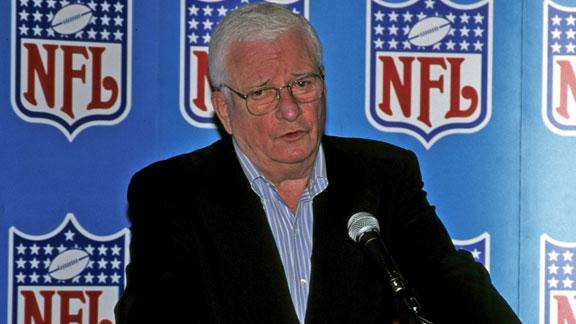 Remembering Art Modell
Bill Polian reflects on the life and career of former Browns and Ravens owner Art Modell.
Remembering Art Modell
BALTIMORE -- Ravens fans lined up by the hundreds Saturday morning to pay respects to Art Modell, the man who moved the Cleveland Browns to their city.
The American-flag draped casket was at the 50-yard line of M&T Bank Stadium. Fans, almost all wearing Ravens jerseys, were greeted by Modell's sons, David and John, as they slowly walked down the stadium steps and into a white tent.
When mourners began walking in at 11 a.m., they could see photos of the former Ravens owner on the large video screens and hear Frank Sinatra songs playing. Not surprisingly, the first one heard as the mourners arrived was "My Way."
Art Modell's Legacy at a Glance
• Majority owner of Browns and then Ravens franchises for 43 seasons (1961-2003)

• One of 15 finalists for the Pro Football Hall of Fame in 2001; semifinalist for 7 additional classes (2004-07; 2009-11)

• Moved Browns from Cleveland to Baltimore in February 1996; changed team name to Ravens, leaving Browns history in Cleveland for a future team to claim (NFL returned to Cleveland in 1999)

• In 43 seasons of ownership, 24 teams had winning records, 18 made the playoffs, 2 won NFL championships (Browns in 1964, Ravens in 2000)

• Only elected NFL president in league history (served from 1967-69)

• Chairman of the Owners Labor Committee (1968), which successfully negotiated the NFL's first players' CBA

• Served on the NFL-AFL Merger Committee, breaking the impasse for realignment of the two leagues by moving the Browns to the AFC

• Worked closely with then-commissioner Pete Rozelle to establish NFL Films and became its first chairman

• In 1970, was an important negotiator with ABC to launch "Monday Night Football" and volunteered to host the first game in Cleveland (Browns beat the Jets 31-21)

Modell's funeral is Tuesday, one day after the Ravens open their season against Cincinnati on Monday night. Modell's family has asked the Browns not to acknowledge the former owner at Sunday's season opener against Philadelphia.
The Browns had planned an "appropriate recognition" for Modell, who died on Thursday at the age of 87. But Modell's son, David, spoke to Browns president Mike Holmgren and requested the team not do anything to recognize the late owner who remains vilified by many Cleveland fans for moving his team to Baltimore after the 1995 season.
The Browns will grant the family's wish. Any tribute for Modell before the game could have triggered an ugly backlash by Browns fans.
Team spokesman Neal Gulkis said the Browns had intended to have a tribute read over the public address system.
Retired offensive tackle Jonathan Ogden, one of Modell's favorite Ravens, was at M&T Bank Stadium when the purple procession began and he shook hands with some of the fans. Ogden was the first player drafted by the Ravens after the team moved to Baltimore.
"He always cared about what was going on in your life," Ogden said. "It was always what he could do to help somebody else."
Horace Berean of Baltimore was the first person waiting in line for the stadium gate to open. He arrived at 6 a.m. to secure his spot.
"He did so much for the city. He brought the football team here," Berean said. "He was just a wonderful, generous man."
Bobbie Fine of Columbia, Md., who wore a Ravens blouse and locket, met Modell at games and events.
"Just a kind man. I could talk to him at any time," Fine said. "One of the best men I've ever met."
Information from The Associated Press was used in this report.
SPONSORED HEADLINES
MORE NFL HEADLINES
MOST SENT STORIES ON ESPN.COM
The NFL on ESPN.com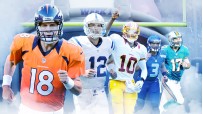 CLAYTON/FOX/SCHEFTER
MONDAY NIGHT FOOTBALL
WEEK 1 PICKS
BOUNTY BANS OVERTURNED
FINAL WORD
2013 NFL DRAFT
MORE NFL COVERAGE