Jonathan Vilma won't drop lawsuit
Updated:
December 12, 2012, 12:44 PM ET
ESPN.com news services
Jonathan Vilma's attorney said Wednesday that his client will "continue the battle" against Roger Goodell until he successfully clears his name against the allegations the commissioner made about the linebacker's role in the New Orleans Saints bounty program.
Mike and Mike in the Morning
Attorney Peter Ginsberg, Jonathan Vilma's lawyer, talks about Paul Tagliabue's decision to vacate the player suspensions in the Saints' bounty case, Vilma's future and more.
---
Saints DE Will Smith weighs in on his reaction to Paul Tagliabue's decision to vacate all of the player suspensions in New Orleans' bounty case and more. Listen

In an interview with ESPN Radio's "Mike and Mike in the Morning" on Wednesday, attorney Peter Ginsberg said it was a "tremendous relief" that Vilma's yearlong suspension was vacated by Paul Tagliabue but that the text of the former commissioner's ruling didn't go far enough to discredit Goodell's handling of the investigation.
Therefore, Vilma will request that U.S. District Judge Ginger Berrigan allow his defamation lawsuit against Goodell to go forward despite Tagliabue's ruling. Ginsberg also said that he will request that Berrigan require Goodell to release all transcripts from the investigation, something the commissioner has so far resisted.
Vilma officially filed a motion in federal court Wednesday to drop his case against the NFL but pursue damages against Goodell.
"It has always been probably more important to Jonathan to clear his name and fight the baseless allegations against him," Ginsberg said, calling Tagliabue's ruling "a mixed blessing."
"Now it's time to continue the battle to set the record straight," he said.
Ginsberg called Tagliabue's appointment by Goodell "bizarre" because Tagliabue's partners in his law firm are representing Goodell in Vilma's defamation lawsuit.
More on Tagliabue's ruling

Paul Tagliabue affirmed Roger Goodell's bounty investigation findings but still decided to vacate the penalties for four players punished. PDF
---

In backing Goodell's findings but vacating the player penalties, Tagliabue made a ridiculous call and is taking the easy way out, Pat Yasinskas writes. Blog
---

Goodell isn't the one responsible for the Saints bounty program or the team's lost season. It's time to look at Sean Payton, Jeffri Chadiha writes. Story
---

In 22 pages of patronizing prose, Tagliabue manages to snipe at Goodell on what should have been an easy discipline case, Lester Munson writes. Story
• Vote: Did Tagliabue make right call?
Still, he credited Tagliabue for his findings, although he said his ruling didn't go far enough.
"Mr. Tagliabue clearly cares about the NFL, and cares about the badge, and I think his decision clearly reflects that any discipline would have been totally unjustified," Ginsberg said. "On the other hand, his opinion is clearly targeted to try to protect commissioner Goodell. That's not good enough as far as Jonathan is concerned."
Ginsberg, in particular, objected to Tagliabue not mentioning the allegation Goodell had made that Vilma waved $10,000 in front of players as a bounty on former Arizona Cardinals quarterback Kurt Warner, before the Saints faced the Arizona in a divisional playoff game.
"The fact that commissioner Tagliabue ignored the allegation, didn't mention how discredited the source was, yet used that source for a basis of other facts, really I think speaks volumes about commissioner Tagliabue's agenda," Ginsberg said.
Ginsberg called Goodell's allegation that Vilma put a bounty on Warner the commissioner's "most inflammatory" claim against his client.
"The fact that Roger Goodell literally seven times told the public that Jonathan held that money up in the Cardinals game, when there was not an iota of credible evidence to justify it, I believe should have discredited everything Roger Goodell did in this investigation," Ginsberg said. "Commissioner Tagliabue should have taken note of that fact, not only chastised Roger Goodell for the irresponsibility of publicizing that allegation, but taken that into account when he considered essentially everything else involved in Roger Goodell's decision-making process."
The NFL on Tuesday said it would respect Tagliabue's ruling but said in its statement that decisions have made clear that the Saints operated a bounty program in violation of league rules for three years, that the program endangered player safety, and that the commissioner has the authority under the collective bargaining agreement to impose discipline for those actions as conduct detrimental to the league."
Saints defensive end Will Smith, who also had his suspension vacated Tuesday, said on "Mike and Mike in the Morning" that although he no longer faces a ban, the "damage is done" to his reputation.
"At the end of the day, people think that this is what we actually did," Smith said. "Because before they ever talked to any of the players, before they asked me did this happen, it was already on 'SportsCenter.' By the time we did have a chance to say something about it, we were already in the public eye, guilty."
In all, four players had been penalized by Goodell for their alleged roles in the bounty program. Free agent Anthony Hargrove also had his suspension lifted Tuesday. Linebacker Scott Fujita, now with the Cleveland Browns, was the only player cleared by Tagliabue of conduct detrimental to the league, however.
Appearing on "CBS This Morning" on Wednesday, NFL Players Association chief DeMaurice Smith said the NFL should issue an apology to the players.
"The investigation that the league did was sloppy, the investigation that they did was more outcome-focused than frankly process-focused," Smith said. "First and foremost, they should say they're sorry because they've maligned the character of good players."
Information from The Associated Press was used in this report.
NFL WEEK 15 COVERAGE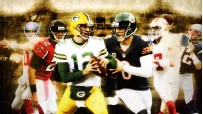 Follow the NFL on ESPN on Facebook
Fantasy Football on ESPN.com
NFL Nation blog | Leaders NFL Stadium Guides | QBR ratings
Playoff Machine | MONDAY NIGHT HQ
WEEK 15 PICKS
MNF: Jets at Titans, 8:30 ET
FINAL WORD
POWER RANKINGS
CLAYTON / FOX / SCHEFTER
COMMENTARY/ANALYSIS
ESPN THE MAGAZINE: HOF ISSUE
SPORTSNATION
INSIDER
2013 NFL DRAFT
EDITORS' PICKS
Devin Hester showed how he energizes Atlanta with a record-breaking TD and more.
McClure »

What are the best ways to neutralize Seattle CB Richard Sherman?
Mike Sando

What would life be like if pro football wasn't presented by the NFL?
Barnwell »