Richard Sherman: I was misquoted
Updated:
April 11, 2013, 2:35 PM ET
ESPN.com news services
Richard Sherman said Thursday on the NFL Network that he "didn't say" half of the NFL's players were using Adderall, as a newspaper reported he said, but instead he said many players have prescriptions to use the drug, which is used to treat ADHD, and said he's never taken it himself.
[+] Enlarge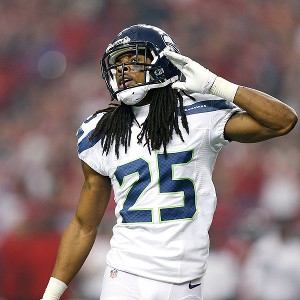 Joe Robbins/Getty ImagesRichard Sherman said Thursday "a bunch" of NFL players have prescriptions to use Adderall, although he has never taken the drug.
The Seattle Seahawks cornerback, who was suspended last season for allegedly using Adderall only to have the ban overturned on appeal, said Thursday on the NFL Network's "NFL AM" program that a "bunch" of players have been prescribed the drug.
"They're taking it for legitimate reasons. There's a reason it's been prescribed for them," he said.
The Vancouver Sun on Wednesday quoted Sherman as saying, "about half the league takes [Adderall] and the league has to allow it."
The newspaper said Thursday they stand by their story and provided a transcript of the questions and answers of Sherman's interview to ProFootballTalk.com.
The comments were widely reported and drew a response from the NFL.
The league in a statement to the NFL Network and TMZ.com called Sherman's comments on Adderall to the newspaper "ill-informed," "inaccurate" and "irresponsible."
"The comments are ill-informed and inaccurate. Adderall is easily detected under current testing and will result in a suspension absent an approved therapeutic use exemption," the league said in the statement.
"If his statement were true, we would be seeing many more positive tests and suspensions. More importantly, his comments are irresponsible, as they ignore the serious medical risks and documented public health crisis associated with the improper use of Adderall and similar drugs."
When asked what Adderall could do for a player who is using it without a prescription, Sherman said, "I don't know. I never took it."
He acknowledged the drug is "banned" for use by players who don't have a prescription, but he still doesn't understand the stigma associated with the drug.
"I've never heard a prescribed drug called a performance enhancer in any other sport," he said.
"The thing that people dont understood is that its a prescribed drug that some people have to take."
Sherman's successful appeal was based on errors in the chain of custody of his urine sample and that the tester made mistakes.
According to the written decision, Sherman's sample cup began leaking, and the tester grabbed another cup and transferred the sample to it. Documentation of the leaking cup was not originally on the submitted report after the test, and only when asked by a supervisor in October did the tester acknowledge the sample being transferred from the original cup.
The NFL doesn't disclose what substance a player tests positive for when it announces a suspension. Sherman said he doesn't believe the league should change that policy.
"I think the league keeps most of its business in the public, but things like that they should keep internal like they do. It gets so messy when you let things like that out," he said.
He also said he believes players who test positive for Adderall should receive a lesser penalty "because there are people who need to take it," however, he added that if there's scientific proof that the drug can act as a performance enhancer, the penalties should be severe.
Information from The Associated Press was used in this report.
SPONSORED HEADLINES
MORE NFL HEADLINES
MOST SENT STORIES ON ESPN.COM
NFL On ESPN
Follow the NFL on ESPN on Facebook
NFL DRAFT PAGE | NFL NATION BLOG
DRAFT TRACKER | FREE-AGENT TRACKER
GREATEST COACHES: GRIDIRON GENIUS
DEACON JONES DIES
EIGHT IN THE BOX: CONTRACT YEARS
OPINION/ANALYSIS
MEL KIPER/TODD MCSHAY
INSIDER
EDITORS' PICKS
Analysis, predictions and more for all 32 teams.
2014 preview »

A new Super Bowl champ
is a highlight of Nos. 30-21.
Story »

Browns receiver Josh Gordon has been suspended for year.
Story »