Robert Griffin III to exercise caution
Updated:
May 2, 2013, 4:00 PM ET
ESPN.com news services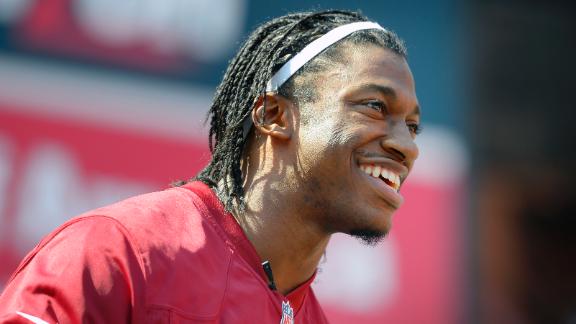 ESPN The Magazine: NFL Live OT on RG III
ESPN The Magazine: NFL Live OT on RG III
Robert Griffin III says he will not push to play the next time he has an injury, claiming that he has learned from his "mistakes."
ESPN The Magazine Cover Story
Robert Griffin III can be the most transformative athlete, role model and voice of an entire generation, ESPN The Magazine's J.R. Moehringer writes. Story
In ESPN The Magazine's cover story about Griffin, which is written as a 5,000-word letter to President Barack Obama "on behalf of a young man who recently moved to your district," the quarterback acknowledged that he will take himself out of the game the next time he has an injury similar to the one he suffered in the Washington Redskins' playoff game against the Seattle Seahawks.
Griffin originally injured his knee when he was hit by Haloti Ngata in a regular-season game against the Baltimore Ravens. The star rookie stayed in the game briefly before ultimately leaving in favor of Kirk Cousins.
After reinjuring the same knee in the first half of the postseason loss to Seattle, Griffin again remained in the game until the fourth quarter, when he suffered multiple torn knee ligaments.
"Your survivor instinct kicks in," Griffin said in the ESPN The Magazine article. "You're like, 'I'm a warrior. I'm a beast. I do all these things, I can push through adversity.'"
But Griffin admitted that he will not jeopardize his health again by staying in a game.
SportsNation: Playing Through Pain?

Robert Griffin III has vowed he'll be more careful about playing through injuries. How careful should players be?
• Cast your votes!
"If I had another incident like the Ngata hit, I'm out of the game," he said. "You pull yourself out at that point. You learn from your mistakes."
Griffin also addressed his attempt to play through the injury in the playoff game against the Seahawks.
"I don't feel like playing against the Seahawks was a mistake," he said. "But I see the mistake in it.
"With what happened and how everything was running -- you take me out. If that happened again next year, I'd come out of the game and sit until I was 100 percent healthy."
SPONSORED HEADLINES
MORE NFL HEADLINES
MOST SENT STORIES ON ESPN.COM