My path to the pros
Raiders QB Matt Flynn recalls the days before he got paid to play
Updated:
July 1, 2013, 10:59 AM ET
By
Carmen R. Thompson
| ESPN The Magazine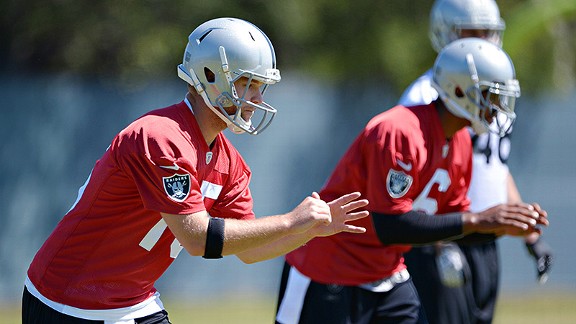 Kirby Lee/USA TODAY SportsFlynn played basketball when he was young because his friends did, but he never loved it.
The beginning
Baseball was my No. 1 sport growing up; I started in T-ball and worked my way up. I played one year of Pop Warner football in third grade. I was a bit bigger than most of the guys at that time. I probably weighed 90 or 95 pounds, so they moved me up to play with the fourth-graders and I ended up playing left guard on the offensive line. I didn't have a good time playing with fourth-graders every day.
I was really hard on myself, and from an early age. Starting with T-ball, I really wanted to win. I felt competitive. It wasn't like I was going out there and laughing and stuff like that. I think if you learn how to compete at an early age, it's good for you.
The middle school days
From around age 6 through middle school, I played basketball, but it was never really my thing. I just did it because I love sports and that's what all of my friends did. I started regularly traveling with my select baseball team around sixth or seventh grade. I played until I was in ninth grade.
In seventh grade, organized football started up, so I started playing again. This time I was the quarterback. My dad [Alvin Flynn] played quarterback at Baylor, so I was fortunate, because he knew the mechanics. As soon as I started playing, he taught me everything. I never got any private coaching outside of my dad until I got to college.
The high school years
I went to a big school [Robert E. Lee High; Tyler, Texas], and football was really serious. So I decided to give up baseball and focus on playing quarterback. As a sophomore, I was in a competition for the starting job on varsity. I got beat out by a guy my age, so I after that I didn't think I'd be getting a scholarship to a D1 school. I made a decision to work my tail off in the offseason. I'd wake up at 5 or 6 every morning. If I hadn't done that, I probably wouldn't have won the starting job as a junior. That was the turning point in my athletic career.
I thought I played pretty good my junior year, but it still wasn't good enough in my mind. It wasn't until the spring of my junior year that I started getting heavily recruited. It came kind of as a surprise. As a 16-year-old kid, you're just so excited to be getting letters, and then once the scholarship offers start to come, you just don't even know what to think. I think we made a highlight film after my junior year, and we sent the highlight film to recruiting sites and college recruiters hoping that they might look at it. I went to some college camps at Baylor, Texas A&M and Texas. Anyone can really go to those camps after you start being recruited. Before my senior year, I decided to go to a camp on LSU's campus. Two days later, I committed.
More rising stars retrace their paths to the pros:
Follow The Mag on Twitter (@ESPNmag) and like us on Facebook.
SPONSORED HEADLINES
MORE NFL HEADLINES
MOST SENT STORIES ON ESPN.COM
EDITORS' PICKS
NFL teams don't break the bank like other sports do.
Mag »

Which current starting QBs are worth a No. 1 pick?
Sando

The troubled 49ers can learn from the Seahawks.
Fox »