Redskins want lawsuit dismissed
Updated:
July 16, 2013, 6:23 PM ET
Associated Press
WASHINGTON -- The Washington Redskins are asking a judge to dismiss a former NFL player's lawsuit that accuses the team and former assistant coach Gregg Williams of running a bounty program that encouraged players to intentionally injure opponents.
The former player, linebacker Barrett Green, says he was targeted by the Redskins during a game on Dec. 5, 2004, resulting in a career-ending knee injury. Green was playing for the New York Giants at the time. He played for New York and for the Detroit Lions between 2000 and 2005. He filed a lawsuit earlier this year against the Redskins, Williams and the player who hit him, Robert Royal.
NFC East blog

ESPN.com's Dan Graziano writes about all things NFC East in his division blog.
The team said in a response filed Friday in federal court in Greenbelt, Md., that Green's claims are "utterly baseless." But, even if they were true, his lawsuit is pre-empted by an NFL collective bargaining agreement and was filed too late, lawyers for the team wrote.
The team argues that an NFL collective bargaining agreement in place at the time required Green to exhaust grievance and arbitration procedures before filing a lawsuit, which he did not do. The team also says the statute of limitations for all Green's claims is three years from the time of his injury. Green said in his lawsuit he was suspicious he may have been targeted when he was hit in 2004, and team lawyers wrote he had enough information then to pursue his claims if he wanted.
The allegations of a bounty program came to light more recently. Redskins coaches and players told The Associated Press in 2012 that Williams offered cash rewards for big hits and other plays -- a violation of NFL rules -- when he was coaching Washington's defense from 2004 to 2007. But they differed on whether it was a true bounty scheme that targeted specific players.
Williams' conduct in Washington was investigated, but didn't result in sanctions. Instead, Williams was suspended by the NFL last year for being the mastermind behind a bounty scheme at another team, the New Orleans Saints, where he was defensive coordinator from 2009-2011, including the team's Super Bowl-winning 2009 season. Williams is now a senior defensive assistant with the Tennessee Titans. He started his career with the Titans/Houston Oilers organization, where he coached for 11 seasons, and also was head coach of the Buffalo Bills for three seasons and defensive coordinator of the Jacksonville Jaguars for one year.
Judge Peter J. Messitte, who is overseeing the lawsuit, set a hearing in the case for Sept. 24. An entry in the case file online, however, says Messitte could decide the case on the documents alone ahead of that date.

Copyright 2013 by The Associated Press
SPONSORED HEADLINES
MORE NFL HEADLINES
MOST SENT STORIES ON ESPN.COM
THE NFL ON ESPN.COM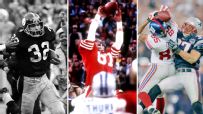 The votes are in. Did the voters pick the correct plays for each team? NFL Nation reacts.

MORE FROM ESPN NEW YORK

Check out ESPN New York, your destination for sports coverage in the Big Apple.