Ex-NFL players part of brain study
Updated:
August 30, 2013, 11:00 AM ET
Associated Press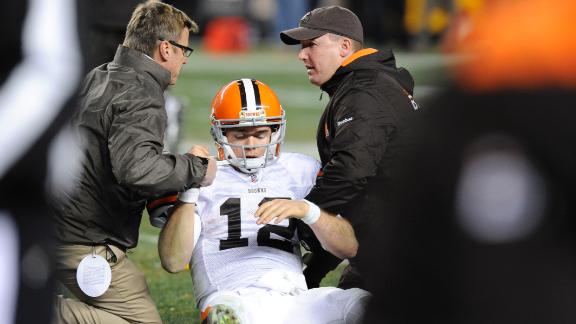 Monumental Day For NFL
Jeff Saturday and Hall of Fame RB Barry Sanders discuss the settlement reached between the NFL and former players in concussion-related lawsuits.
Monumental Day For NFL
NEXT VIDEO
Monumental Day For NFL

Monumental Day For NFL

Rovell: A Bargain For The League

Rovell: A Bargain For The League

OTL: Mind Control

OTL: Mind Control

Several research groups competed to study Junior Seau's brain after he died. Did the NFL help pick the winner?

Tags: Junior Seau

,

brain

,

concussion

,

Tyler Seau

,

Gina Seau

,

Roger Goodell

,

Kevin Guskiewicz

,

Robert Fitzsimmons

,

CTE

,

NFL

,

brain injury

,

Bennet Omalu

,

David Chao

,

San Diego Chargers

,

Mark Fainaru-Wada
DETROIT -- Months before the NFL and former players agreed to settle their concussion-related lawsuits, a Detroit-based neurologist began what he calls a "landmark study" on the brains of 50 former players.
Dr. Randall Benson sounded skeptical of the NFL's future research plans Thursday when it was announced the league agreed to give $765 million to diagnose and compensate potentially thousands of retired players. The settlement, which is subject to approval by a federal judge, would give money to athletes with certain neurological ailments and would also include $10 million for medical research.
"When the NFL determines where they send their research dollars, there's a real conflict of interest," Benson said in a telephone interview Thursday. "They get to pick and choose. When they sent their money to Boston University for the autopsy study of former players, there was a limit to what we could learn.
"If you put it into imaging research, you can learn more about the biomechanics of the injuries and how they affect the brain over at time."
SVP & Russillo
Pro Football Hall of Famer Barry Sanders gives his take on the concussion settlement between the NFL and players, shares his memories of teammates who struggled with concussions and talks about the excitement he gets from watching his son play at Stanford.
NFL spokesman Greg Aiello wrote in an email earlier this week that the league looks forward to learning the results of the study.
Eric Hipple does, too.
The former Detroit Lions quarterback is among the 10 former players who have had their brains studied with state-of-the-art MRI methods at Wayne State University.
"My hope is the study gets to the truth of what is actually happening to players' brains and with concussions," said Hipple, who is among the thousands of former players who sued the league because of how it handled head injuries. "That's not just important for players today or former players, but for high school and even younger kids and kids that will play the game in the future."
Benson, medical director at the Novi, Mich.-based Center for Neurological Studies, said the collaborative study with researchers, including Mark Haacke, at Wayne State, is being funded by school's office of the vice president. Benson said the first former player who participated was Keith McKenzie on Feb. 15, and he hopes to analyze the brain of a 50th ex-NFL player within 10 months.
Benson was one of the experts who told members of Congress about the dangers of concussions on Jan. 4, 2010, at a hearing in Detroit. Three-plus years later, he's still trying to do more to shed light on the problem.
"If you take enough hits to the head over a long-enough period of time, you're going to develop the pathology," he said. "What we don't yet understand is: How much does it take?"

Copyright 2013 by The Associated Press
SPONSORED HEADLINES
MORE NFL HEADLINES
MOST SENT STORIES ON ESPN.COM
THE NFL ON ESPN.COM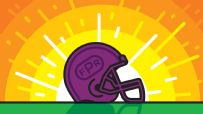 Our Future Power Rankings predict which teams will be best in the next three seasons.