RG III won't force zone read option
Updated:
September 16, 2013, 5:47 PM ET
By
John Keim
| ESPN.com
ASHBURN, Va. -- The Washington Redskins say they haven't abandoned their offense, and is there is no play they won't call for quarterback Robert Griffin III. The problem isn't whether he will run or whether teams have figured out the zone read option. It's simpler than that.
Slow Starts Hurting RG III
Slow starts are hurting Robert Griffin III and the Redskins. Washington has been outscored by a league-worst 43 points in the first half. RG III hasn't helped -- his total QBR in the first half is 1.9 compared to 75.9 in the second half.
Redskins' Offense in 2013
1st Half
2nd Half
Plays
45
83
Yards/play
5.1
6.9
Point diff.
-43
+19
RG III QBR
1.9
75.9
-- ESPN Stats & Information
According to coach Mike Shanahan, the Redskins haven't attempted more zone read option plays because they keep falling behind by too many points. Not because of any issues with Griffin -- or his surgically repaired right knee.
Through two games, the Redskins have used the zone read option five times, according to ESPN Stats & Information, with running back Alfred Morris carrying it each time. Of Griffin's nine runs in two games, he has scrambled six times, run after a botched handoff, taken a knee and been credited with a run and a fumble.
The Redskins don't plan to change quarterbacks while Griffin continues to find his rhythm.
"We have the ability to do everything we've done a year ago," Shanahan said. "In the second half of our first two games we've gone to two minutes very quickly. The score was very obvious why we did. We'll let the season go on, and hopefully you guys will see some of the execution that you did last season."
The Redskins had one of the most dynamic offenses in the NFL last season, averaging 6.2 yards per play -- the highest total in Shanahan's career. Griffin's legs were part of the reason. He never went consecutive games in 2012 without running the zone read. Then again, the Redskins never were outscored 50-7 in the first half of consecutive games a year ago, either.
"If teams will give us the QB runs, then we'll take it," Griffin said Sunday. "If they're not giving it to us, then we can't just run those plays."
Griffin also said teams are taking away that play by the way they're positioning the ends and safeties. The zone read option fake also led to big gains in the passing game a year ago, but not this season.
"I won't just run to show people I'm back," Griffin said. "That's stupid. If they take that away, then we have to run other plays and make those things happen. Eventually it will come back and the team that wants to give it to us, we'll take it."
While some analysts, including NBC's Tony Dungy, said Sunday night that they should insert Kirk Cousins because Griffin doesn't look completely healed from knee surgery, Shanahan won't change. Their ceiling as an offense, and a team, is higher with Griffin, according to the coach.
"We have a lot of confidence in Robert," Shanahan said. "Anytime you start a little slow and are down as many points as we've been down and we get to a two-minute attack earlier than we'd like to, we're probably not putting people in the [best] situation we can."
THE NFL ON ESPN.COM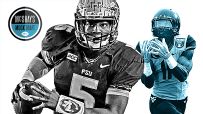 In the wake of the combine, is Jameis Winston still No. 1 in Todd McShay's mock draft?
EDITORS' PICKS
Odd jobs and a stint with NFL Europe's Rhein Fire prepped Jim Tomsula for his role as the 49ers' coach.
Gutierrez »

If Adrian Peterson's court victory doesn't mean he's been reinstated, what does it mean? We sort it all out.
Seifert »

Is Jameis Winston still the top pick? Here's how the combine impacted Todd McShay's first-round outlook.
Mock 3.0

MOST SENT STORIES ON ESPN.COM