Miller, collector tried to cheat test
Suspended Denver Broncos Pro Bowl linebacker Von Miller unsuccessfully attempted to corrupt the NFL's drug-testing program with the help of a urine collector before each was caught in a matter that will affect how the NFL's collection testing procedures are done, league sources said.
More From ESPN.com

With Sunday's revelation that Von Miller tried to influence the collector in the drug test that resulted in his suspension, it is time for the Broncos linebacker to clear the air, writes Jeff Legwold. Analysis

This helps explain why Miller's four-game suspension for violating the NFL's substance-abuse policy suddenly and mysteriously was increased to six games and easily could have been up to a year, the sources said.
Miller's initial diluted sample counted as a positive test and led to notification of his four-week suspension under the NFL's substance-abuse policy. While Miller's reps and the NFLPA were prepared to fight the suspension vigorously in the appeals process, sources said the NFL, NFLPA and Miller's representatives became aware that the Broncos linebacker and the collector involved worked together in an attempt to help Miller avoid a failed test.
Sources said the collector worked in Miami, where Miller spends offseason time, and the collector reveled in knowing the Broncos linebacker while being, according to a source, "star struck." It led, sources said, to the collector's willingness to substitute another person's urine specimen for Miller's. It might have worked, sources said, had a second collector not discovered that Miller was not in the city where his collection was supposed to have taken place.
"He's fast," one source said of Miller, "but he's not that fast."
One source was "reasonably certain" no money changed hands between Miller and the collector, but there was concern the NFL may have a problem beyond Miller and the collector involved. The NFL and the NFLPA declined comment.
[+] Enlarge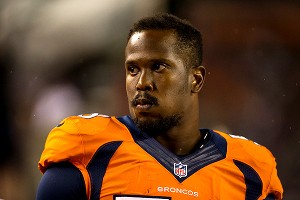 Justin Edmonds/Getty ImagesVon Miller unsuccessfully attempted to corrupt the NFL's drug testing program with the help of a "star-struck" urine collector before each was caught, according to sources.
Miller's agent, Joby Branion, declined comment Sunday morning, as did representatives of the testing company, Drug Free Sport.
Another source said after the NFL learned details in the Miller case, it summoned representatives of the testing company to New York in late August to meet with league officials to review collection procedures that could enhance the process in the NFL/NFLPA joint testing program. Repeated calls to Drug Free Sport this weekend went unanswered.
The collector involved has been dismissed, per a source.
During a series of at least four meetings and dialogue between the NFL and NFLPA, the case ceased being a normal appeals process. And while the NFL could have suspended Miller for up to a year for his attempt to influence a collector, it became apparent to both sides that the collector also was involved. Thus, the six-game settlement.
The NFL and NFLPA also conducted a joint investigation to review whether Miller was not attempting to cover up any PED or steroids-policy violation. Therefore, his suspension was determined to be a repeat violation of the league's substance-abuse policy.
In the wake of this, sources said, the NFL and NFLPA worked to deal with the bigger picture. There was a meeting between the two sides. And while Miller was taking his six-game suspension, there were discussions on terms of action against the testing company, which the union agreed to drop and allow Goodell and other league officers to clean up.
The NFL met with Drug Free Sport to make sure instances like Miller's could and would be avoided in the future. Drug Free Sport, according to sources, already has identified a new fingerprinting technology to the NFL, similar to the one being used in new iPhones, that would make it impossible for substitute urine specimens to be submitted.
Meanwhile, NFLPA executive director DeMaurice Smith sent out a reminder and warning to players before the regular season to adhere and respect the collection process. The Broncos said they had no knowledge of any of this situation and declined comment, and Miller's suspension, which cannot be increased per the settlement agreement, is set to expire three weeks from Monday.
ESPN NFL Insider
Joined ESPN in 2009
Former president of the Pro Football Writers of America and the author of four books
NFL reporter
ESPN Senior NFL Analyst
Joined ESPN in 1991
Has covered every Super Bowl since 1979
SPONSORED HEADLINES
MORE NFL HEADLINES
MOST SENT STORIES ON ESPN.COM
THE NFL ON ESPN.COM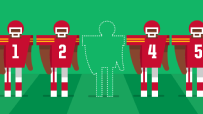 How many good or elite players away from Super Bowl contention was your favorite team?
EDITORS' PICKS
Robert Kraft's insight, drive and business mind have catapulted New England's franchise into rarefied air.
Garber »

Panned at first, Seattle's 2012 draft class became a driving force in the team's unexpected rise to power.
Merrill »

Patriots pastor Jack Easterby is a "godsend" whom many players say is a big reason the team has thrived.
Wickersham »
Nike Men's Home Limited Jersey Denver Broncos Von Miller #58 Shop »