Jacoby Jones in party bus fight
OWINGS MILLS, Md. -- Baltimore Ravens coach John Harbaugh confirmed a TMZ report that wide receiver Jacoby Jones, who is rehabbing from a knee injury, was involved in a brawl on a party bus early Monday morning and was hurt when he was hit over the head by a stripper wielding a champagne bottle.
Harbaugh characterized Jones as "fine" and indicated that the Pro Bowl kick returner attended meetings on Monday.
SportsNation: An NFL image issue?

Aldon Smith, Jacoby Jones and Adam Jones are making negative headlines. Does the NFL have a problem? Vote »
"I'm not very impressed personally with the report," Harbaugh said. "It's not something we want to be known for. We'd like to think it's not something those guys would want to be known for. It's nothing to be proud of, so I'm kind of disappointed in that sense."
A Metropolitan Police Department spokesperson told The Baltimore Sun that police responded to the incident shortly after 3 a.m. ET and that Jones refused medical treatment and opted not to go to the hospital.
Jones was injured in the season opener and hasn't practiced for the past two weeks. He was one of the heroes in last season's playoffs for the Ravens, catching a last-minute touchdown in the AFC divisional playoff game in Denver and returning a kickoff for a touchdown in the Super Bowl.
Harbaugh spoke to Jones and the players involved in the situation.
"'What to do you want to be known for?'" Harbaugh said he told the players. "'Do you want to be known as a football player or do you want to be known for that?' I don't think it's anything to be proud of."
Harbaugh also indicated that he wasn't happy with his players partying into the early-morning hours.
"That was enforced in our household that nothing good happens after midnight," Harbaugh said. "I did reiterate that with the guys today."
A reporter asked Harbaugh, who turns 51 on Monday, whether he was going to celebrate his birthday on a party bus in Washington.
After laughing, Harbaugh said, "I'll pretend that question was never asked."
ESPN Ravens reporter
University of Maryland graduate
Lives in the Baltimore area with his wife and son
THE NFL ON ESPN.COM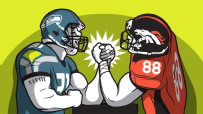 Better savor Week 3's Super Bowl rematch, it may be a while before there's another one.
EDITORS' PICKS
With the NFL floundering and in need of leadership, Roger Goodell has disappeared.
Keown »

Tampa Bay is latest team getting little bang for its buck.
Clayton's mailbag »

Pats DE Chandler Jones is among those on the verge of a breakthrough.
Clay »