Maurice Jones-Drew to Patriots?
NFL trade deadline: five explosive, albeit unlikely, hypothetical deals
Originally Published:
October 23, 2013
By
Greg Garber
| ESPN.com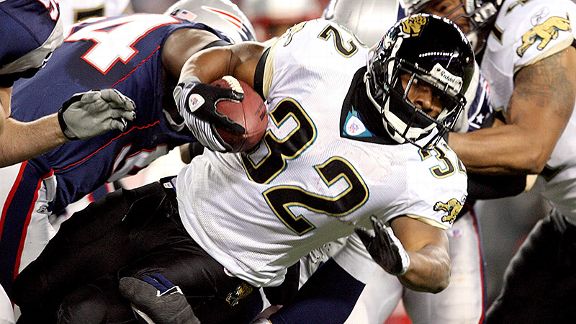 Gary W. Green/Getty Images
As the NFL's trading deadline -- Tuesday, Oct. 29 at 4 p.m. ET -- approaches, we explore five explosive, albeit unlikely, possible deals.
Trade No. 2:
Jaguars trade running back Maurice Jones-Drew to Patriots for their 2014 sixth-round draft choice
This one actually makes too much sense.
Patriots head coach Bill Belichick loves old running backs. As a Giants assistant, he watched as lumbering Ottis Anderson help carry New York to a victory in Super Bowl XXV to cap the 1990 season. Anderson, just shy of his 34th birthday, was the game's Most Valuable Player. The Patriots, instructively, have had a rich recent history of veteran running backs: Antowain Smith helped them win their first two Super Bowls, and he was followed by Corey Dillon, the lead runner in their third title. In 2009, the Patriots signed longtime Jaguars tailback Fred Taylor at 33.
HOT READ: TRADE DEADLINE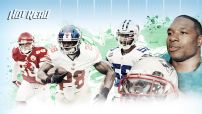 The NFL's trading deadline is Tuesday,
Oct. 29 at 4 p.m. ET, so we explore five explosive, albeit unlikely, possible deals.
• Garber: How NFL trades are evolving
Trades we would like to see:
• Adrian Peterson to the Giants
• Maurice Jones-Drew to the Patriots
• Larry Fitzgerald to the Packers
• Von Miller to the Cowboys
• Tony Gonzalez to the Chiefs
• SportsNation: Cast your vote
• Best trade fits for Peterson

Jones-Drew, another Jaguars running back, might be a tad too young for Belichick's taste at 28, but he has a proven pedigree. In seven-plus seasons, he's produced more than 10,000 yards from scrimmage and 76 touchdowns. He's also in the final year of a contract that pays him $4.95 million.
A fortified ground game with Jones-Drew would improve the Patriots' chances to be a formidable playoff threat in the AFC. New England's running backs -- Vereen, Stevan Ridley, LeGarrette Blount and Brandon Bolden -- have been both injured and ordinary. Jones-Drew is the kind of player, like Wes Welker and Rob Gronkowski on offense and now Aqib Talib on defense, that Belichick can build a scheme around as he tries to get Tom Brady a fourth Super Bowl ring.
David Caldwell, the Jaguars' general manager, has said Jones-Drew isn't going anywhere, but he did deal a former first-round pick, offensive tackle Eugene Monroe, to the Ravens earlier this month.
"When you make a commitment to build it through the draft, to have as many picks as possible is the key," Caldwell said at the time.
By trading Jones-Drew, the Jags would get something before he likely leaves as a free agent -- and receive a replacement running back and a free pick. Don't forget that Brady was a sixth-round pick. Jones-Drew's departure would help continue Jacksonville's flat-line performance and probably ensure the No. 1 overall pick in the draft, which would look good on Louisville quarterback Teddy Bridgewater.
A sixth-round pick might not seem like much in return for a name player such as Jones-Drew, but running backs are perceived as far less valuable than in years past in league circles. Very few feature backs are getting a third contract these days. Plus, Jones-Drew would be a rental with eight years of NFL mileage and a holdout on his résumé. How much tread is left on his tires?
Writer, Reporter
Greg Garber joined ESPN in 1991 and provides reports for NFL Countdown and SportsCenter. He is also a regular contributor to Outside the Lines and a senior writer for ESPN.com.
SPONSORED HEADLINES
MORE NFL HEADLINES
MOST SENT STORIES ON ESPN.COM
THE NFL ON ESPN.COM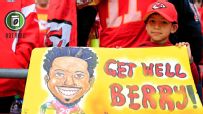 Eric Berry has received an outpouring of support since being diagnosed with cancer.
EDITORS' PICKS
The NFC North and AFC North are two of four divisions to be settled in a Week 17 packed with intrigue.
Game previews »

Getting these workload warriors to leave the field is no easy task. Here is this year's NFL All-Ironman team.
Pro Football Focus

Can the Lions win in Green Bay? Here are all our Week 17 picks.
NFL Nation »