Tony Gonzalez to Chiefs?
NFL trade deadline: five explosive, albeit unlikely, hypothetical deals
Originally Published:
October 23, 2013
By
Greg Garber
| ESPN.com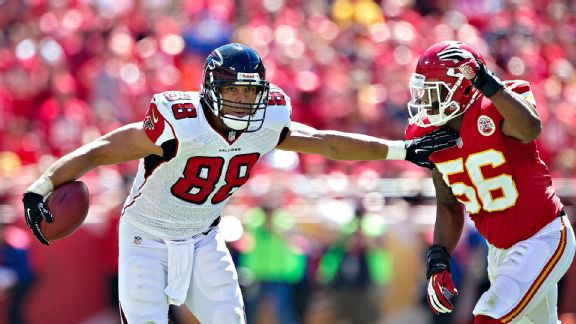 John Sleezer/Kansas City Star/Getty ImagesTony Gonzalez could provide the Chiefs needed offensive punch for a potentially deep playoff run.
As the NFL's trading deadline -- Tuesday, Oct. 29 at 4 p.m. ET -- approaches, we explore five explosive, albeit unlikely, possible deals.
Trade No. 5:
Falcons trade tight end Tony Gonzalez to Chiefs for tight end Anthony Fasano and their 2014 No. 5 draft choice
The Kansas City Chiefs, the NFL's only undefeated team at 7-0, are thinking big -- Super Bowl big. According to ESPN Stats & Info, from the start of the Super Bowl era through 2012, 85 percent of the league's last unbeaten teams made the playoffs, 40 percent reached the Super Bowl and 20 percent won it all.
HOT READ: TRADE DEADLINE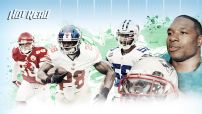 The NFL's trading deadline is Tuesday,
Oct. 29 at 4 p.m. ET, so we explore five explosive, albeit unlikely, possible deals.
• Garber: How NFL trades are evolving
Trades we would like to see:
• Adrian Peterson to the Giants
• Maurice Jones-Drew to the Patriots
• Larry Fitzgerald to the Packers
• Von Miller to the Cowboys
• Tony Gonzalez to the Chiefs
• SportsNation: Cast your vote
• Best trade fits for Peterson

Another nice piece or two might solidify the Chiefs as the team to beat for AFC supremacy. One glaring need for Andy Reid's offense is at tight end.
Heading into training camp, this area looked secure. But Tony Moeaki and rookie Travis Kelce are out for the season, and Fasano is ailing. So far they've done it with mirrors -- Sean McGrath was claimed off waivers at the beginning of the regular season, and Kevin Brock is a journeyman.
Alex Smith has been a terrific addition from the 49ers, but his leading receiver is a running back, Jamaal Charles. Gonzalez, who is still wildly popular in Kansas City, where he was drafted 16 years ago, would be just the thing. The Falcons had to talk him out of retiring after last season and know that he's almost certainly one-and-done. It might be smart to get something for him while they can -- especially if they fall another game out of the playoff picture in Week 8.
Kansas City would be able to squeeze the remainder of his two-year, $14 million salary into the cap. The hit this year is $5.25 million, so figure about half of that. He would be a rental, so there would be no long-term ramifications. General manager John Dorsey and Reid aren't afraid to trade. They dealt for Smith and later made a player-for-player trade that brought starting fullback Anthony Sherman from Arizona. They're already down a second-round pick from the Smith deal, but this offer is probably too good to refuse.
On the Falcons' side, they have already lost Julio Jones (foot fracture) for the season, and Roddy White has been injured. If Gonzalez were moved, Matt Ryan wouldn't have much to target. But the season is hanging by a thread anyway, so why not maneuver for a high draft choice? The best tight end available, Washington's Austin Seferian-Jenkins, is projected as a first-rounder and some mock drafts have him headed to ... the Chiefs.
The Falcons will be back next year, and either way, Gonzalez wouldn't have been there.
Writer, Reporter
Greg Garber joined ESPN in 1991 and provides reports for NFL Countdown and SportsCenter. He is also a regular contributor to Outside the Lines and a senior writer for ESPN.com.
THE NFL ON ESPN.COM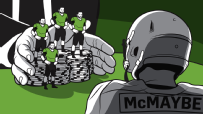 From RG III to Morris Claiborne to Blaine Gabbert, draft-day mega trades rarely pan out.
EDITORS' PICKS
Josh Gordon opens up about suspensions, perceptions and running out of chances.
Merrill »

Mailbag: What's up with the NFC South and AFC East? Plus: 49ers' identity and more.
Clayton »

Can Buffalo win the AFC East? The answer might surprise you.
Outsiders